I'll Have The Julia, Please
01 Mar 2023
Julia Castellano's Little Loaf Bakery & Schoolhouse brings artisanal bread and community to an evolving Wilmington

By Carin Hall » Photos by Abigail Whitehurst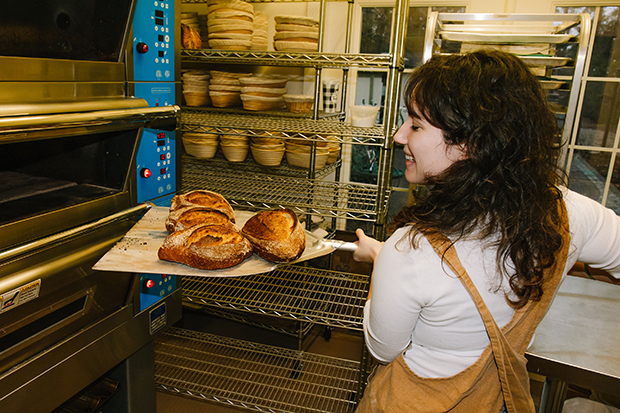 If you've ever traveled to Europe, you may have noticed a difference in the quality and taste of food compared to the States, especially when it comes to carb-rich foods like bread, pastries and pastas. While we mostly have the overprocessing of mass-produced foods to blame for that, it's also arguably a lack of appreciation of food staples as a central component of culture and community.

Fortunately for us, Julia Castellano recently opened Little Loaf Bakery & Schoolhouse, which aims to bring some of that Old World bread to our small but rapidly growing town.

As a former New Yorker with European roots, Castellano knows good bread. Not only did she grow up in the bagel capital of the country, but she also regularly traveled to Belgium and France with her family, where she frequented patisseries and boulangeries.

"I grew up eating incredible bread and pastries," she says. "Once you've had good bread, you're almost cursed because it's hard to live without it."

Julia's Story

In addition to her European roots in France and Belgium, Castellano taught English as a second language after college on Réunion Island, a French department near Madagascar, and then in a small town in Argentina, where she started baking and selling cookies.

"Baking was my form of therapy. That's kind of where it all started, because it was the only thing I genuinely looked forward to doing," she says. "I loved it so much, I thought, why don't I just do it forever?"

And just like that, she changed careers, moved in with her family in Wilmington and started working three different jobs: baking at a cupcake shop, serving at a restaurant and farming for an herb producer. When she had saved up enough money, she went to an intensive pastry program in Canada before bringing her finely honed skills and passion back home. This time, she entered the workforce as the head baker at a cupcakery and executive pastry chef at True Blue.

Then COVID-19 hit. With more down time on her hands, she started making bread and sharing it with her friends. She was making so much, in fact, that many started insisting to pay for it. Quickly, more people were interested in buying her homemade sourdough, focaccia and baguettes. With requests that kept her booked out for weeks at a time, a business was born.

After a couple years of hard work, she found the perfect space to open her own shop on Wrightsville Ave. All her influences from around the world, experimentation, formal training and preparation finally came to fruition on opening day in November 2022—and the line was out the door.

Community Response

Wilmington craved this: not just quality breads and treats, but all that the shop represents. Castellano doesn't gatekeep her recipes or techniques; she believes in sharing knowledge and bringing people together, especially after the pandemic left many longing for connection and an ability to know how to be more self-sufficient at home. She regularly hosts bread-making workshops and welcomes other artisans to use the space to teach.

"It's been so cool to see how the community has responded," she says. "People are more interested in homesteading now than ever. Trades and arts are so important, and I want to be able to facilitate and provide a space for that, where people can come together to learn."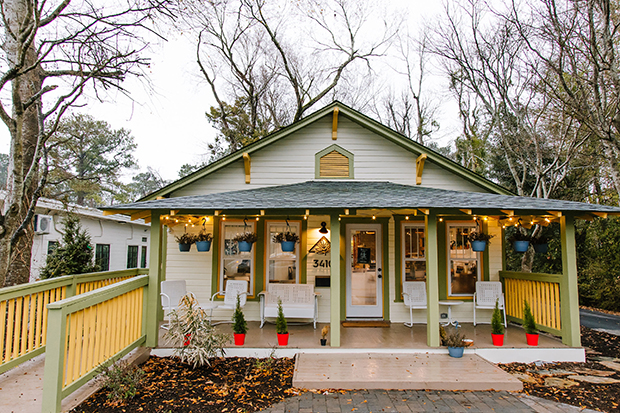 The Menu

In addition to the workshops, Castellano still frequents popups at monthly events and has added a professional cake decorating artist to her team. She uses holidays as an opportunity to get creative, offering pumpkin-shaped loaves in the Fall and bread bouquets with heart-shaped add-ons for Valentine's Day. But you can never go wrong with the staples: The Country Sourdough, Sourdough Focaccia, Honey Biscuits and, of course, "The Julia" baguette. A nod to traditional French boulangeries, Little Loaf's signature baguette is named after the shop's head baker herself.

"That one's important to me, because I mill the wheat myself, which changes according to the season," she explains. And, as you can guess, it goes quickly.

Overall, Castellano attributes her ability to produce quality batches to carefully sourced ingredients, her recipes and techniques and, most importantly, care. She dedicates a lot of time to fermentation and preparation and works with trusted brands who truly care about wheat

"I push the limits of what normal, store-bought 'fast' bread is," she says. "It's a carefully thought-out process and every loaf we make is essentially made by hand."

While the store is only open Thursday through Saturday, Julia is usually in the shop every day preparing those batches for the end of the week.

"That's how they do it in Europe," she says. "And the reason why it works there is that it's so ingrained in the culture." And now it can be in Wilmington, too.