Restaurant of Your Dreams
01 Mar 2023
Own Your Own competition looks to boost downtown Burgaw and one lucky entrepreneur

By Judy Royal » Photos provided by Own Your Own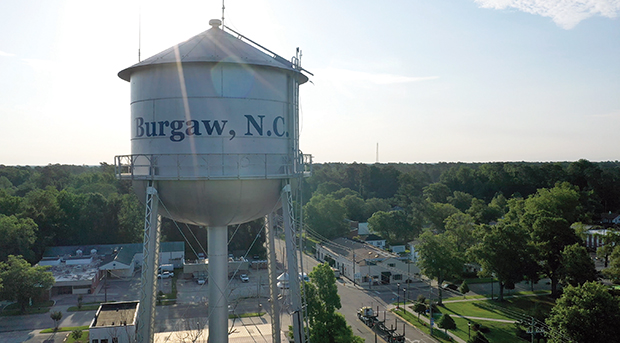 Richard Johnson lives in Wilmington, but he's one of Burgaw's biggest cheerleaders. Since 2018, he's been quietly investing in the downtown area of the small Pender County town, population 3,071, located about 25 miles north of the Port City.

His latest endeavor, however, is no secret, and that's on purpose.

Launched in December, Own Your Own (OYO) is a nationwide restaurant competition that will culminate in the winner receiving a $1 million budget to design and build the restaurant of their dreams in downtown Burgaw. As of February 7, there were 384 applicants from 26 states and Canada. The competition will continue collecting applications through March 31 at ownyourown.com.

"We've gotten a tremendous response," Johnson says. "We've gotten great interest. The quality of applicants is phenomenal."

Once the application period closes, the pool will narrow to a group of about 30 prospective restaurateurs who will participate in a series of challenges, including a cookoff in the Burgaw town square, highlighting creativity and leadership as well as the ability to successfully manage a restaurant. Competitors will be judged by members of the community and a panel of prominent local chefs: Christi Ferretti of Pine Valley Market, Myra McDuffie of MeMa's Chick'n & Ribs, Dean Neff of Seabird and Keith Rhodes
of Catch.

"The judges are doing it because all of them have a history of giving back and contributing to the community," Johnson says. "Anyone who can make it through them would be successful. They have a high standard of what it takes to start
a restaurant."

Ferretti said she was happy to be involved with OYO and has been impressed with the applications she has viewed so far.

"I'm always up for something new," she says. "I love Burgaw. It's a cool town."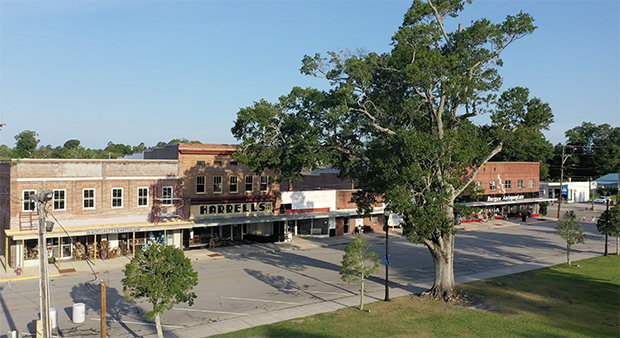 All four judges came into the industry from different backgrounds and will bring their own perspectives and priorities to the table to build a base of competitors, Ferretti added.

"There's not one perfect formula," she says. "There are so many other layers of running a successful restaurant than just math."

Johnson—an entrepreneur known for founding HotJobs.com in 1996, making it go viral with a 30-second Super Bowl commercial and taking it public and selling it to Yahoo in 2002—first became interested in Burgaw in 2016, when he purchased nearby Penderlea Farms. This led to him going downtown and noticing empty buildings and a faltering central business district. Johnson soon began purchasing commercial real estate there thinking he was getting a great deal, but he realized the value of the aging buildings he now owned was directly tied to the amount of foot traffic in the area.

"I love solving problems, and I began thinking about how I could help get more people downtown," Johnson says. "To me, the only way to create more value in the buildings I purchased is if I could help revitalize the downtown. Through my research on small towns, one of the data points that sticks out is a rising tide floats many boats."

He created Burgaw Now in 2018 to focus on the preservation and development of the town, which has been featured in nearly 40 well-known Hollywood films and TV series. Since the organization's launch, Johnson has built two new businesses—Fat Daddy's pizzeria and Burgaw Brewing Company—and passed the torch to others to keep them going.

For his latest endeavor, Johnson was having trouble coming up with a theme that he thought would be ideal for downtown Burgaw. That's when the idea of opening it up to a competition came to him. So far, he has received pitches for Italian, Mexican, Caribbean, and traditional Southern and French Creole cuisine, among others.

"My hope is that this will contribute to downtown Burgaw and create a vibrant restaurant community, and hopefully the rest of the empty buildings will start opening up with other things that bring people downtown," Johnson says. "Not everybody needs the hustle and bustle
of Wilmington."

He doesn't plan to stop here, though. OYO is in talks with three networks to possibly become the focus of a reality TV show. In addition, Johnson is looking into taking the concept to other small towns across America. In fact, you can help select the next destination at ownyourown.com/nominate-your-town.

"I think I'm onto something that potentially has the ability to roll out nationally," Johnson says. "I think that small towns are the forgotten stepchild, and traditional financing doesn't work for them. If you subsidize an entrepreneur, fix up a building and give opportunity, it works."

Want to Own Your Own?

For more information about the restaurant competition or to apply by the March 31 deadline, visit ownyourown.com.