Identity Perceptions
09 Jun 2013
An interview with novelist Karen E. Bender
By GWENYFAR ROHLER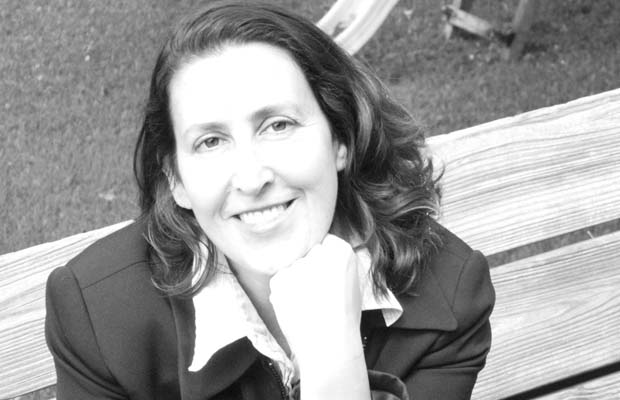 KAREN E. BENDER SAYS SHE NEVER FEELS SHORT, "But I know it's the first thing people notice about me." She is talking about identities and perceptions, the main theme of her new book A Town of Empty Rooms. "Here [in Wilmington NC] I was very conscious of people seeing me as Jewish." She pauses and looks at her small, fine hands. "I think sometimes identity is a complex thing, and you are not sure how someone sees you, and how that interfaces with how you see yourself. Jewish, from the North, a writer…" she trails off.
It's a question of identity that she's been wrestling with since the family arrived here from New York City in the fall of 2001. Bender had been invited as a visiting writer by UNCW's Creative Writing Department. "People feel like outsiders in all these different ways in their world―I think it's a really common experience. I like seeing how people respond to that." Maybe that's why Catcher in the Rye is one of her favorite books. "It expressed something I was feeling at a time, and it was 'Oh I don't feel alone', so I want to write things that make other people not feel alone."
Bender might be diminutive in stature, but she radiates an outsized joy and zest for life that is contagious. With dark curls and an effervescent grin that lights up her heart shaped face, it is impossible not to smile when you meet her. Her nurturing, supportive spirit manifests in her interactions with adults and children alike. It's a quality that makes her a natural educator. "I wanted to teach because I realize, that actually I had some really mean and sadistic teachers as writing teachers, who really taught the wrong things." Bender tries to help her students at UNCW develop patience, to learn to see writing as a task, and perhaps most importantly to develop some perspective about rejection. "There is so much of it for writers," she shakes her head. "So much."
Many people spend their lives trying to figure out what they want to be when they grow up. Bender knew at the age of six. Though it didn't come with a flash of lightening ― it did come from getting hit on the head with a rock. She was at a classmate's birthday party and was the unfortunate, and un-intended, victim of the birthday boy who had lobbed a rock at a crowd of his guests. The experience made her want to narrate, and to explain and control the events she saw and experienced. Is that a surprising response from the child of a psychoanalyst? She laughs at the question about her father. "Well, my mother was a dancer and choreographer," she offers.
It's a family where everything is about story, expression and analysis. Of the three sisters, one became a psychiatrist and the other two, Karen and Aimee, are both writers. The family focus on analysis and story underpins Bender's work in both her debut novel, Like Normal People, and her follow up book, A Town of Empty Rooms. Both of which turn on questions of identity.

A Town of Empty Rooms focuses on the struggles and questions that adults ask themselves, when they realize that slowly their lives have shifted off course and away from what they recognize. But, Like Normal People is a gentle coming of age story, which looks at maturing not just from the perspective of a young girl becoming a woman, but also her mentally challenged Aunt Lena, who though physically an adult, has not matured mentally and emotionally on schedule with everyone around her. "Lena had to be simplified for the book.
She was inspired by my Aunt Joan," Bender explains. "She had certain mental challenges but she was also really smart." Simplified or not, the character of Lena is a sensitive and complex portrayal of a character that many people would stereotype. But Bender dug deeper for the universal story, for the parts of Lena that everyone experiences: the desires for respect, independence and romance. In the search for Lena's story, Bender shows us the struggles that people have throughout their lives for these touchstones of the human experience, especially the need for companionship.
"I always wanted to marry a writer," Bender confesses with a blush. She explains, "Because I wanted someone who would be a partner in this odd endeavor. It's helpful ― Robert is my first reader ― we are really on the same wave length as terms of what we think is good writing." She pauses then adds, "I trust Robert and Amiee more than most writers ― really deeply so it's good to have them as a community."
A Town of Empty Rooms signals a shift in her focus as a writer, now a mother of two exceptionally brilliant children. The questions Bender asks about the world come from a parent's perspective in a family. "One thing I did want was to write honestly about parenthood. That is more sentimentalized than anything in this culture." Besides the stress and the difficulties that come with raising a family, Bender points out that for many people one of the biggest changes is to no longer be center stage. She and Robert have a code name for the feeling: "Brad Pitt's Assistant." Because that's what it feels like: you show up as a chauffeur and purveyor of food, drinks and money, but no one is interested in you. It can be a tough adjustment.
Just as experiences are a source of inspiration for her writing, so too is sense of place. Bender is a person who has crisscrossed the country: from childhood in California, to New York to break into writing, off to Iowa for her MFA, then back to New York before landing here. "It is interesting to see how settings influences you as a writer, and creates a lot of different experiences. There is a lot that I experienced emotionally because of living here," Bender points out. Part is a sense of safety and gratitude. "During September 11, we lived a few blocks away from the World Trade Center," she notes. Taking a deep breath, she says that her son Jonah was supposed to start preschool that day, only a few short blocks from the towers. But they were spared, because the family was here for the month for Bender's residency. "It felt in a way like a special place ― it saved us ― we weren't there." More than a decade later there is still a catch in her voice when she talks about it. "We were here. We were safe." ■