Manna Restaurant
09 Jun 2013
New American cuisine
By LIZ BIRO » Photos by JAMES STEFIUK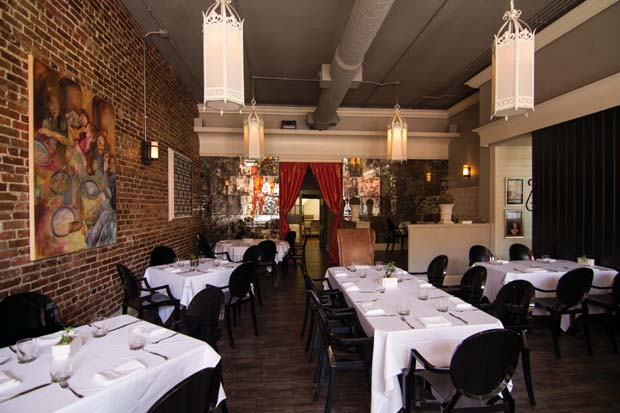 MANNA FROM HEAVEN WAS A REWARD for faith. The hopeful had only to trust their beliefs and move forward. Sustenance, they were assured, would arrive.
So seems the destiny of those devoted to downtown Wilmington's Manna restaurant.
Born from the idea that laid-back Wilmington NC desired a new attitude toward fine dining, Manna was a promise. It would be relaxed yet refined; exciting without being experimental; frankly open-minded American on the menu, rigid French in technique; most appreciative of local ingredients but unwilling to shun delicacies from afar.
If diners believed, they would be nourished to a degree the city had yet to realize.
Nearly three years later, Manna has met its potential. The restaurant's far-reaching American fare, regularly changing craft cocktails and swanky urban feel still create buzz among locals. For celebrities ― Colin Firth, Jennifer Aniston, Gwyneth Paltrow and cast working the NBC series "Revolution" included ― Manna is considered THE place to dine when they are filming in Wilmington.
"It's just different. It's always a little bit different. There's always something new, something fresh," owner Billy Mellon said. "We're serious about it."
Mellon knows the Manna address well. He managed the bar and wine list for the location's previous tenant, progressive Tango du Chat. Like Manna, Tango caused a stir. Ingredients such as lavender and preserved lemons were unfamiliar to many Wilmingtonians before Tango's 2005-to-2007 run. Menu descriptions full of information about cooking techniques read like literary narratives. Odd-shaped dining room furniture stereotyped Tango as strange.
Tango captured celebrities but frustrated locals. The restaurant's closing left Mellon's bon vivant nature sensing lost opportunity. "I bleed roux," he has said. "Shallots and buerre blanc come out of my veins."
Mellon's gut and prior years working the city's top bars and dining rooms, convinced him that a more thoughtful Tango riff could thrive. Preoccupied with the idea, he partnered with an ex-Tango chef to open Manna in November 2010 in the exact location where Tango had existed.
Manna took off, thanks largely to Mellon's blend of perfectionism and playfulness.
Mellon's fine manners and movie star looks charm diners in the exposed red brick dining room, set with glossy, black lacquer-like chairs and towering, silky, tangerine curtains. Posture perfect, he scrutinizes the white tablecloths, ensuring that no fork is out of place―ever. A former wholesale wine vendor, Mellon carefully selects Manna's many labels. Familiar and cutting-edge spirits stock the bar.
Yet, Mellon is as jocular as he is determined. In the hours before Manna opens, he ribs staffers, keeping everyone laughing. After work, Mellon often eats a homey meal with a glass of wine at the bar before heading out to hear live music, his other passion. Mellon has long helped musicians through his work as a volunteer promoter.
Manna's menu reflects Mellon's lightheartedness. Offerings are intelligent, but Mellon wants diners at ease. Therefore, the seared beef filet with roasted mushrooms and green peppercorn jus is named Iron Chef: Bobby Filet. Fried lobster claw with fennel, sweet pea and lobster barlotto, arugula, and pistachio crème fraiche is "It'll Work in a Pinch."
Vanilla-seared tilefish with fresh grapefruit and carrot, ginger, olive oil sauce is called "Give 'em an Inch and They'll Take a Tile."
The entire Manna team contributes entrée titles. Management is democratic, even among the kitchen brigade. Executive chef Jameson Chavez loosely directs diverse cooks, each contributing their own ethnicities and experience. Inches separate their stations. The small kitchen feeds inspiration.
Working under the menu's "American" descriptor, Manna cooks have a wide range. Chavez blends his native New Mexico influences with classic French, on-the-job training at top Santa Fe shops. Oftentimes, his spicy leanings meet scallops. Manna is known for perfectly searing the sea-fresh beauties. This spring, Chavez offered them with sweet pea & jalapeno puree.
"I love chilies; I have to show a lot of restraint," Chavez said, with a chuckle.
Pastry chef Rebeca Alvarado Parades, from Yonkers, infuses her New York City experience with Southern touches to create what Wilmington chefs and restaurant insiders consider the city's most superb desserts. Sweet potato creme caramel with salted butter caramel and a charred cinnamon marshmallow crown was a recent favorite.
No matter the muse, Manna chefs cook from scratch. They roll pasta, churn butter, bake bread, even cure meats.
"It's thoughtful, crafted, local fare with a focus on the soul…It's just delicious," Mellon said.
The bar is just as devoted to fresh ideas and ingredients. Manna employs two respected Wilmington mixologists: self-proclaimed bar geek Ian Murray from Philadelphia and writer Joel Finsel, whose book Cocktails and Conversations, presents stories and related drink recipes Finsel gathered while working at a Philadelphia bar.
Various publications have heralded both men. Finsel in 2009 was designated as one of America's top 10 mixologists by playboy.com
The pair grows herbs and blends bitters. They respect old-school drinks but don't mind tweaking classics, as evidenced by Murray's tequila-spiked Old Fashioned and clove-spiced mint julep, or Finsel's Cat Smash Fever, a moonshine spin on the mojito.
Dining at the deep-green granite bar is popular, especially for Manna "pop ups."
Thursday's bar tapas visits a different theme each month. A February famous couples tribute meant familiar Romeo and Juliet Italian one Thursday, unexpected Midwest comfort food nods to Bonnie and Clyde the next.
Beggars Can't Be Choosers Sundays provide a no-details list, say beef, fish, vegetables or whatever the kitchen has on hand. Customers make selections; cooks decide preparations.
Similarly, Murray's sort-of Iron Chef Tuesday lets patrons pick liquors and mixers ― wacky combinations welcome ― and leave it to Murray to create a drink.
Manna's assorted elements ― theme nights, varying food and cocktail menus, regular introductions of new bar spirits, a diverse kitchen team, autonomous management styles ― have kept the restaurant on its distinctive course while allowing it to explore and evolve.
You know, Manna from Heaven," Mellon said. "It's the journey." ■
Manna
123 Princess Street
Wilmington NC
910-763-5252
www.mannaavenue.com