Interactive Art
07 Jul 2016
Clients are a part of the creative process in the art of Maria Borghoff
By KIM HENRY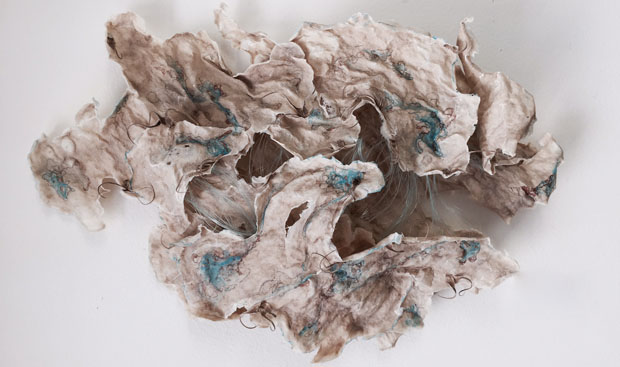 The role of art has been up for discussion since the dawn of time and there are probably as many answers as there are artists, but for Wilmington local Maria Borghoff, it's all about grounding and expressing her life philosophy through the fusion of different genres and materials. Paint, ceramics, elements of nature, glass, metal, poetry, music, hand made paper, the meaning of life and the viewer's perspective mix upon her palette to create unique, interactive works that are conceptually inspired and experienced through all the senses.
Coming from a family of scientists, Borghoff was always the one destined for the arts. Born in Cary, NC, she studied Fine Art at Appalachian State University where she had the opportunity to try her hand at everything from pottery to wood-work, before moving to Wilmington. Since arriving on these sandy shores just last year,
twenty four year old Borghoff has hosted her first solo show, taught art classes at the Cameron Art Museum and pottery at Pineapple studio's, and has been involved in a number of group exhibits.
Her work inherently stimulates questions, which is a direct reflection of the way in which this artist rolls. Green eyes sparkling with excitement, Borghoff would rather muse over the nature of reality, the power of intention and the human capacity to experience the interconnectivity of all things than discuss the weather any day.
"I love to learn about modern science and the place where it intersects with ancient practices," smiles Borghoff who is also a certified yoga teacher and practicing life coach. "My work is inspired by the human soul's yearning for intimacy and authenticity, which is why it often requires the viewer's participation in order to be truly experienced."
One such piece was entitled 'The Pursuit of Questions' where Borghoff placed a bowl of fabric at the top of a wooden staircase that she built herself. In order to see what was in the receptacle of fabric, you had to walk up the stairs, and in order to really experience what you were looking at, you had to reach in and feel the contents. "I placed thousands of tiny buck wheat hulls in the well of the fabric and people would lean in and let those tiny vessels run through their hands. The whole piece inspired questions. Should I go up the stairs? Am I allowed? What's up there? Why the fabric, why the hulls?" laughs Borghoff who feels that asking questions is a healthy and necessary path for humans to take. "The more we ask questions, the more questions we have."
This installation further reflects Borghoff's desire to bridge the gap between art and its audience – to such a degree in fact, that the viewer actually becomes a part of the art itself. This interactive element was also clearly demonstrated by her installation of handmade ceramic drums that were exhibited at a gallery in Boone, NC. Borghoff hung the collection of drums from the ceiling at different heights and angles, tethering them to the ground with pieces of hemp rope. "It was so interesting to witness how people responded to them, whether they would overstep the established boundary about not touching pieces of art. This meant that the exhibit was different every day," explains Borghoff whose desire to provide a multi-sensory experience of art is also high on her priority list.
Borghoff's most current project embraces many of these components. 'Omni', which is being held at ACME studios from June 24th through July 16th, is a collaborative and interactive art experience involving a host of Wilmington's most eclectic artists. The creative inspiration of Cristena Crouch, 'Omni' has seven different areas, each of which explores a different combination of artistic mediums and philosophical concepts. Spoken word, dance, multi-media instillations, paintings and ceramics fuse into a unique and insightful journey through the range of human emotions. Omni utilizes live and interactive coverage through social media and Crouch aims to make it an annual event. Born and raised in Wilmington, Crouch says, "I love this town and want to put it even more on the map as home to a vibrant, progressive, and innovative art scene."
Inviting her clients to be a part of the creative process, Borghoff willingly receives feedback on her commissions and integrates her client's ideas and visions into the final product. As one of Wilmington's most vibrant young artists, what advice would Borghoff give to other aspiring young artists? Expecting something profound, Borghoff simply smiles ― " just keep making art, even when you think it's really bad!"