Island Living
08 Sep 2015
The new Southern Living Inspired Community at Cape Fear Station on Bald Head Island offers innovative homes built by award-winning Whitney Blair Custom Homes
By DAVID HOWELL Photos by MATTHEW SCOTT and G. FRANK HART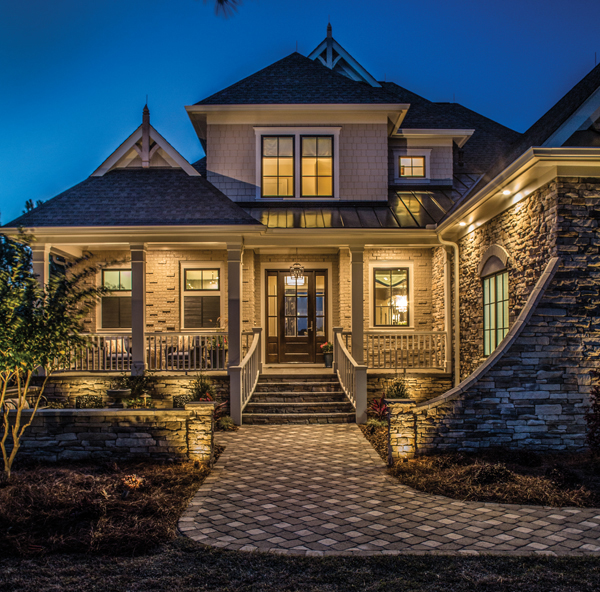 It's not enough to say Bald Head Island is a unique destination on the southeastern coast of North Carolina. It is, in truth, a beautiful anomaly among the entire southern coast where both environment and architecturally immaculate homes fit a vast array of lifestyles. From the resident naturalist exploring the trails of Bald Head's maritime forest to the family seeking a couple of weeks away on "island time," everyone who goes there quickly learns that there is no other place quite like it.
It is the southernmost cape island in North Carolina while simultaneously the northernmost subtropical environment on the East Coast. This geographical distinction makes for a wide variety of wildlife, including nearly 200 species of birds, dolphins, loggerhead turtles, alligators, deer, foxes, and an amazing array of fish.
It boasts beaches on its eastern, southern and western shores, so the sun both rises and sets over the Atlantic Ocean each day. According to Bald Head's website, 10,000 of the island's 12,000 total acres are set aside as nature preserves, so you quickly notice that homes built on the island compliment the natural landscape, whether the home is situated on the ocean or in the forest. With only that amount of space reserved for building, you will find homes that are both innovative and timeless, with their very own sense of Southern charm.
For these many reasons, you might expect to find a Southern Living inspired home there, and you will. Whitney Blair Custom Homes, a Southern Living Custom Builder, is currently building the homes that will comprise the Southern Living Inspired Community at Cape Fear Station on Bald Head Island, with the first two currently under construction.
The first home, known as The Craven, was designed by Allison Ramsey Architects based out of Beaufort, South Carolina (Ramsey will be the architect for all the homes built within the Southern Living Inspired Community at Cape Fear Station). When they began planning for the design, they wanted to create a house that was both artful to the eye and traditional to the soul. They also wanted to keep today's family living and vacation lifestyle in mind. The home, at 2,253 heated square feet, is classic Bald Head Island vernacular using a combination of materials with James Hardie lap siding, James Hardie shakes and quality crafted Pella windows. The home also features 817 square feet of covered double porches. It was even designed with a sleeping porch complete with a hanging bed on the second floor porch.
Traditionally, and well before air-conditioning, the sleeping porch was unique to southern plantation-style homes. It was where to lay your head on summer nights when it was either too warm inside to sleep, or just too breezy and pleasant outside to ignore. Either way, the comfort of the sleeping porch makes it an escape among escapes. The interior features a built-in kitchen banquette, shiplap ceilings in select rooms, cabin grade white oak flooring, a custom master private outdoor shower for rinsing off the beach, a custom-made king bed for the master bedroom, and custom bunk room on the second floor. And these are to name only a few of the custom features within The Craven.
The interior furnishings for the Southern Living Inspired Community homes are being done by Vicky Serany, owner of the award-winning design firm Southern Studio Interior Design, based in Apex, NC.
To top it all off, the home is nestled in the maritime forest (one of the last remaining on the North Carolina's outer islands) and will compliment the site and its woodland surroundings located across from The Common.
The next home to be built will be The Camden, and construction is only just beginning. It sits on the opposing corner of the Southern Living Inspired community from The Craven. The Camden will feature a full wrap-around first floor porch with private access to the master bedroom. It will also feature a sleeping porch on the second floor, and a central second level living space will offer guests their own private living area, apart from the main living spaces on the first level. As an added perk for wine lovers and entertainers, a conditioned wine room will be a highlight of the many features located on the first level of The Camden.
All of this is backed by Whitney Blair Custom Homes' commitment to quality craftsmanship, hard work and a long history of building exceptional homes.
Jeff Sanderson founded Whitney Blair Custom Homes in Chapel Hill, NC, approximately thirty years ago. He then re-located the business to Brunswick County in the year 2000. Since that time, Sanderson has built homes from Wilmington, North Carolina to Myrtle Beach, South Carolina, with the majority of homes built in the southeastern part of Brunswick County. Specializing in southern vernacular architecture, the company provides complete custom design, construction and interior design services out of their Ocean Isle Beach office.
While it's common for potential clients to call asking for Mr. Blair, the company was actually named after Jeff's two daughters, Whitney and Blair, and is a nationally acclaimed custom residential building firm. "Our role is to balance function and form with timeless exterior and interior designs to achieve our client's vision, while ensuring the home is equally energy and environmentally efficient," says Sanderson. "Our clients look to us for individual service and exceptional quality, and we consistently require and deliver the same."
From the company website, you'll learn that this offering of custom construction, in-house residential design, and interior design services provides a seamless process for clients from design inception to construction completion. Whitney Blair is supported by a team of project managers, along with an Allied ASID interior designer and a registered and licensed Architect on staff. "The ultimate goal is to create a home that our clients will enjoy for generations."
Due in large part to this work ethic and the results Whitney Blair produced as a part of their craft, Southern Living contacted Sanderson in 2006 to discuss the potential of becoming a part of the Southern Living Custom Builder Group. Soon after a personal visit by Southern Living to the Whitney Blair offices, the company was asked to formally become a part of the Group. Inclusion in this group is by invitation only, and is exclusive to approximately 100 custom builders in the US.
While you can find more detail about the program at their website, the Southern Living Custom Builder Program is a qualified community made up of some of the finest custom homebuilders in the South. Southern Living reviews every home members of the program build, looking for craftsmanship, excellence in architecture, and home building that tells a Southern story. Furthermore, every builder is reviewed based on their reputation among local building trade and consumers, their strengths in the marketplace, the company's financial stability, and perhaps most important of all, customer service.
Other awards and distinctions Whitney Blair has been honored with include
multi-year national Best in American Living Awards, state (NC HBA STARs Awards), and regional (New Hanover County and Brunswick County HBA Parade of Homes) homebuilding awards.
Whitney Blair Custom Homes is the only custom builder in North Carolina and South Carolina to hold dual Master Builder certifications (NCBI Accredited Master Builder and SC Certified Master Builder), and NAHB certifications in green building (Certified Green Professional) and aging in place (Certified Aging in Place Specialists). Naturally, the company is also a past award recipient as the Southern Living Custom Builder of the Year, and the only NC builder to have received this award.
It should come as no surprise that Whitney Blair Custom Homes is as storied and unique as the Southern Living Inspired Community at Cape Fear Station they're currently building. Not only do they bring the traditional southern vernacular we are so familiar with from Southern Living, they are also able to expertly negotiate some of the natural challenges of building on Bald Head.
For example, there are no cars allowed on the island, so logistically there are challenges when it comes to shipping materials. Also, obtaining a labor source presents some challenges as the island is only reachable by boat.
Regardless of what challenges exist when it comes to building, the rewards are superior to any construction challenge imaginable. These unique sorts of challenges also happen to be exactly what makes Bald Head Island the wonderful and secluded place it is. After all, it is an island. Add to that the inclusion of Whitney Blair Custom Homes' artful craftsmanship and building mastery, and you will have found the perfect home.
---
The Grand Opening Weekend for the Southern Living Inspired Community at Cape Fear Station, known as Roast and Toast at the Coast, is October 9-11, with the ribbon cutting for opening of The Craven house on Saturday, October 10 at 10am. The weekend will be full of events surrounding the home and the Southern Living Inspired Community, with full information and tickets to the events available at roasttoastcoast.com. The Craven will also be a part of the Brunswick County Parade of Homes the following two weekends with additional information available at brunswickparadeofhomes.com.