It's Pizza Night
04 Sep 2022
While you may opt out of cooking yourself, the exceptional pizza throughout greater Wilmington means opting in for a customized pie

By Elizabeth Sugg » Photos by G. FRANK HART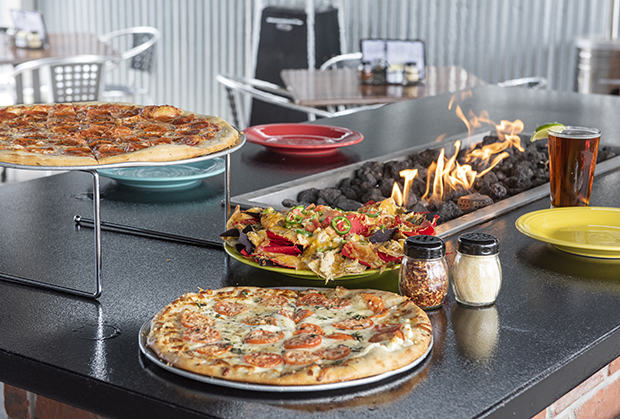 We've all said it. Whether it's a planned fun dinner out after an afternoon and evening of family sports, or the delicious default dinner after a hard day at work, "It's pizza night" is code for a no-effort, relaxed evening. The mug of beer and carafe of wine naturally add to your daily ratio of fruit and grains.

Pizza has to be one of the world's original street foods. The first use of the word was recorded in the coastal Gaeta community south of Rome in 997 A.D. but forms of flatbread with toppings appeared in ancient cultures when leavened bread became common about 7,000 years ago. There are descriptions of Persian soldiers in 6th century B.C. cooking flatbreads with cheese and dates on their battle shields. In Greek mythology, Aeneus and his men are served round cakes, presumably like pita bread, with cooked vegetables on top. Focaccia is another Mediterranean flatbread with roots in the ancient Etruscan civilization, present day Umbria, Tuscany and Lazio. But for the true pizza crust derivative, a theory that makes the most sense is that the form we all know and love and call in for take-out originates from the Jewish Passover bread matzah. Over 2,000 years ago Roman soldiers added cheese and olive oil to unleavened matzah, and "mangia"-ed away. And as if that is not enough reason to raise a glass to Italian culinary invention, in 16th century Naples, the working-class Neapolitans began referring to their galette flatbreads as "pizza", and by spooning meats, cheeses and vegetables on top, they enjoyed a savory meal on the go, yesteryear's pizza by the slice.

The Spanish brought tomatoes back to Europe after "discovering" the Americas. In fact, there is a record of tomato seeds being given by the Viceroyalty of Peru, then a province of the Spanish Empire, to Neapolitans in 1770. From there innovations with tomato toppings gave birth to modern-day pizza variations as we know it, and what American soldiers during WWII were introduced to during their service abroad and came home hungry for. As restaurants sprang up around the country, pizza spots became a family-oriented, affordable, satisfying dinner choice.

Wilmington and the surrounding beaches have long had good pizza options, and more keep opening up. The pie makers featured are not meant as any sort of complete list, more one to showcase the diversity of choices that are out there whether a diner is seeking out a certain type of pizza crust from Neapolitan to gluten-free. Just as described in ancient times, today's pizza doesn't have to be all about red sauce and thick or thin crusts. There is a world of options out there, so have a pizza night — go nosh and enjoy!


Cugino Forno

1020 Princess Street, Wilmington

cuginoforno.com

This wood-fired oven pizza maker opened over the summer in the Soda Pop district adjacent to Hi-Wire Brewing, and with its large open dining area filled with long tables and picnic-style seating, Cugino Forno is already finding its groove in the neighborhood. This is the latest opening of the Asheville-based company which has locations in Greensboro, Winston-Salem, Clemmons and Durham. Stacks of flour and shelves of supplies showcase ingredients brought in from Italy to make their menu of pizzas, and I can attest to fully enjoying their Porziano, a pie made with ham, mushrooms, a bit of artichoke and buffalo mozzarella. Assembled and cooked in a 7,000-pound Italian oven as we waited, my friend and I had just enough time to finish our Verona salad which had an interesting apricot dressing over greens with blueberries, honey-glazed pecans, and blue cheese. A fun stop.


Slice of Life Pizzeria & Pub

Downtown: 125 Market Street; Wrightsville Beach: 1437 Military Cutoff Road, Suite 101; Pine Valley: 3715 Patriot Way, Unit 101; Porters Neck: 155 Porters Neck Road

grabslice.com

With four locations across the Wilmington area, since 1999, Slice of Life Pizzeria & Pub has grown into quite a standard bearer in the evolution of Wilmington becoming a Pizza Town. With dough made in-house with purified water and an array of toppings and meat choices, Slice of Life is a place to create your own custom pie atop their tender, slightly crispy crust. Offering gluten-free options and vegan cheese, this is a local restaurant group that has kept pace and thrived with the times, recognizing that a neighborhood pizza place on many nights is an extension of their patrons' kitchens. Consistently voted a favorite spot for late night cravings, the menu has expanded to include chicken wings, nachos and quesadillas, and when paired with one of their local brews on draft, that's a pretty sweet ending to a day.


Brooklyn Pizza Co.

6932 Market Street, Wilmington

brooklynpizzaconc.com

Both photographer Frank Hart and recipe developer Fanny Slater rave about the homemade dough and sauces at Brooklyn Pizza Co., a full-scale restaurant with a menu that goes beyond their thin and crispy Neapolitan crust pizzas and their sumptuous thick Sicilian-style offerings. Fanny craves their "killer Sicilian 'grandma pie'" which is loaded with garlic and chunky tomatoes, basil, fresh mozzarella and sliced into squares while Frank really enjoys their focaccia bread sandwich with grilled chicken and sauteed spinach that melts into fresh mozzarella cheese. He caught the talented cooks at Brooklyn making stromboli, and photographed them laying out ham, salami, Swiss, provolone, mozzarella and pepperoni turnover-style, one of their most popular specialties. While their menu of pastas, dinner salads, hero sandwiches and more offers diversity to their loyal following, it's their pizza that has built Brooklyn's reputation.


Za Pie Pizzeria

6142 Carolina Beach Road, Wilmington

zapie.com

This is a new edition to Wilmington's pizza scene, opening just this year in the Myrtle Grove area. Owner John Moyer honed his pizzeria chops as partner and owner of eight Michaelangelo's Pizza eateries before jumping off to develop his own style of restaurant. Za Pie Pizzeria is the culmination of a life in pizza-making and the love of getting a pie just right. From their secret recipe dough to a cauliflower crust pie, Moyer has the pulse of the modern-day diner. The pizza offerings go beyond the ever-popular pepperoni, sausage and beef combinations to include a Thai Chicken, Greek and Za-Taco options. Ask for their day's specialty pizza, and their strombolis and calzones may catch your eye, too.


Benny's Big Time Pizzeria

206 Greenfield Street, Wilmington

vivianhoward.com/bennysbigtime

Located in the thriving South Front District of downtown Benny's Big Time Pizzeria is chef Vivian Howard and her husband artist Ben Knight's love letter to Italian food, most especially wood-fired pizza. The two had fun dreaming up their pizza offerings, naming their meat lover's concoctions Tony Pepperoni and Meating of the Minds, yet it's their Little Greenie with its scattering of brussels sprouts, red onion and mixed greens kissed with a bit of chili oil that calls my name. Cooked in an enormous imported Italian oven emblazoned with "Benny's" above the kiln, this open, airy restaurant with its colorful décor offers an uptown option when it's pizza night.


Mellow Mushroom

208 N. Water Street, Wilmington

4311 Oleander Dr, Wilmington

mellowmushroom.com

With two locations in the Wilmington area, Mellow Mushroom's stone-baked pizzas served amid the humming bustle of its busy dining rooms and outdoor seating with their stylishly casual décor fits the bill on certain pizza nights. It's fun to people watch and chow down at the same time. It's also another pizza spot that if you are meeting up with friends who have different dietary preferences, vegan choices and gluten-free crusts dot the menu. Mellow Mushroom was founded in 1974 in Atlanta, and each location has its own special take on the atmosphere where the hand-tossed, stone baked pizza is center stage.


Pizzeria Don Luca

1215 N. 4th Street, Wilmington

pizzeriadonluca.com

Opened in 2021 in the Brooklyn Arts District, Pizzeria Don Luca serves a thin crust Tuscan-style pizza, and to rave reviews. With outdoor seating and delivery options, Don Luca's has a streamlined menu that hits all the right notes. I do love my artichokes, so the Four Seasons was my indulgence which mingles 'chokes with my other cravings — mushrooms and olives. Also serving vegan pizzas, chicken wings and calzones, Don Luca's is a welcome addition to this growing neighborhood.


Wheelz Pizza

Delivery & Pickup only: 2323 S 17th Street

Dine-in, Delivery & Pickup: 7037 Wrightsville Avenue

wheelzpizza.com

How can you resist a business that has grown from a food truck with the slogan: "We come to your neighborhood with pizza and chocolate cookies." You can't — it's a winning message and the taste of their sourdough pizza crust seals the deal! Now with a mid-town delivery and pickup location and a dine-in restaurant near Wrightsville Beach, Wheelz Pizza is getting around. Their pies are built on a Neapolitan-Brooklyn style crust, noteworthy choices are their chicken, bacon and ranch combination and their version of the classic margherita. And don't resist the cookies!


I ♥ N.Y. Pizza

28 N. Front Street, Wilmington

ilovenypizzawilm.com

For a true downtown experience, order a pizza by the slice that melts in your mouth the way good pizza should at I ♥ N.Y. Pizza that operates out of a downtown storefront with a window on Front Street. Their Roma spinach pizza gets my nod with the pie's feta and fresh tomato while Lasagna pizza scores a hit with the rest of my family. Calzones and a cheese steak stromboli round out the menu.