Italian Bistro
10 Jul 2017
8211 Market St., Wilmington
910-686-7774
italianbistronc.com
By BRIDGET CALLAHAN
Photos by ERIN WHITTLE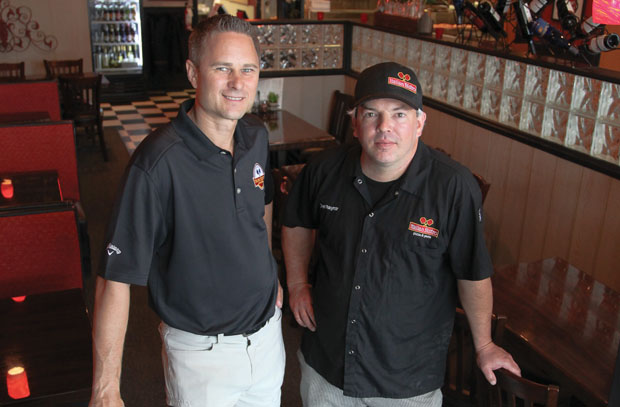 Jason James, owner of the Italian Bistro, was born in the land of pizza, otherwise known as Long Island. Pizza swam in his blood from an early age.
"I was definitely a pizza connoisseur growing up," James says. "In high school we used to go to this little pizza place right by our school for lunch. I probably ate three or four times a week over there, I just love pizza. Then I went off to college. I went to school at Arizona State, and while I was out there, biking distance from where I was living was a little pizza place. I went in there to get a job, and it just so happened that the guy who rented the place there was from Long Island. He grew up right where I grew up, he knew who my family was. So he gave me a shot, and I started making pizzas."
James even recalls that for one of his classes at ASU, he made a business plan for a pizzeria.
"All the arrows were pointing in that direction," he says.
But, as so often happens, it took him a while to see the signs. First he tried corporate life in New York for a while. But nothing seemed to stick. In what has become a Wilmington cliché, his parents had meanwhile moved down here, and were bugging him to make the move as well. Finally, his dad found the right pitch.
"At first I was like, nah, I still had my friends, the city…and North Carolina? Are you kidding me?" James says. "But there used to be a place called The Pizza Bistro in The Cotton Exchange, and my dad told me 'Listen, there's an opportunity here. There's an Italian restaurant for sale, a pizzeria, why don't you come on down and give it a shot?'"
And thus the first incarnation of the Italian Bistro was born. James ran the downtown location for five years with his long-time kitchen collaborator, chef Jason Raynor. When James and his future wife Megan decided to move to Lake Norman and open a restaurant there, Raynor followed them. When Megan became pregnant, and the couple wanted to be back in Wilmington with their families, James tried to get out of the time-intensive restaurant business. But within a few years, he found himself buying the old Antonio's of Porters Neck location. He just couldn't stay out of it. When Raynor again walked in his door, looking for some summertime work, it was like getting the band back together. James says as soon as Raynor came back, he knew the restaurant was going to move forward.
"I can't do eighty hours a week anymore," he says, laughing. "But I have a good staff. Believe it or not, I love that this place is small. I can stand right there and see everything that's going on. And there's something about seeing the people really, truly, enjoying the food. I still make pizzas here several days a week, I'm the opening pizza guy. Something about making pizza that I love. Someone orders something, and we start from scratch and end up with a finished product. Just the presentation, the look of it. I love it."
The Italian Bistro is, no mistake, a New York pizza joint, right down to the black and white checked tablecloths. The restaurant, located in a corner of Porters Neck Center on Market Street, is small, with a little patio for some extra seating, and an open kitchen where you can see your pie emerge from the oven.
"We make almost everything we can homemade," James says. "All our bread, our fresh mozzarella, the sausage, the meatballs. We've always made our own sauces, but the dressings, desserts...there's a ton of stuff we do fresh. It's our tagline: fresh, homemade, and local. That's how I've always imagined all my restaurants."
The menu extends beyond just pizza. There's all the Italian family classics: lasagna, chicken carbonara, linguine with clam sauce, spaghetti and meatballs. The chicken parmigiana is a big seller, as is the Marco: chicken sautéed with spinach, prosciutto, and mozzarella in a sherry wine sauce over pasta. On Tuesdays, the restaurant offers Create Your Own Pasta Day, where customers can pick their own sauces and ingredients.
But his true love is still pizza. They offer a full menu of pizza and pizza related items - from traditional, to stuffed crust, to calzones and strombolis. The designer pizza menu offers popular combinations like the Pescatore, baby clams and shrimp with three cheeses on a garlic and olive oil base, and the Chachi with homemade Italian sausage, marinara, fresh basil, and green peppers. And how does James like his pizza?
"I'm pretty simple," he says. "Mine is just cheese, maybe some pepperoni. Or we have a pizza on our designer list called the Crostada that I just love. It's very simple, just garlic and olive oil, homemade sausage, some whole peeled tomatoes that are just put on there in chunks, and some basil. That's it. It's one of my favorites."
In addition to weekday specials, the Italian Bistro has a customer loyalty program, allowing regulars to rack up points and frequent rewards, like free birthday meals and BOGOs for anniversaries. They do delivery, catering, and online ordering will be coming soon to their website as well.
The goal is a family friendly place, where a couple of adults can share a bottle of wine while the kids at the next table split a pizza. Nothing too formal, but food made with quality and care. The kid from Long Island finally found his pizza home.