Jimbo's Breakfast & Lunch House
07 Nov 2019
Wilmington's tasty and time-tested diner
1529 S College Rd.
Wilmington, NC
910-799-2211

By BRIDGET CALLAHAN » Photos by G. FRANK HART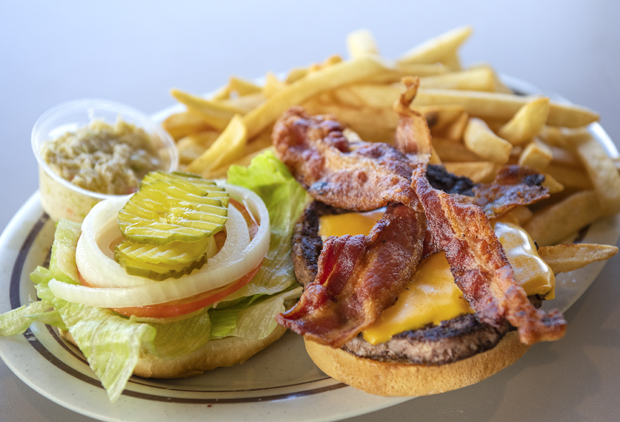 Jimbo's Breakfast & Lunch House is a Wilmington institution. Sure, lots of people say that about a lot of places. But Jimbo's is the real deal. Anna and Jim Patsalos opened the diner in 1977, before I-40 was even approved to come to Wilmington. UNCW was still a small school with only 3,619 students enrolled. Laney High had been open one year. The film studio wouldn't be built for another seven years. Bill Saffo wouldn't even be mayor for another thirty years.

In a town that has a history dating back to the 16th century, maybe those seem like inconsequential facts. But when the Patsalos drove into town July 4th, 1977, the Wilmington they saw and fell in love with was a very different place.

"It reminded me of my home town," Anna says, "which is a small town in Greece, and we felt the same safety. We felt people were nice, polite, took care of each other. People used to know each other and hang out with each other. Wilmington is still like that in some ways, but it has changed a lot. There used to only be one traffic light between Oleander and Carolina Beach, if you can imagine that. Right across the street, where the Toys R Us plaza is, used to be a farm where Mr. Fowler and his wife lived. They had ponies and chickens, a rooster singing at 5:30 every morning. There was no traffic. It was a very small town."

Now Jimbo's Breakfast & Lunch sits almost directly on one of the busiest intersections of town, Oleander and College. Surrounded by drug stores, chain restaurants, and the constant flow of traffic to the beaches, it still somehow asserts its presence. And if you're looking for a late night diner that will refill your coffee mug, it's still one of the only all night options in town that isn't a bar. The diner keeps split hours, closing after lunch at 2pm, and reopening at 10pm, a very New York kind of schedule.

"When we came, everything here closed at 8pm," Anna says. "Everyone was home, no cars driving by, no lights. We thought, 'There's nothing open in this town at night, let's try it.' There's people who go hunting or fishing in the morning, or they're traveling, or they go to the bars at night and want to eat at 2am. In the beginning we got a lot of night shift workers. It just worked, and I'm glad we did it. Everyone was extremely happy we were open, because they had a place to go and we still have good business at night, but not as much because all the bars are downtown."

Jimbo's is still going strong for the breakfast and lunch crowds too. Their menu is extensive, but traditional, as if every diner from your past pooled their resources. There's a little bit of Southern, a little bit of New York, and a lot of side options from potato salad to pickled beets. From homemade soups to turkey and stuffing, chicken fingers to burgers to a quiche of the day, there's something for everyone on the menu. Walking into Jimbo's feels similar to going to your favorite aunt's for dinner, only you get to order whatever you feel like.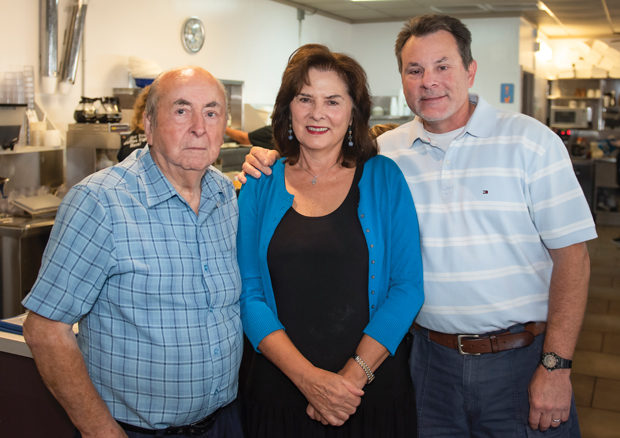 The Patsalos are both from Greece originally. Jim emigrated in 1953 at sixteen. He came over to go to school and work in his uncle's restaurant in Rocky Mount. After two years, he moved to NYC and opened up his own place. He met Anna on an extended vacation in Greece years later, and she moved to New York with him in 1967. For ten years, the couple ran a restaurant in Long Island, until that fateful holiday trip to NC. Now Jimbo's has been open almost 43 years, and despite the changes to Wilmington, the little diner has stayed true to its original family appeal.

"When we opened, our customers were older people, family people, working people," Anna says. "We didn't depend on the college because there were not that many students then. We still have customers that come in seven days a week, with their families, their kids, their wives, their grandchildren. People going fishing. People going to church. Everyone comes here.

We created a name that people feel good about, and we welcome everyone. It feels like home. We have lost a lot of older customers because it's been 43 years, but now we have their kids coming in and their grandchildren coming in. We have all the generations."

A few years ago, one of their original cooks finally retired after forty years. Most of the staff has been with the Patsalos for over twenty years. And the Patsalos themselves are no longer spring chickens. So with all the development booms, you might be justified in worrying about whether Jimbo's will be around another forty years. But even with their son Nick taking over, Jim and Anna show no signs of changing anything.
"I love people," Anna says. "I guess we all do because you can't stay in business that long if you don't love people. But my husband loves the restaurant business, loves anything having to do with food, and he cannot make it one day without coming in and sitting down here all day. He can't work now, because his legs are giving out, but he sits at his stool and greets everyone who comes in and shakes their hand, young and old."

The usefulness of the late night diner never dies, and the Patsalos are keeping a small part of Old Wilmington alive and kicking. Here's to another four decades, Jimbo's, may the coffee stay hot and french fries crispy.