Keeping it Real
07 May 2018

Elise Rocks takes lead of Wilmington's CREW, a nationally affiliated organization that advocates networking and education for the women of real estate
By TERESA McLAMB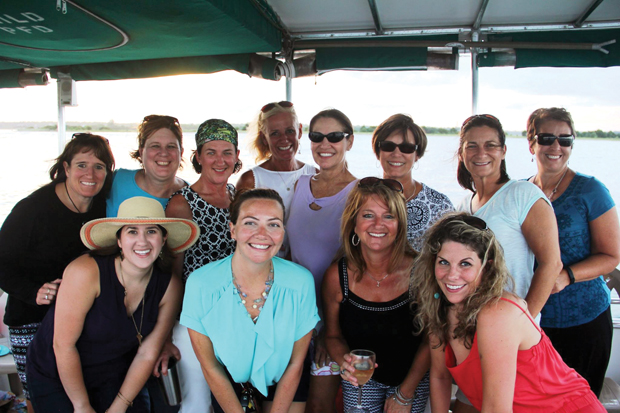 If you've seen Dirty Dancing, you've seen Elise Rocks' parents dancing their way through the pop culture phenomenon. The love of dance, and particularly ballroom dance, binds the generations of her family and is a favorite activity for her and husband Eric Korman. "My grandparents on my mom's side danced into their 80s," she said. "My grandfather would leave the nursing home to go to dances; they'd leave the back door open for him. My dad's father was a drummer during the Big Band era. That's where he met my grandmother who was in charge of getting folks up on the dance floor."
Rocks still dances, but the opportunities have to compete with work and her many volunteer activities, most recently taking the helm of CREW (Commercial Real Estate Women), an organization with national affiliation that promotes networking and education for women (and men) in the many occupations that touch on real estate.
Membership ranges from environmentalists to attorneys to interior designers to commercial insurance brokers and bankers, along with the expected commercial real estate brokers and appraisers. Newly elected chapter president, Rocks, explains, "It's a unique networking opportunity to meet folks in a variety of professions. I wouldn't have the opportunity to come in contact with a lot of these women otherwise. There's nothing like the face-to-face time spent in meetings and in social situations." In April, the group met at Big Sky Design to bedazzle t-shirts they would wear at the Habitat Women's Build and other events. "Our mission is to give back and to reach out to each other," says Rocks.
Representing every discipline within the commercial real estate industry, members of CREW are located in 71 major markets across North America. Wilmington's local chapter has fifty members.
"With this large diverse network, our members are able to create new and different ways of structuring deals, focusing on the bottom line, and inspiring others to work as a team to get the job done. We do this by creating opportunities for us to work together. We are a network of real estate professionals who know that women owned businesses choose financial products and services based on their relationships with these providers. We have a strong brand, and we know an affiliation with CREW indicates the highest level of professional qualification for our members," Rocks said.
A native of Spartanburg, SC, Rocks came to real estate development and appraisal through a very circuitous route that included her elementary school years spent in the Frankfurt International School in Germany. The diversity of students and the cooperative learning environment made it her favorite educational experience. Classes were organized in a team learning approach that required students to develop and achieve their work together with the teacher serving as a resource. "We had students from all over the world, including students who didn't speak English, so we had to work together to translate. It was a fascinating process of learning."
The family's weekend travels throughout Europe influenced Rocks to be accepting and inclusive in her relationships.
When it came time for college back in the States, Rocks headed for Converse as a Milliken Scholar with the goal of an MS in international business. Along the way, her attention shifted to the culinary arts, beginning with an apprenticeship in Charleston before coming to Wilmington, where she worked in some of the city's finest restaurants. She cooked professionally for about fifteen years before making another major professional shift.
This time it was to real estate, initially in administration with Worsley Real Estate Company. "When I started, I was doing appraisal research, then got into property management, construction management, and development oversight and all the accounting that went into it. I got to see the grand scope of how commercial real estate works," said Rocks. Her writing and analytical skills led her to focus on appraisal. "I got certified and that's what I've been doing," she said.
Well, that's not really all she's been doing.
She volunteered for Cape Fear River Watch as a creek keeper in the late 1990's and later served for three years as president of the board. In 2012, she received the YWCA Woman of Achievement Environmental Award and was honored in 2014 as one of 100 Distinguished Women in Wilmington.
Rocks has served as president of Realtors Commercial Alliance, president of the Coastal Chapter of the NC Appraisal Institute, chairwoman of the planning committee for Wilmington Downtown, Inc., president of the board of Tidal Creek Cooperative Market, founding member of the Cape Fear Economic Development Council, and senior warden of Church of the Good Shepherd (Episcopal), where she has been a member for 28 years and was recently licensed as a lay preacher.
Recalling Germany's densely populated towns surrounded by wide-open green spaces, Rocks spearheaded the 2004 formation of Cape Fear Green Building Alliance to promote building in a manner that is environmentally responsible, healthy, and financially sound. The organization grew to almost 600 members to become an official chapter of the US Green Building Council.
By 2006, she earned her real estate broker license and became a certified appraiser in 2009. Her long-standing commitment to sustainable development, balanced with an appreciation for the economic bottom line, has led to extensive work in the appraisal of LEED certified, energy efficient and green buildings and subdivisions.
"I bring a unique perspective to appraising because [green building] is not just about tree hugging. It has to make economic sense to be viable. We have to keep pushing for legislative leadership that helps to get things to the place [where green building] is more economically feasible."
An example of green building, which Rocks oversaw, was Preservation Park in Seagate. The cluster housing model earned one of the first local stewardship awards and attracted the attention of Southern Living Magazine. "It was one of the first communities in Wilmington to try to incorporate a lot of green principals in the design. The three-acre project had housing on one acre, trails and a community garden on two acres," she said.
In a recent panel with UNCW students, a student asked Rocks about development activities in their hometown. "How do all the analytics of properties take into account the impact on the environment?" Rocks responded. "It's not included in the bottom line how much it will affect people's health or their ability to walk places. We need to look at the big picture, which includes the effect on our natural resources. The information isn't readily available, but consumer demand can drive its inclusion. Money is always going to be the driver, but we need to find more indicators," she said.
Since 2012, Rocks has concentrated on appraisals with JC Morgan Company. "I enjoy working in an environment that encourages professional growth, expects and nurtures excellence, while respecting individual aspirations outside the office," she said.
"I knew I was home when I first crossed the Cape Fear River into historic downtown Wilmington in 1988." Her office is now at Lumina Station, near her husband's hardware store, their home in Seagate, and their floating home on Whiskey Creek. "My love of our community has inspired my commitment to protect and enhance our natural and cultural environment."