Grab your girlfriends, a glass of Rosé, and shop the night away
By CAROLINE GOBBLE Photos by KELLY STARBUCK PHOTOGRAPHY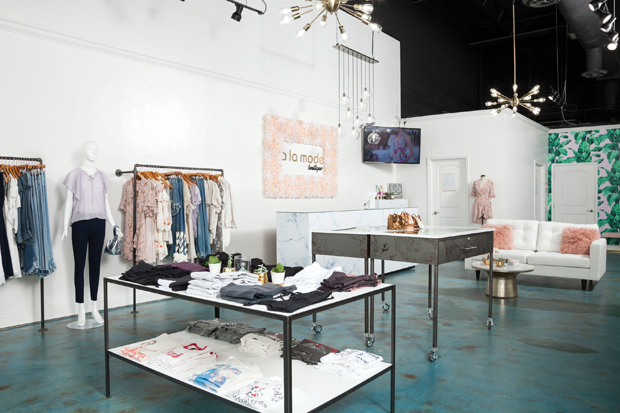 The famous French fashion designer, Coco Chanel, once said, "Fashion is not something that exists in dresses only. Fashion is in the sky, in the street, fashion has to do with ideas, the way we live, what is happening." Today, Nancy Burns is keeping Chanel's sentiments about fashion alive and thriving in Wilmington, NC, through her chic boutique, a la mode.
In the 1800s, Berry Hall and Charles Watson Townsend coined the term 'a la mode' meaning "with ice cream." As history has it, the term was originally French, meaning "in fashion" or "fashionable." Burns took to the true historical meaning of the term. "French fashion houses have always been the pinnacle of chic, and it made sense for me to have the name of my boutique reflect that," says Burns.
Burns has been a part of the retail industry for 24 years from clothing to home décor. Prior to opening her own boutique, she opened the Wilmington branch of Pottery Barn and was the General Manager there for 9 years.
"Fashion has always been front-of-mind for me, and I have always wanted to open my own boutique," says Burns, "I finally decided in 2016 to take the plunge and open my store. I relocated to The Forum Shops last year and have been thrilled with the move to a beautiful center with a variety of great boutiques." The boutique was originally located in downtown Wilmington, but Burns had a desire to be in a center with other boutiques similar to a la mode.
Earlier this year, the relocated boutique was remodeled. "We had a great idea to have some fun with the confusion we sometimes get with our name," says Burns. "Some expect us to be an ice-cream and pie shop, so we had a floor graphic installed that reads 'No ice cream, just Fashion.'"
Burns now finds herself among an array of women business owners in The Forum, which is located at 1125 Military Cutoff Road. "There are quite a few of us including five boutiques: Peanut Butter and Jelly, Lumina Gem, and the 3 home decor stores." These women-owned boutiques and stores also include Meadowlark, Très Bleu, Blue Hand Home, Home Again, and Nest Fine Gifts and Interiors.
The staff at a la mode echoes The Forum's prevalence of creative and dedicated businesswomen. Alongside Nancy is Leigh, the store manager, and store associates Sherry and Elena. Burns says, "Our goal is to make fashion accessible to all women, of all ages. We have many mother and daughter clients that can each find something they love! We offer the most sought-after styles from an edited selection of coveted designers. Moreover, we love to help clients find their signature style. We show ladies how to mix on-trend pieces and classics in unexpected ways, making them feel confident, current, and fashionable. I, myself, like to think we have a bit of a 'rock star vibe' that we add to everyday fashion!"
a la mode's lines include some that are exclusive to the Wilmington boutique; such as, Zadig and Voltaire, a French clothing brand and Pam & Gela, a LA based brand. They also carry Paige denim, Current Air, Goldie London, EVIDNT, and Alo. "We love to style our clients for a special occasion, event, date-night or girls' night," explains Burns. "We will take our customers from work to working out, a fancy night-out, to a casual weekend in." Customers will also find intimates by Commando, jewelry by Adina Reyter and Tai, skincare and candles by Lapcos, and handmade leather handbags by Volta Atelier out of Brazil.
The boutique has a strong presence on social media; including Facebook, Instagram, and Pinterest. Followers are able to get a glimpse of new arrivals, style inspiration, and trending looks.
Though the boutique does not offer online shopping via its website, the staff does take sales over the phone and ships items to customers in the US.
Burns and her staff strive to offer customers a complete shopping experience. "Every Saturday from 10am-6pm, we offer Sip-n-Shop Saturdays," says Burns. "We serve Rosé while you shop, and it's always a fun environment to come with your girlfriends and find the perfect outfit for the evening." Customers may also book VIP parties after hours to enjoy a private shopping event with groups of family or friends.
To learn more and shop the latest looks, visit Burns and her staff at their newly remodeled boutique. 910-679-4878, lovealamode.com.