Smart Awnings
07 May 2018
Innovative Awnings has moved the needle with state of the art technology
By JUDY ROYAL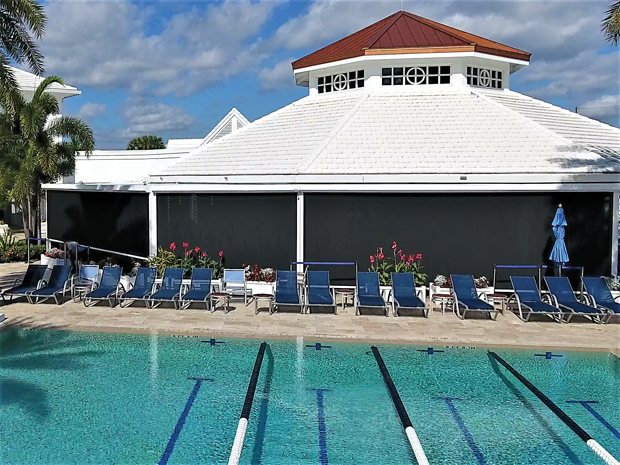 About a year ago, entrepreneur Andy Hoyt had just sold a successful business and was enjoying some down time at his home just outside of Charlotte, when he got a call about a new opportunity. He decided to travel to the Detroit area to find out more about Marygrove Awnings, an 80-year-old business that his friend, a former Circuit City executive, had recently bought.
Hoyt and another friend, Ralph Peterson, made the trip, not expecting it would lead to anything. Neither knew much about the awning business. However, they were both impressed with what they learned over the next few days. That's how Cornelius-based Innovative Awnings was born.
"By the time we'd left, we had purchased the franchise rights for all of North and South Carolina," Hoyt said. "We are an exclusive dealer for Marygrove Awnings products, the only dealer in the Carolinas. Previously, there was no way to get a Marygrove awning in this area."
Hoyt and Peterson call their business Innovative Awnings, and while it's based in Cornelius in the western part of the state, Wilmington has become a hot market for them since their debut at the Wilmington Spring Home Show in February.
"The response has been absolutely tremendous," Hoyt said. "The enthusiasm for the product out on the coast has sort of blown me away. Every time the temperature reaches 70 degrees, the phone is ringing off the hook."
Innovative Awnings isn't just a name. Hoyt considers it a descriptor for the Marygrove product line, which is offering a wide array of high-tech features standard on all of its awnings. This is a big change in an industry that has been largely stagnant during the past few decades, he added.
"The needle hadn't really moved in the awning business for probably 25 years," Hoyt said. "Most retractable awnings are exactly what they were in the 80s. Nothing has changed."
Marygrove however, is incorporating new technology into a remote-controlled, motorized "smart awning" that can be fully integrated with home automation systems. You can also operate your awning from anywhere in the world via a smartphone app.
"If you're at the airport, and you say, 'Hey, I forgot to close my awning,' you can do it right there," Hoyt said.
You can also connect your awning to the weather app on your phone. Wind sensors can be programmed to automatically retract your awning if it gets a little too gusty. Other features include integrated protective cassette housing to protect each awning's fabric from the elements and an easily adjustable pitch so you can raise and lower to better fend off sun and rain.
Bells and whistles are only part of the equation, however. Marygrove stands behind its products, which have aluminum and stainless-steel aircraft-grade components and come with a five-year complete warranty that covers the motor, fabrics and housing. The final installation of every awning, performed by Innovative Awnings' own employees, not contractors, is video recorded and reviewed by company management to ensure each job is up to Marygrove standards.
There's also no guesswork involved with purchasing from Innovative Awnings. An iPad program superimposes the awning on a customer's existing space and gives a true representation of how it will look on the house once installed.
"That's something we can't do in a showroom," Hoyt said. "It's a very effective tool."
"Customers can expect to pay $2,500 to $4,000 for their new awning, but due to blocking the sun out of portions of their home, they often realize great savings on their electric bill in return," Hoyt said.
"Not a single person has told us they regret spending the money," he said. "It is changing people's backyards and making these sun-drenched area usable."
Nancy and David Alexander are among locals singing the praises of Innovative Awnings, whom recently installed an awning on the back patio of the couple's home in Brunswick County's Compass Pointe neighborhood.
"Our patio gets full sun during a major portion of the day," Nancy said. "We had recently expanded the patio and realized if we were going to sit out there at all we were going to need some shade."
She said they have been pleased with the awning, which they used for outdoor entertaining on Easter, and also the associated customer service.
While Hoyt and Peterson are just getting started with the awning business, they aren't stopping there. Innovative Awnings has just launched a brand-new motorized retractable screen product using the MagnaTrack magnet system that Hoyt said is going to be a "game changer" for the industry. It's guaranteed to stay within its tracks during winds up to 85mph, and each magnet has a 400-year life expectancy, Hoyt said.
"As far as screens go, it's a completely different product," he said. "I am so excited about it." 833-337-4233, innovativeawnings.com