Your Reward for a Life Well-Lived
07 May 2018
Premier Homes provides comfortable, customized, and smart retirement living
By Christine Hennessey » Photos by G. FRANK HART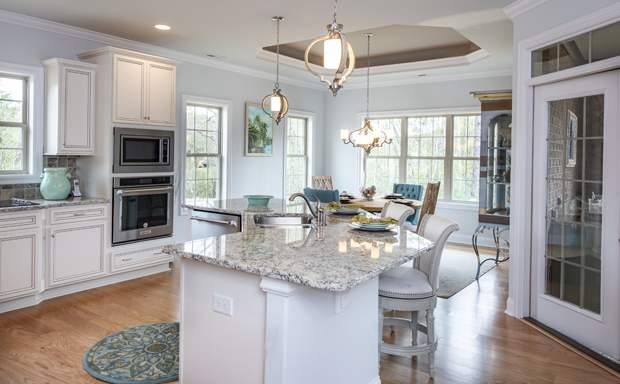 If you live in Wilmington for any amount of time, you're sure to experience this common occurrence: the arrival of new neighbors from colder, northern states, who have chosen to retire in coastal North Carolina. And can we blame them? After all, Wilmington has four mild seasons, a bustling downtown area, beautiful beaches, an exciting arts scene, and plenty of golf courses to keep folks busy. In fact, according to a recent StarNews article, there are more people in Wilmington over the age of 60 than under the age of 17, and the senior community is quickly becoming our largest demographic.

This reality is one that Premier Homes, a leading builder in the Wilmington area for the past three decades, has embraced. They specialize in the art of offering active adults home designs and communities that complement coastal North Carolina's amenities and attractions. "Our mission is simple," says Terry Ando, broker, general contractor, and managing partner of Premier Homes, "To be the best home builder in Wilmington for retirees."

Retire Smarter

The principles of Premier Homes are experts in the field of retirement living and active adult communities. This is due, in part, to their vast experience—over the last 25 years, they've built and developed over 3,000 homes for this unique population.

"Our houses are designed for retirement smart living, which is different from other folks who are building custom homes or starter homes," Ando explains. "We include a lot of features in our homes specifically for retirees. A prime example of this is that all the door handles in our homes are levers you push, rather than knobs you have to turn. Ninety percent of our homes are single level, and only a few have a bonus room."

In addition to these smart features, all Premier Homes feature low maintenance brick exteriors, oversized interior hallways and doors, raised vanities in bath and powder rooms, walk-in showers in the master baths, and lower kitchen cabinets with roll-out bottoms for easy access. These smart features mean the home is not only attractive and comfortable, but also functional—now, and in the future. A Premier Home is one an active adult can age in gracefully, without worrying about whether they'll outgrow it later in life.

And for the record, these details weren't simply plucked out of the air or chosen blindly. They are a result of Premier Homes' commitment to listening to and learning from their residents, continuously implementing new ideas and systems, and never settling for less than the best.

The result? Beautiful, bespoke homes that make it easy for their owners to enjoy their golden years. "Smart" is only the beginning.

The Process

One of the goals of Premier Homes is to offer the most enjoyable building experience possible, which is accomplished, in large part, by upholding a promise to offer their homes at a fixed cost and to build them, start to finish, within 150 days. Premier Homes does this by following a tried-and-true process that keeps things simple and straightforward.

First, they invite new residents to their Model Home Center at The Village at Motts Landing for a tour. Here, one of Premier Homes' community specialists walks them through five furnished model homes so they can see the quality and craftsmanship in person. This makes it easier to find the right fit.

Premier Homes offers 20 different award-winning designs, in different styles and floor plans to suit a variety of tastes and lifestyles. The Patio Home Collection is stately and spacious, while the Floridian Villa Collection is a bit more coastal and laid back.

Once a floor plan has been chosen, one of Premier Homes' builders accompanies the new owners to their lot for a home site inspection. This allows the builder to determine lot size, utility easements, and required setbacks. This process provides important information that will help determine the ideal floor plan for the home. No two lots are alike, and each plan must be customized to the space provided.

For most people, the next step is the most fun—selecting the materials and features that will create the look and feel of their home. Premier Homes has an on-site selection center, where a member of their team helps homeowners choose colors and materials, such as brick, paint colors, tile, hardwood, carpeting, cabinetry, appliances, and more. If you've ever found yourself lost and overwhelmed in a Lowe's, Home Depot, or Ikea, you know this process can be overwhelming. This is why it's so valuable to have an expert on hand to help steer things in the right direction and ensure the home you build is one you'll love.

Before Premier Homes breaks ground, they hold a pre-construction meeting with the construction team to discuss final details of the process, such as start and completion dates. Most homeowners only build one or two homes in their lifetimes, and Premier Homes wants to make sure their customers understand the process and have an opportunity to ask any questions that might arise before, during, and after.

Once the nuts and bolts are taken care of and everyone is on the same page, construction begins. Premier Homes ensures that one of their builders is on-site at all times to make sure the quality of the house is up to their standards and that the timeline stays on track. Once the home is complete, a Premier Homes builder walks through the house, completing a rigorous 200-point inspection.

The final step is the best one. The Premier Homes team welcomes the new residents into their house, and the happy homeowners settle in, but never down—not when there's a whole neighborhood of amenities and activities to enjoy.

Community Life
While a Premier Home can be built anywhere, there are three communities in particular that provide the ideal location for "retirement smart living." The Village at Mott's Landing, located just off River Road, was recently named the number one retirement smart community in Wilmington and features the kind of lux amenities and peaceful setting active adults who have paid their dues want and deserve. River Bluffs, just north of Wilmington in Castle Hayne, is smart about both retirement and sustainability and environmental preservation. More than a third of the land in this community is preserved as open space, trails, and parks—one of the many reasons it snagged the 2015 Outstanding Stewardship Award.

"Right now, we're developing a new community called the Home Place, which is located in the heart of Wilmington," Ando says. "That community is going to feature our Garden Home Plans, but with a twist—they'll actually be townhomes." This new community will include 26 select home sites, featuring a peaceful and quite lifestyle for active retirees. The duplex Garden Homes will include lawn care, brick exteriors, screened porches, two-car garages, covered front porches, homeowner's insurance, and annual window and gutter washing to help preserve their beauty and maximize convenience.

As Premier Homes proudly proves, it's never been a better time to be a retiree. As they continue to build new homes and foster new communities, their homeowners will enjoy their golden years for decades to come. premierhomesatmottslanding.com