A Voice for Women Writers
07 May 2018
Art and advocacy is alive and well in Wilmington
By KIM HENRY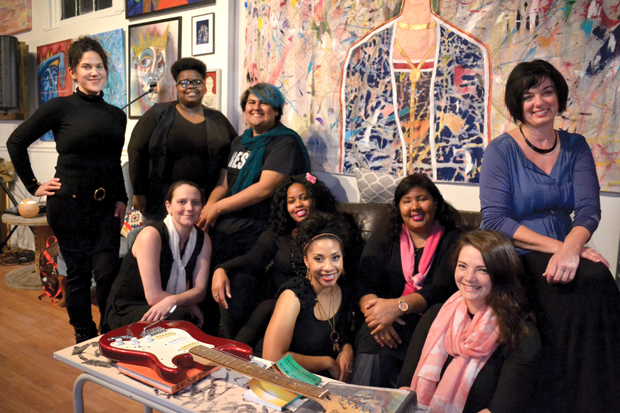 Passionate about art as an effective tool for social change, Khalisa (Kelly) Rae is a creative powerhouse whose fearless words may just rock your world. First and foremost a poet, Rae is also a director, performer, feminist activist, educator and now part owner of Athenian House, Wilmington's first bookstore, gathering space, and publishing press for women, GNC (Gender Non Conforming), and transgender writers.
"I've been a writer for as long as I could write," smiles Rae, recalling a childhood full of her own stories, poems, and plays. Coming from an artistic family who always supported her love of theatre, writing, and performance, Rae's creativity energy is abundant, matched only by her pioneering spirit and fierce dedication to social justice.
"As the only child of color at my school, I experienced racism on a regular basis growing up. After moving to LA, and despite meeting all the right people and working for many top companies, I knew that scene wasn't for me," explains Rae, her natural warmth and eloquence emanating forth. Dismayed by the lack of representation of women, and more specifically women of color, in the arts and media, Rae returned to NC determined to make a difference.
Compelled to have a direct positive impact on marginalized people, Rae became the community outreach coordinator at the YMCA. There she managed multiple programs aimed at standing against racism, assisting single mothers, and educating young girls on issues such as body image. She also founded Poet.she performing arts company, traveling all over America as a Spoken Word poet and Feminist Activist Speaker. Widely published in literary magazines and winner of various awards, Rae's advocacy and art became inextricably connected.
Adding a Masters in Poetry and Creative Writing to her BA in English, Rae also published her first book in 2010. 'Real Girls Have Real Problems' is a collection of poems exploring her own experience of growing up as a woman of color in mainstream America. This deeply personal, moving and impressive body of work explores the stereotyping of women, patriarchy, domestic violence, mental health and sexual assault among many other issues.
The book was met with such a positive reaction that it evolved into her first play. 'The Seven Deadly Sins of Being A Woman' enjoyed a sell out debut at both the Cape Fear Playhouse and UNCW. The play identifies seven themes that Rae feels embraces the most common issues women face: Sexism, Racism, The Beauty Myth, Bullying, Sexual Assault, Sexuality, and Mental Illness.
To a backdrop of relevant sliding images from a female artist, fifteen local and international, African-American, white, and Hispanic female and transgender participants perform Rae's poems, interwoven with real-life personal narratives, written by the women themselves.
"My hope is that by witnessing women speaking their truths, other women will find the courage to own their stories, find the support they need, and live full, whole lives," says Rae, "the stories are gripping, sometimes comical, and sometimes heart wrenching. They're real and they cover real issues that need to be addressed." Rae believes that empowering the voices less heard can break age-old patterns of oppression and end the silence around controversial issues. She feels that 'speaking up' through art initiates vital conversations within communities. Conversations that lead to positive changes.
Inclusivity and empowerment are at the heart of this artist's drive and fueled her determination to bring Athenian House into being. Taking the leap from a stable job to realizing her most heart felt dream, Athenian House is Rae's latest project. As one of three female owners and the Creative Director, Rea is heading up a dynamic program of workshops, live music, Spoken Word events, Poetry Slams and a range of classes to uplift and engage Wilmington's female writers. (And supportive men too!) This 501c (3) non-profit is a bookstore, event space, publishing house, resource center, and a great place to just get a coffee and write.
And write and write is just what Rae intends to keep on doing. She's currently working on her second poetry book, 'Outside the Canon' and a full-length book, 'Southern Belles Burning.' Inspired by authors such as Mahogany Browne and Claudia Rankine, who infuse their writing with political topics, Rae's work is at once bold, beautiful and potentially triggering. A final word for all aspiring poets and writers ―"Words have the power to change and shift the present narrative. Your story is valuable and necessary and needs to be told."
An excerpt from 'The Seven Deadly Sins of Being A Woman' by Khalisa Rae:
"Contrary to popular belief, all women's cries on the balconies don't sound like yours,
Some sound like battle cries, like hymns, like a message to God.
I come from a long line of women who knew something about being alone,
Women that could stand in a battlefield, with one baby on hip, one in hand,
And still take care of poems and business at the same time."