The Bluffs on the Cape Fear
07 May 2018

Amenity rich living that includes a private beach club
By DEAN BLAINE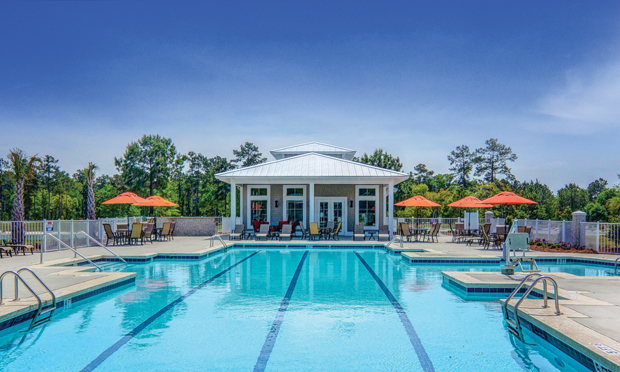 The first European to sail the Cape Fear River was explorer Giovanni de Verrazano. In 1524, he described the region to the King of France, "the open country rising in height above the sandy shore with many fair fields and plains, full of mighty great woods, some very thick and some thin, replenished with diverse sorts of trees, as pleasant and delectable to behold as is possible to imagine."
The beauty of the Cape Fear River Basin still enchants and inspires visitors today, nearly 500 years later. The latest age of explorers find beauty on its banks, tranquility in its forests, sunshine on its beaches, and warmth in its people. The developers of The Bluffs on the Cape Fear harnessed this appeal when they chose the site for their master planned community, on the banks of the Cape Fear River, in easygoing Brunswick County, just minutes from downtown Wilmington.
The private, gated community offers homes starting in the high $300Ks, on spacious lots averaging nearly half an acre in size – plenty of room to enjoy the serenity. Most of the lots back up to natural areas: parks, ponds or the river itself.
Developer and partner in The Bluffs, Doug Talbot, has held executive positions with some of the nation's top real estate development companies, and oversaw the design of amenity-rich residential communities in states including North Carolina, South Carolina, Georgia and Tennessee. He has created more than $300 million in land sales. He's proud of The Bluff's ample amenities.
The centerpiece of The Bluffs is the clubhouse and resort-style swimming pool. Further amenities include a lake with a fishing pier, a playground, tennis courts, picnic areas, river access and wooded trails. But the real standout perk is the private beach club on Oak Island. This luxury house with beach access is an exclusivity extremely rare to other developments in the area.
This year, exciting changes are afoot at The Bluffs. New owner Billy Brown, a Texas-based oil and gas entrepreneur, who brings a high level of financial strength and acumen to The Bluffs' development team is breathing new life into the community's first-class amenities. Plans include the addition of a boat launch and two-acre riverfront park with a spacious gathering pavilion and other inviting features. The community's clubhouse will be further expanded to include a fitness center and more resident-friendly perks.
The team has welcomed acclaimed builder Arthur Rutenberg Homes to the neighborhood. In business for half a century and recently inducted into the National Association of Home Builders, "Hall of Fame," Arthur Rutenberg Homes joins Legacy Homes by Bill Clark and Southern Pines Homes, in building beautiful homes at The Bluffs.
Learn more about real estate opportunities at The Bluffs on the Cape Fear, at thebluffsnc.com or 888-725-8337.