Bald Head Island
07 May 2018
A protected natural habitat living on 'turtle time'
By DEAN BLAINE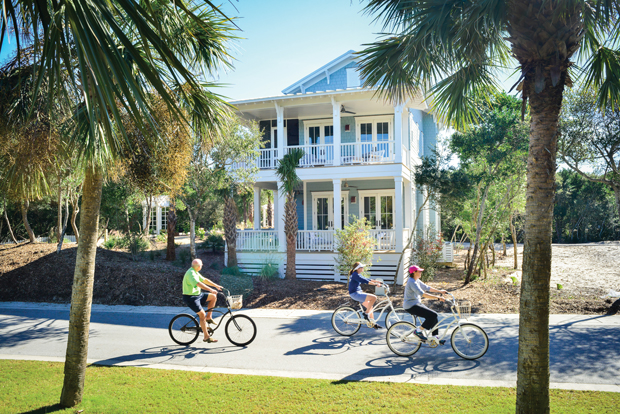 Life moves a little slower on Bald Head Island, a 12,000-acre stretch of marsh, beach and forest, two miles off the coast of Southport. Island locals call the vibe "turtle time," and after a few days on Bald Head, visitors find themselves living a little easier, breathing a little deeper, and worrying a whole lot less. It helps that there are no cars on the island, only golf carts and bicycles, and the speed limit maxes out at 18 mph.
Bald Head has been home to Native Americans hunting and fishing, pirates searching for buried booty, and Civil War soldiers guarding the mouth of the Cape Fear River. The island's longstanding landmark is the "Old Baldy" lighthouse, erected in 1817, and is also the oldest lighthouse in North Carolina. Development on the island started in the 1970s, when 19 families ferried over supplies from the mainland and constructed homes in quiet wooded areas, or on bluffs, with 270-degree waterfront views. The first residents dubbed themselves, "The Generator Society," as there was no electricity on Bald Head until 1981. Before then, families powered their homes with generators and often spent their evenings bathed in candlelight.
The entire island was purchased in 1983 by Bald Head Island Ltd, and developers set about constructing a marina, a golf course and a country club, while preserving 10,000 of the island's 12,000 acres as protected natural habitat.
Today, Bald Head Island features more than 1,200 homes. The island boasts 14 uninterrupted, uncrowded miles of beaches, and two different clubhouses with pools and spectacular ocean views.
Visitors enjoy kayaking Bald Head Creek, hiking the trails through the island's 200-acre Maritime Forest Preserve, or climbing to the top of Old Baldy Lighthouse. Outdoor outfitters set visitors up with paddle boards, sailboats, surf boards, in-shore and off-shore fishing excursions, canoe trips and more. The Bald Head Island Conservancy, responsible for protecting the island's habitat as a loggerhead turtle nesting ground, provides programs like birding, turtle walks, and stargazing year-round.
Real estate offerings run the gamut in terms of size, setting, and price. Resale properties are available in a variety of environments, including oceanfront, creekfront, golf course, Harbour Village and maritime forest, with homes starting in the $400,000s up to $3 million-plus. Just a stone's throw from the ocean, the Southern Living "Inspired Community at Cape Fear Station," combines a perfect location with charming Lowcountry architecture, with new homes starting in the $700,000s. The neighborhood was recently named a top Southern Living "Inspired Community of the Year."
Vacation rentals are available along the beach, fronting the marsh, tucked within the forest, or surrounding the island's 10-acre marina. Learn more about the island, its real estate offerings, and its vacation rentals at bhirealestate.com.