Keeping It Real with Ryan
07 Jul 2021
Local artist Ryan Lewis's art fuses cutting edge style with a positive message

By KIM HENRY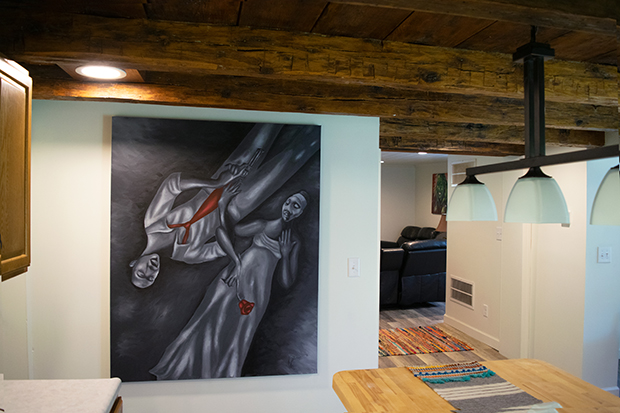 Let's welcome a fresh new talent to the thriving Wilmington art scene. Ryan Christopher Lewis relocated from Fayetteville in December 2020 to complete a Fine Art degree at UNCW. Having begun with graphic design in a bid to follow a more 'practical' route, Lewis knew that this was not his true calling. So ever committed to his actual dream of being a full time artist, 28-year-old Lewis, like so many before him, switched majors, let go of the day job, believed in himself and has taken the leap.

Following in the footsteps of his artistic uncle, who is also one of his biggest inspirations, Lewis uses the canvass to express his inner world through images rather than words. "I paint my story, and everyone can take what they want from it," shares this thoughtful young artist, surrounded by his paintings in his home studio. One of his pieces shows an elderly man reaching up to a taller, young person and Lewis reveals that this is depicting the tender moment when he met his grandfather for the first time. "I couldn't describe how I felt with words, so I took my time and I painted it," says Lewis.

Working mainly with acrylic on canvass, Lewis also portrays his hero's and reflections on contemporary America, focusing on African Americans and people of color. Although Lewis would not describe his work as being motivated by politics, with an African American dad and Caucasian mother, he has a unique perspective on life in modern day America. "There's a lack of celebrated black artists. Honestly, I can't think of one that I've been taught about," he reflects. Addressing this imbalance through his work is just one of the positive repercussions of committing to his craft. From striking images of athletes, to self portraits, to paintings of George Floyd, his prolific body of work can make you smile and make cry in equal measure. "When everything happened with George Floyd last year, I really didn't want to talk about it and add to the conflict, so I painted," shares Lewis. The large image of Floyd with tears streaming down his cheeks speaks volumes and says as much as any social media post.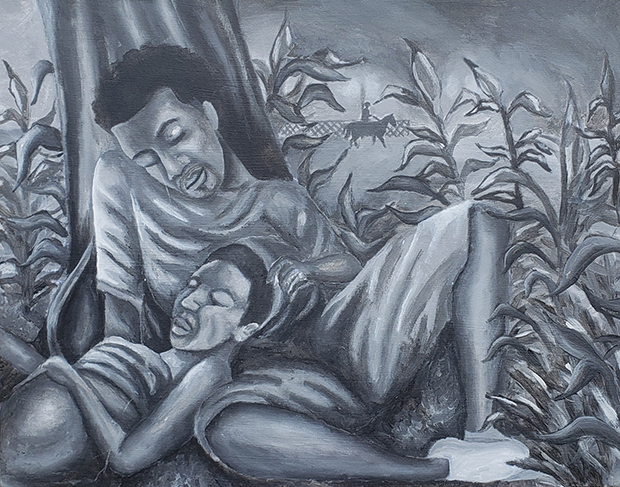 Sport and music are also huge influences for this talented artist, with many of Lewis's idols being represented on more than just a canvass. Thinking beyond the box, Lewis began to adorn shoes and jackets with his sporting idols, and the exceptional detail of his creations began to draw attention. Accepting commissions, Lewis takes a photo of his clients' choice and decorates an item of clothing with immaculate precision.

This led to Lewis utilizing his graphic design skills, (he will have a minor in graphic design when he graduates) and developing his own clothing company. The Bleeding Heart Clothing Company provides authentic designs and "represents the emotions relevant to the urban society through fashion." Gracefully blending urban edge with a playful, big-hearted component, Lewis' new venture features a range of clothes and accessories with his brightly colored bleeding heart logo for both men and women. In addition to this symbol of the bleeding heart, he has urbanized the traditional image of the three monkeys into three bears mimicking the hear no evil, see no evil, speak no evil hand gestures. Clearly reflecting his values, his clothing line merges a positive message with cutting edge style.

Lewis's art has won awards and competitions and has been exhibited in various events and galleries. He's looking forward to exploring all that Wilmington has to offer and contributing his spice to the artistic melting pot here. "I still have so much to learn in developing my own style so I'm excited to be here in a town that is so supportive of its artists," says Lewis. Having finally taken the leap into being a full time artist himself, what advice would he give to other young artists? "If you know that art is something you love, take yourself seriously. Work hard from the beginning and pay attention. Don't waste time and don't get distracted." Wise words from a Wilmington artist to watch.