Kornerstone Bistro in Wilmington
04 Sep 2023
Adapting but never straying, Kornerstone Bistro remains a neighborhood gathering spot as the area grows
By Judy Royal » Photos by G. Frank Hart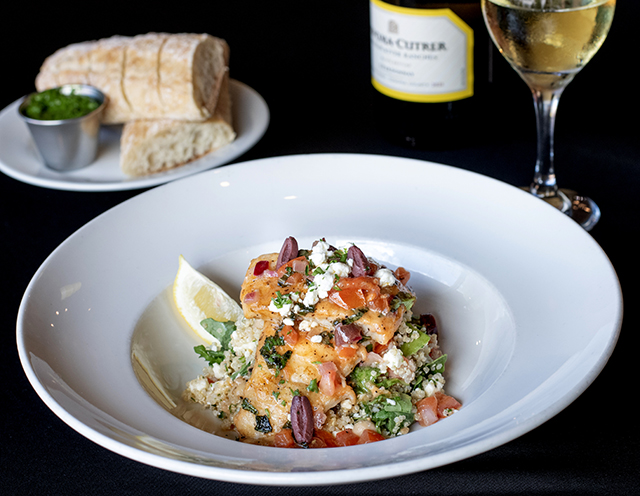 When Kornerstone Bistro opened in 2007, Porters Neck had no Walmart, no Lowe's and just a handful of places to eat. Fast forward 16 years and almost everything in the area is different, yet the restaurant's core concept remains the same.
"My wife Leslie and I wanted to create an upscale yet casual community place reminiscent of the Italian, French, Greek and Spanish ports we frequented while working aboard yachts in the Mediterranean," owner Robert Pickens says. "It is definitely a community-driven bistro, and as the community continues to grow and develop, we're gaining more customers all the time. We see a lot of the same faces year after year. It's a place where people gather. It's developed into the local place where many shared memories continue to happen, a true cornerstone of the community, which is what we set out to do."
The idea is to appeal to a variety of customers, from families coming straight off the beach in flip-flops to couples seeking a nice evening out, he said.
Pickens, a Mississippi native, grew up in the South but traveled all over the world as a chef on yachts and wrote a cookbook/guidebook about Caribbean food called "Caribbean Cuisine: A Culinary Voyage." He arrived in Wilmington in 2005 after seeking a more family-friendly lifestyle with his wife and children. Pickens said he was tired of missing important events due to traveling and was drawn to North Carolina because he wanted to be closer to relatives here while raising his kids. He initially began working as executive chef at Eagle Point Golf Club, a position he continued to hold until 2022, even after opening Kornerstone Bistro and later Tidewater Oyster Bar, which is just across the street. These days, in addition to running the two restaurants, Pickens occasionally freelances as a chef for a few families and volunteers his skills for charity events when his schedule allows.
When creating Kornerstone Bistro, Pickens' goal was to develop a Mediterranean vibe and menu while using regional ingredients, basically "a local place for worldly taste," he says. The original menu leaned heavily on wood-fired pizzas, paninis and salads. However, Pickens soon realized he would have to pivot and offer more variety to accommodate the demographic.
The second and several subsequent years in business proved to be challenging because of the economic recession, but through it all Kornerstone Bistro found ways to stay afloat, such as private airline catering and special incentives to lure diners, Pickens says. As the economy improved and Porters Neck grew, he expanded Kornerstone's offerings into a bistro-style menu with steaks, seafood and pasta dishes in addition to the original offerings. Favorites include seafood penne; shrimp fra diavolo; filet mignon with a chianti reduction sauce; lemon chicken paillard; and flounder Mediterranean. The latter dish—a combination of capers, tomatoes, olives and lemon highlighting the fish—is a great example of what Kornerstone Bistro strives to be, he explains.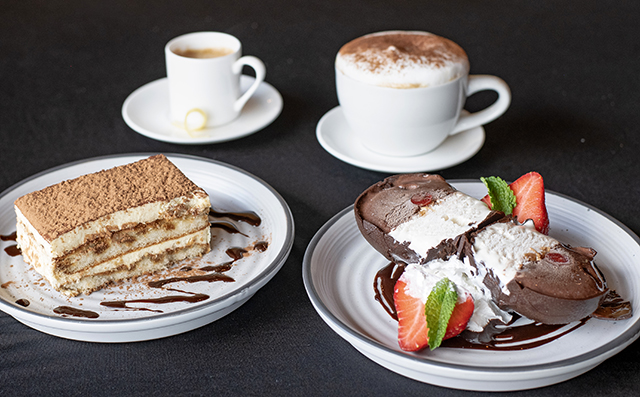 "It epitomizes what we do in terms of using local seafood with the flavors of the Mediterranean," he says.
The restaurant is open daily for lunch and dinner, with brunch specials making an appearance on weekends. In addition to the regular menu, there is a separate menu focusing on vegetarian and vegan options as well as chalkboard specials that change weekly. These recently included seared sea scallops with white bean puree, wilted greens and tomato vinaigrette; roasted pork tenderloin with sweet potato mash, corn chow and peach BBQ sauce; and eggplant ravioli topped with roasted vegetable caponata.
"It's an opportunity for us to be creative and offer our customers a little something different than what's on the menu," Pickens says.
When asked if he ever thinks about paring down the extensive lineup of food items, Pickens said that would be no easy task.
"It's gotten to the point where people have so many favorites, and it's kind of hard to take things off without causing chaos," he says. "For the most part, everything sells fairly equally."
Those looking for deals can hit up Kornerstone Bistro for free kids' meals on Monday, half-price mussels on Tuesday, half-price wine on Wednesday, $8 cocktail specials on Thursday and $3.50 drafts on Sunday. Thursday nights during the summer feature local musicians on the large patio, which seats about 80. Pickens says he's planning to add a pergola to the outdoor area later this year to create a different ambiance and freshen up the interior while keeping the "coastal Mediterranean" feel.
After weathering the early economic woes and the pandemic, Kornerstone Bistro endures as a staple in Porters Neck. Pickens credits his team for making it work.
"We have fantastic teams at both restaurants, and that makes all the difference," he says. "It's all about the people you have working with you, and we have great people and great customers in the community. We plan to continue to evolve and adapt to what the community wants."