The Best of Both Seasons
04 Sep 2023
Harmonious recipes to fuel your fall
Recipes and photos by Fanny Slater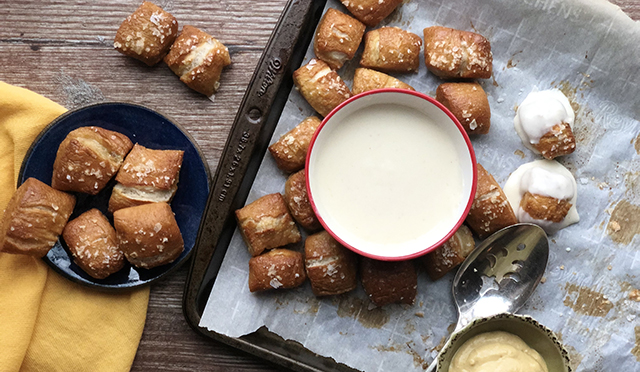 Feel free to "fall into fall" on Instagram with pretty snapshots of pumpkin-spiced sweets and sweater weather reels. But IRL, September and October in Wilmington translate to one thing: local's season. The unbearable heat has taken a hike along with most of the tourists. And while maple has certainly surfaced on every menu—it's not quite time for heavy, belt-unbuckling comfort food just yet. With that in mind, I created a collection of recipes that bridge the gap between summer and winter and combine the best flavors from both seasons.
Here's the rundown.
September is synonymous with "go sports!" so I'm kicking things off with a football-friendly app you can make with the kiddos. Name a more crucial crowd-pleaser than buttery, poppable pretzel bites with gooey cheese. Go ahead. I'll wait. Since you'll be making the pretzels from scratch, I encourage you to take advantage of the plethora of perfect queso available at local restaurants all over town. The temps may not have plummeted just yet, but that doesn't mean your tastebuds aren't craving something warm. Enter brothy bowls of savory Italian wedding soup so good you'll say "I do" to every spoonful. Tender white beans and wilted greens keep it light, while pungent garlic and pork meatballs bring the richness. It's still fire-up-the-grill weather around here, so summery fall mushroom flatbreads kissed with thyme are right on time.
Pineapples and bell peppers may scream poolside, but I toss them with tangy sweet and sour pork for a cozy Chinese-inspired creation. The shrimp and citrusy lemon zest in my spin on "linguine Fra Diavolo" will conjure sandy-toed vibes, while the spicy red pepper-flecked sauce feels just hearty enough for fall. For the finale, no need to break out the rolling pin for full-on apple pie. Instead, opt for chai-spiced baked apples—a crustless masterpiece swimming with warm, aromatic spices and dolloped with gelato or ice cream I know you still have in the freezer.
Homemade Soft Pretzel Bites
Yield: approximately 60 pretzel bites
1 1/2 cups warm water (at 110° to 115° F)
1 tablespoon light brown sugar
2 teaspoons salt
2 1/4 teaspoons active dry yeast (1 package)
7 tablespoons unsalted butter, divided
3 1/2 to 4 cups all-purpose flour (plus 2 tablespoons for cheese sauce)
2 tablespoons vegetable oil
1/3 cup baking soda
1 large egg whisked with 1 tablespoon cold water
Large-flaked sea salt (about 1/4 cup)
Queso and spicy mustard, for serving
1. In the bowl of a stand mixer fitted with the dough hook attachment, combine the water, sugar, and salt. Sprinkle the yeast on top and allow it to sit until the mixture begins to foam (about 5 minutes).
2. Melt 5 tablespoons of the butter in the microwave or in a small saucepan over low heat and then bring it to room temperature. Add the melted butter to the bowl with the yeast and begin to mix on low speed. Slowly add in the flour, about 1/2 cup at a time, until the dough is no longer sticky and comes together. Turn the speed to medium and knead until the dough is smooth and pulls away from the sides of the bowl, about 5 more minutes.
3. Remove the dough and wipe out the bowl. Rub the bowl with the vegetable oil and then place the dough back inside. Cover the bowl loosely with plastic wrap or a kitchen towel, and place it somewhere warm until the dough has doubled in size, about 30-45 minutes.
4. Preheat the oven to 425°F and line two large baking sheets with parchment paper.
5. Cut the dough into 6 sections. Roll each section into a long rope (about 20 inches long), and then evenly cut into bite-size pieces about 1 1/2 inches each.
6. In a large pot or Dutch oven, bring 3 quarts of water (about 12 cups) to a boil with the baking soda. Working in batches of about 8-10 at a time, carefully drop the pretzel bites into the water, and cook until they puff up (about 20 seconds). Remove them with a slotted spoon and arrange them in single layers on the baking sheets.
7. Brush each pretzel bite with egg wash and sprinkle generously with the flaky salt. Bake until the pretzels are golden brown, about 15 minutes, and then transfer to a cooling rack.
8. Serve warm with the queso and mustard.
Italian Wedding Soup with Chard & Fennel
Serves 4 (as an entrée soup)
1/4-pound mild Italian sausage
1/4-pound ground beef
1 large egg, lightly beaten
6 large cloves garlic, minced, divided
1/2 small sweet onion, minced
1/2 cup freshly grated parmesan, divided (plus the rind for flavoring the broth)
1 tablespoon chopped fresh parsley
2 tablespoons panko breadcrumbs
1/4 teaspoon coarse salt
1/4 teaspoon freshly ground black pepper
2 tablespoons olive oil
1 large leek, light green and white parts only, diced (about 1 cup)
1 medium head fennel, rough chopped with the fronds reserved (about 1 cup chopped)
1/4 cup dry white wine
6 cups low-sodium chicken or vegetable broth
1/2 cup small Italian pasta like acini di pepe (or orzo)
1 15-ounce can cannellini beans, drained and rinsed
1 small bunch Swiss chard, ribs removed and roughly chopped
1. Preheat the oven to 400°F and spray a large baking sheet with non-stick cooking spray.
2. In a large bowl, mix the sausage, beef, egg, 2 garlic cloves, onion, 1/4 cup of parmesan, parsley, breadcrumbs, salt, and pepper. Gently fold the mixture together, making sure not to overwork the meat.
3. Using about 1 tablespoon as your size guideline, form the mixture into equal-size meatballs and place them on the prepared baking sheet. Bake until the meatballs are lightly golden brown, about 10 minutes.
4. In a large stock pot or Dutch oven over medium-low heat, add the olive oil and swirl to coat the pan. Add the remaining garlic, leeks, fennel, and season with salt and pepper. Sauté until the leeks and fennel have softened, about 5 minutes. Pour in the white wine and broth and add the parmesan rind. Bring the mixture to a boil. Add in the pasta, lower the heat to medium-low, cover the pot, and cook until the pasta is tender (about 6-8 minutes).
5. Stir in the meatballs, beans, and chard. Cook until the beans are heated through and the chard has wilted (about 5 minutes). Season to taste with additional salt and pepper, remove the parmesan rind, and then divide the soup among bowls.
6. Garnish with the remaining grated parmesan and fennel fronds and serve hot with crusty bread.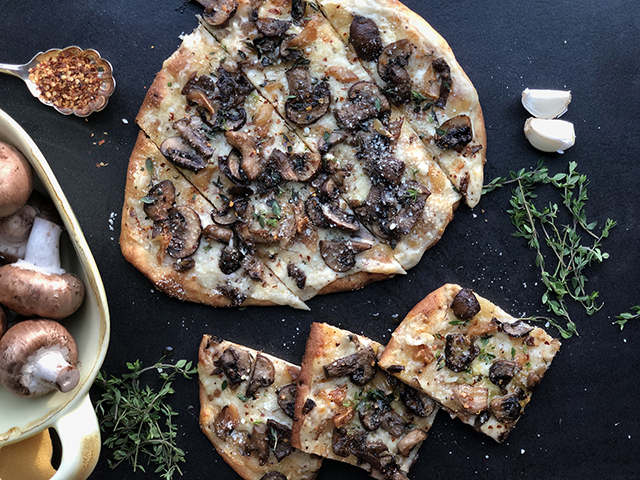 Grilled Flatbreads with White Sauce, Fall Mushrooms, & Roasted Garlic
Yield: 4 flatbreads
1 large head garlic
6 tablespoons extra-virgin olive oil, divided
Pinch coarse salt
3 tablespoons unsalted butter, divided
4 cups sliced fall mushrooms (such as Oyster or Hen of the Woods)
1 small shallot, chopped
4 tablespoons chopped fresh thyme
Freshly ground black pepper
1 tablespoon all-purpose flour
1 1/4 cups whole milk, warmed
1/2 cup shredded sharp provolone cheese
4 flatbreads (such as naan or pita)
4 tablespoons freshly grated Pecorino Romano cheese
1. Preheat the oven to 400°F.
2. Slice off the very top of the garlic head so that the cloves are exposed. Drizzle the cloves with 2 tablespoons of the oil and sprinkle with the salt. Wrap the entire head in foil and bake until golden and tender, 50 to 55 minutes.
3. To pop out the cloves, gently squeeze them out of their shells. Roughly chop the roasted garlic and set it aside. Reserve the garlic oil.
4. In a large skillet over medium-high heat, melt 2 tablespoons of the olive oil and 2 tablespoons of the butter. Working in batches so you don't crowd the pan, sauté the mushrooms and shallots, stirring occasionally, until the mushrooms are golden-brown, about 2-3 minutes. Season with 2 tablespoons of thyme, and a pinch each of salt and pepper.
5. Wipe out the skillet, add the remaining 1 tablespoon of butter over medium-low heat, and swirl to coat the pan. When the butter begins to foam and sizzle, add the flour and whisk until combined. Cook, stirring often until smooth, for 1 minute. Slowly stream in the milk, vigorously whisking as you pour, and then cook until thickened (about 2-3 minutes). Whisk in the provolone until melted and thoroughly combined and season to taste with salt and pepper.
6. Preheat a grill or grill pan to medium heat (about 375°F).
7. Evenly brush the bottoms of the flatbreads with the remaining olive oil and then spread the other sides with the white sauce. Evenly top with the roasted garlic, mushroom-shallot mixture, and 2 tablespoons of the Pecorino Romano.
8. Carefully place each flatbread pizza on the grill and close the cover. Cook until the bottom of each is golden brown and crispy and the cheese has melted (about 8-10 minutes).
9. Garnish with the remaining thyme and Pecorino and drizzle with the reserved garlic oil.
Sweet & Sour Pineapple Pork
Serves 4
4 tablespoons low sodium soy sauce, divided
1 small bunch green onions, white and green parts, chopped, divided
1 tablespoon fresh ginger, grated
4 large cloves garlic, grated, divided
1-pound pork tenderloin, shoulder, or thick-cut boneless chops, cut into 1-inch pieces
1 cup cornstarch
3 cups vegetable oil, for frying (plus 2 tablespoons for sautéing)
1/2 cup chopped sweet onion
1/2 cup chopped green bell pepper
1/2 cup chopped red bell pepper
2/3 cup chopped fresh pineapple
4 tablespoons tomato paste
1/2 cup rice vinegar
1/2 cup packed light brown sugar
1/4 cup water
1 tablespoon sesame seeds
White or brown rice, for serving
1. In a large bowl, mix 2 tablespoons of soy sauce, 1/2 of the scallions, ginger, and 2 cloves of garlic. Add the pork pieces and toss until they're thoroughly coated in the marinade. Cover and refrigerate for at least 1 hour.
2. In a heavy-bottomed saucepot or Dutch oven, heat about 4 inches of oil over medium heat until it reaches 350°F. You'll know the oil is ready when you place the handle of a wooden spoon in it and it bubbles immediately.
3. Place the cornstarch in a large bowl. Remove the pork pieces from the marinade and dredge them in the cornstarch until liberally coated. Working in batches, fry the pork until golden brown and cooked through (about 3-4 minutes). Set the fried pork aside on a paper-towel-lined plate to drain any excess oil.
4. In a large skillet, add the remaining 2 tablespoons of oil over medium heat and swirl to coat the pan. Add the remaining garlic and sauté until very fragrant, about 1 minute. Add the onions and peppers and cook until crisp-tender, about 2 minutes, and then add the pineapple and cook for 1 additional minute.
5. Stir in the tomato paste, rice vinegar, brown sugar, water, and remaining soy sauce, and bring the mixture to a boil. Add the fried pork and remaining green onions and toss to coat everything in the sauce.
6. Divide the pork, veggies, and sauce among plates, garnish with sesame seeds, and serve over rice.
Fiery Shrimp Linguine
Serves 4-6
1 pound linguine
4 ounces pancetta, rough chopped into 1/4-inch cubes
2 tablespoons olive oil, divided
1 pound raw shrimp, deveined with tails on
1 1/2 teaspoons coarse salt, divided, plus more to taste
1/2 teaspoon freshly ground black pepper
1 teaspoon crushed red pepper flakes, divided
1 medium shallot, chopped
4 medium cloves garlic, minced
1/2 cup dry white wine
1 28-ounce can whole peeled tomatoes, crushed
1/4 cup packed fresh basil leaves, gently torn
Zest of 1 lemon
8 tablespoons freshly grated aged asiago cheese, divided
2 tablespoons chopped fresh parsley
1. Cook the linguine in a large pot of salted boiling water according to the package directions. Before draining, reserve 1/4 cup of the starchy cooking water and set aside.
2. In a large skillet or cast iron pan over medium-low heat, sauté the pancetta until crisp and golden brown, about 5 minutes. Using a slotted spoon, remove the cooked pancetta and set it aside on a paper towel-lined plate. Reserve the rendered fat in the pan, increase the heat to medium, add 1 tablespoon of the olive oil, and swirl to coat the pan.
3. Season the shrimp with 1 teaspoon of salt, the black pepper, and 3/4 teaspoon red pepper flakes. Add them to the pan. Cook until they're opaque and have a golden-brown crust, about 2 minutes per side, depending on their size. Remove the shrimp and set them aside.
4. Add the remaining tablespoon of olive oil and swirl to coat the pan. Add the shallot and garlic and season with the remaining salt and red pepper flakes. Sauté until the shallots are translucent, about 2 minutes. Deglaze the pan with the white wine, scraping up any brown bits from the bottom. Add the tomatoes, cover the pan, and simmer until the sauce begins to thicken (about 10 minutes).
5. Add the cooked linguine, reserved starchy cooking water, shrimp, pancetta, basil, lemon zest, and 6 tablespoons of grated asiago cheese. Toss to combine. Season to taste with additional salt.
6. Divide the pasta among bowls and garnish with the remaining asiago cheese and parsley.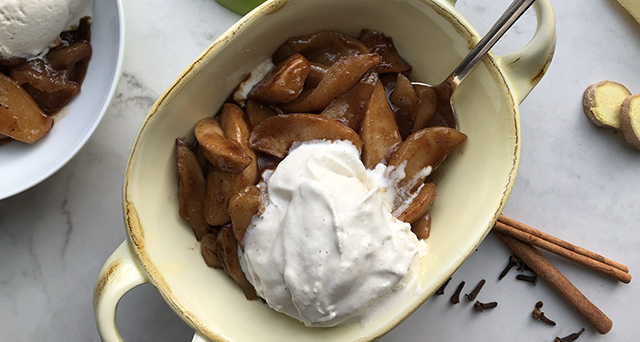 Chai-Spiced Apples with Coconut Gelato
Serves 4 to 6
4 medium apples (2 sweet like honey-crisp and 2 tart like granny smith)
1 tablespoon lemon juice
2 tablespoons unsalted butter, melted
2 tablespoons apple cider (or apple juice)
1 teaspoon vanilla extract
6 tablespoons dark brown sugar
2 tablespoons cornstarch
1 1/2 teaspoons ground cinnamon
1/2 teaspoon ground ginger
1/4 teaspoon ground cardamom
1/4 teaspoon ground cloves
1/4 teaspoon ground nutmeg
1/4 teaspoon freshly ground black pepper
Pinch coarse salt
1 pint coconut gelato (or your ice cream of choice)
1. Preheat the oven to 400°F.
2. Peel, core, and quarter the apples. Slice into 1-inch chunks and place them in a 9×13-inch baking dish, 2-quart casserole dish, or pie dish.
3. Add the lemon juice, butter, apple cider, vanilla, brown sugar, cornstarch, cinnamon, ginger, cardamom, cloves, nutmeg, black pepper, and salt to the apples. Toss to combine and then loosely cover the dish with foil.
4. Bake for 30 minutes, uncover the dish, toss the apples, and continue baking until caramelized and fork tender, about 10-15 more minutes.
5. Allow the apples to cool slightly and then serve with even portions of the vanilla bean gelato.