Lifelong Learning
29 Dec 2016
Fun and engaging non-credit courses and programs for those age 50 and over are offered at UNCW by the Osher Foundation
By JOHANNA COLBURN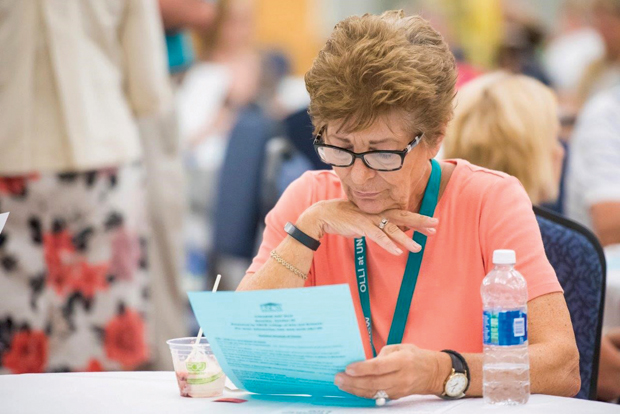 Industry-wide research supports the belief that no matter what our age, everyone wants to live a life filled with purpose. During retirement, it's time to pursue areas that truly spark one's interest. Lifelong learning keeps retirees challenged, sharp, and relevant. It also keeps retirees socially engaged, enabling them to take part in stimulating experiences and connect with fascinating new people. The best part is that it's an individual choice in what one decides to pursue, and also solves one of the biggest challenges of retirement – how to stay busy with any new found free time. No matter what course is chosen, new-found knowledge is something anyone can be proud of. Whether it's joining an exercise class or volunteering, lifelong learning has wonderful benefits for seniors of all ages.
One of the best examples of premier lifelong learning for people ages 50-plus in Wilmington, is the Osher Lifelong Learning Institute (OLLI) at UNC Wilmington. Named in 2009 after the Osher Foundation, OLLI is dedicated to the continuation of lifelong learning opportunities for people 50-plus years old. The Osher Foundation gave an endowment to UNCW to continue providing non-credit courses focused on lifelong learning opportunities for the 50-plus population in Southeastern North Carolina. The mission of OLLI at UNC Wilmington is to be the premier lifelong learning organization for those who seek academic, social and experiential learning.
The Osher Foundation has endowed 119 lifelong learning institutes in all 50 states on university and college campuses across the country, including the District of Columbia. All Osher Institutes are member-based organizations with options for a full year or a semester membership. OLLI is fully embraced by UNCW with robust volunteer leadership and a stable organizational structure.
OLLI's core programming offers high integrity academic programming with many of its courses taught by UNCW faculty members. OLLI at UNC Wilmington provides a diverse repertoire of intellectually stimulating courses and programs, utilizing a variety of learning platforms. Educational formats include, but are not limited to, traditional lectures, international travel, women's forums, a wine society, an opera series, wellness courses, literary clubs, experimental learning through outdoor exploration and web-based programs. Academic programs are focused on core liberal arts studies and are taught by UNCW faculty, dedicated volunteers and talented members of the community.
"I believe we are one of the best examples of community engagement for UNCW," states Shelley Morse, Director of OLLI at UNC Wilmington. "We are the gateway to the university for our members and enjoy a mutually beneficial intergenerational relationship with our members and students. Our members attend many university functions such as lectures and arts programs, volunteer in research studies, provide mentoring to several of the campus schools, and help with move-in day for the incoming freshman."
OLLI has a symbiotic, friendly, supportive and professional relationship with three related Osher Institutes in North Carolina - OLLI at Duke, NC State, and UNC Asheville. What makes OLLI standout nationally is that they are non-competitive and extremely supportive of each other. Each institute is run separately, as governed by the University to which it is associated. Every 18 months the Osher Foundation convenes all 119 institute directors and volunteer leaders to share information concerning their progress, programming and institutional uniqueness. All staff, directors and volunteers are open to sharing for the good of the whole lifelong learning movement. There are also additional lifelong learning organizations associated with colleges and universities which are not supported in part by an Osher Foundation endowment.
"I absolutely love my job and working at UNCW," explains Morse. "In my position, I have enjoyed the opportunities to come in contact with so many interesting people on-campus and in our community. In general, both UNCW and Wilmington have enjoyed an explosion of intellectual talent. Many of these people want to connect and share it with others. Over the last five-and-a-half years at the helm, I have enjoyed working with UNCW administration, our dedicated staff and OLLI volunteer leadership to increase our membership. It has been a challenging and deeply rewarding experience." Over the next two years, OLLI will work on the smart growth of its organization to further meet the educational needs of the growing population of retirees moving into Southeastern North Carolina. Currently, OLLI at UNC Wilmington is at an all-time high membership of 1,500 people.
One successful program for OLLI at UNC Wilmington is its Adult Scholars Leadership Program, which is offered once a year in February. The six day program highlights all-things Wilmington, and offers the ability to interact with prominent officials and community leaders in a small group atmosphere. The Adult Scholars Program allows participants a comprehensive view of the community they live in and provides an important discussion about the economic, educational, cultural and media-related issues facing Wilmington and the Cape Fear region. It's a great opportunity for participants to get involved and give back to their community! Visit www.uncw.edu/olli to review OLLI's program offerings.
---
---
Brightmore University Series
Brightmore of Wilmington, a Division of Liberty Senior Living, is a Continuing Care Retirement Community featuring luxury options for active senior living. It is a locally operated and owned community offering full service independent living. The campus provides lifelong learning opportunities through its popular Brightmore University Series (BUS), a diverse program for lifestyle enrichment. "We welcome our residents and any 50-plus community member to participate in our programs!" explains Marianna B. Stacy, Community Outreach Coordinator at Brightmore of Wilmington. "Our goal is to educate, inform and entertain. The whole idea behind our University Series is that we never want to stop learning, no matter what our age is. Communities like Brightmore are proud to offer these programs." Brightmore of Wilmington and Liberty Senior Living's newest property - Carolina Bay at Autumn Hall – are committed to providing quality learning opportunities that intellectually and socially stimulate each participant.
The University Series provides a variety of classes and events to choose from throughout the year. "Semesters" are offered in the Fall, Spring and Summer. Each semester has a theme and features every format from lectures to fun learning events. These offerings include, but are not limited to, volunteer opportunities; informative Sunday jazz brunches with talented musicians; sock hop parties; general interest classes in topics such as advances in Medicare; beach days; political forums with local candidates; outdoor movie screenings held in conjunction with the Cucalorus Festival; art classes; book readings and signings from local authors; visits from leading medical professionals; tributes to our troops; an Arm Chair Travel Series where community members who have recently returned from compelling trips share their travels; and presentations from local historians including the popular Send Me a Postcard Presentation, highlighting the history of Wilmington.
Part of Brightmore's strong wellness culture is its exclusive therapy pool, which hosts its beloved water aerobics classes. Carolina Bay at Autumn Hall now offers this programming at their therapy pool. To join a particular event, call the office at the community of your choice for assistance in signing up. You can review Brightmore's social calendar for upcoming activities and events at www.brightmoreofwilmington.com/news-events/brightmore-university.