Living the Good Life in Spain
08 Sep 2015
A stroll through the regions of this European country reveal great architecture and wonderful art from centuries ago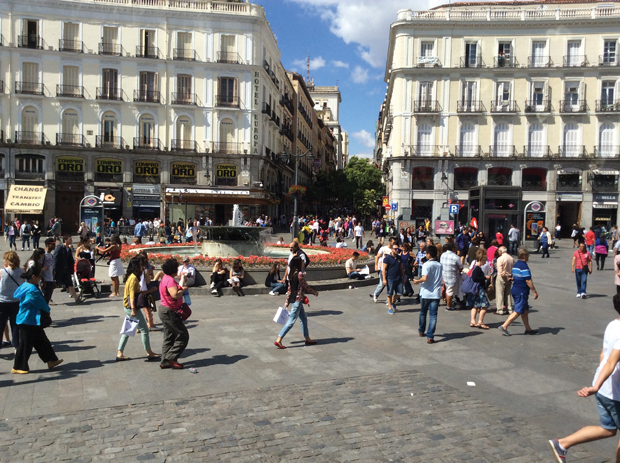 By CATHERINE KIMREY BREEDEN
Photos by HENRY STANLEY
Early on a June evening I fly into sun-soaked Malaga in southern Spain, then taxi 45 kilometers to Marbella, a resort town on the Costa del Sol. There I rejoin my friend Hank and other members of our Tauck small tour group, whom I had abandoned five days earlier in Lisbon, Portugal, when my holiday was interrupted by my mother's passing.
The cerulean sky, the breezes wafting in off the Mediterranean Sea, and the welcoming embrace of friends—one old, others new―are like balm to my jet-lagged body and grieving psyche. Although I have missed scheduled stops in Sintra, Evora, Seville, and Gibraltar, I can visit these ancient Spanish towns in the future. But I had only one chance to attend the memorial service honoring the life of the woman who gave life to me. So when I arrive in Marbella it is with a feeling of closure and lifted spirits, instead of the heavy heart that would have marred the remainder of the trip had I not returned home.
Fortunately my first day back is unscheduled, which provides a chance to reinvigorate after two transatlantic flights in less than a week. Hank and I stroll along the marble boardwalk bordering the coast; we visit Marbella's Old Town where we admire the lush greenery and fragrant, colorful blooms in cascading shades of fuchsia, crimson, and scarlet; and enjoy a leisurely al fresco lunch of tapas and sangria in the Plaza de los Naranjos (Orange Tree Square).
The next morning Pedro, our consummately skilled motor coach driver, treats us to a thrilling and scenic ride up steep and twisting mountain cliffs to Ronda, a town set on a plateau divided by a massive limestone gorge. Ronda is home to what is considered Spain's oldest bull ring. Since bullfighting season hasn't started, we're spared the decision of whether or not to watch a bloody spectacle.
We end our day in Granada, and spend the next two nights ensconced in the luxurious Alhambra Palace Hotel with its panoramic views of the old city. The Alhambra Palace itself, a UNESCO World Heritage site, and a significant highlight of a trip that has many claims to that designation, is a five minute walk away. Constructed in the 13th century by caliphs who ruled the area, the palace was designed to be a "paradise on earth."
Impossible to describe in all its artistry and beauty, the Alhambra is a visual feast. Every corner and cranny, every arch and fountain, every dome and walkway, is crafted from or embellished with colorful ancient tiles, or other delicate details—swirls, filigrees, niches―executed by medieval Moorish artisans. These craftsmen took meticulous care to insure that space, air, and water were used to maximize the beauty and sensuousness of the palace. One such feature is the Patio de los Leones, where twelve marble water-spouting lions, each having a unique presence, form a circle in an open-air courtyard.
Before we leave Granada, our group is treated to a private flamenco show. We quickly fall under the sway of the folksy invigorating beat of the guitar, and the swirling skirts and pounding boots of the dancers. When plucked out of the audience to come on stage and join in the spirited abandon, I surprise myself by doing so enthusiastically even though I have not one trace of rhythm in my body.
After dancing the night away, and enjoying a rustic Spanish dinner featuring codfish accompanied by free-flowing local wine and delectable olives—ah, the fleshy, chewy, juicy olives at every stop―we leave for Cordoba the next morning.
There we visit the Cordoba Cathedral , another architectural marvel. This house of worship, some of it dating back to 787, has evolved over the centuries to accommodate the prevailing religious beliefs of the time. Initially a mosque, parts of which were destroyed, it encompasses iconic elements of Islamic, Christian, and Jewish worship. This is typical of many holy places in southern Spain, where elaborate mosques initially constructed over Roman ruins were eventually retro-fitted into cathedrals.
Transitioning from the past into the present, we leave Cordoba and head into cosmopolitan Madrid on a high speed train. We arrive at the Royal Palace, built by Spain's first Bourbon kings, and encounter a 21st Century glitch: the security scanner isn't working. Although Madrid is packed with people celebrating the inauguration of a new mayor, we and other visitors are waved in without a second thought.
Fortunately for his safety the monarch no longer resides in the palace, where the lavish throne room and dining room are now used strictly for ceremonial state occasions.
During the next three days we luxuriate in regal splendor at Madrid's Westin Palace Hotel, located in the heart of the city and―best of all for an art lover like me―within walking distance of three major museums. The Prado houses masterpieces by El Greco, Goya, Rubens , Raphael, Titian, Tintoretto, and many others. One of the most acclaimed paintings in the history of art, Velazquez's "Las Meninas," displays the artist's mastery of light, shadow, and three dimensional perspective.
At the Thyssen-Bornemisza Museum, which holds a world-class private collection of the visual arts, I see wonders as varied as van Eyck's inspirational 15th Century "Diptych of the Annunciation," Monet's bleak 19th Century "The Thaw at Vetheuil," and Lichtenstein's playful 20th century "Woman in Bath." I complete my museum trifecta with a stop at the contemporary Reina Sofia to experience "Guernica," Picasso's massive anti-war painting.
After a culture-filled day, it's time to enjoy the vitality of Madrid's unique night life. At dusk Hank and I step outside the hotel and join thousands of people swarming the streets: families strolling with infants and wide-eyed toddlers taking in the brilliant colors and continuous motion; couples, arms entwined, enjoying the rhythmic sounds of street musicians; visitors like us wandering aimlessly and marveling at how the city never sleeps. At midnight we're sitting at one of the ubiquitous tapas bars that line the alleyways and fill the many welcoming pedestrian squares. As we enjoy small plates of grilled salmon, anchovies with tomatoes, and saffron risotto—all washed down with more Spanish wine—we're sorry that we will be leaving soon. But we know that it won't be long until we return to this European country that has captured our hearts.