It's All About the Details
09 Nov 2015
A couple from Maine make the move South, and choose Logan Homes for their fully customizable floor plans
By CHRISTINE HENNESSEY » Photos by G. FRANK HART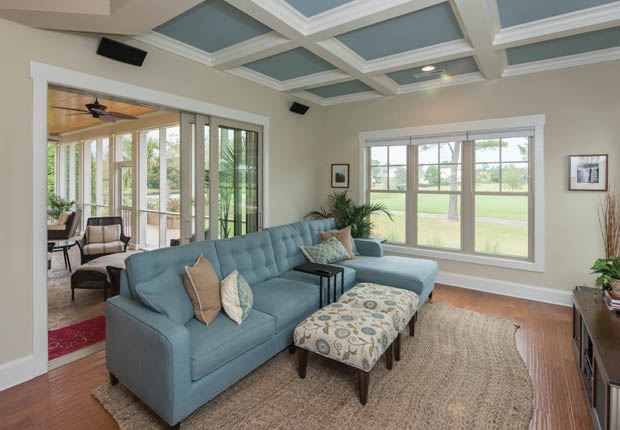 Jessica and Andy Vamvakias were still living in Maine when they decided to build a home in Wilmington, North Carolina. While their decision might seem like a sudden leap, it was actually a natural choice. Andy's company had an office in the Port City and the couple had traveled to North Carolina over the years for both business and pleasure. They also had a sentimental attachment to the area—they first met years ago in the Carolinas, while Andy was stationed at Fort Bragg. "When our daughter graduated from college," Jessica says, "we decided to bite the bullet and build a home down south." Choosing Logan Homes for this endeavor was an equally natural choice. Andy's company had done business with them in the past, and Logan Homes seemed like a worthy place to put their trust.
The Vamvakias' story is a familiar one for PJ Kelly, Vice President of Logan Homes. The company has been building houses and estates along the southeastern Carolina coast since 1986, and in that time they've built over one thousand homes in the Wilmington area alone. Many of those homes are built for clients just like the Vamvakiases. "Our bread and butter is the $400K to $600K price range," Kelly says. "Our homes appeal to baby boomers coming from the Northeast and, due to our design and architectural highlights, to local people as well. We're not really building for first time buyers. For most of our clients, this is their second or third home, a chance to move up." In the nearly 30 years that Logan Homes has been in business, their mission and goals have remained the same—to create luxury houses in a range of styles, while making their clients' dreams of the perfect home come true.
Talking It Out
Despite Logan Homes' long history and extensive experience designing and building homes, the Vamvakias' project was daunting. Building a home in one state while living in another isn't for the faint of heart, and could have been a challenging situation. "We weren't here daily or even weekly to oversee what was going on," Jessica explains. While this may seem like a logistical nightmare, it's par for the course with Logan Homes.
"Communication and keeping the process as simple as possible is vital," Kelly says. "That's always our number one goal. We make sure to set up reasonable expectations up front so our customers know what to expect throughout the whole process. We want to be on the same page from the moment we first meet to the moment we hand them the keys."
That was the experience the Vamvakiases had. "The project managers at Logan Homes kept us up-to-date every step of the way," Andy explains. "All kinds of things can go wrong when you build a house, but they showed a commitment to doing things right the first time. They stood by their work, got things done, and stayed on schedule." Logan Homes even took care of building permits and specific approvals needed for homes in Landfall, where the Vamvakiases chose to build. "It was great," Jessica says.
Show, Don't Tell
While most of the home was built from afar, the Vamvakiases did travel to Wilmington a few times to see their home's progress and make certain decisions in person. Thanks to Logan Homes' design center, they were able to choose all the interior finishings in a single weekend. "The design center is the real reason we were able to build the house remotely," Jessica says. "It really simplified the process. We were able to make a hundred decisions in one afternoon, rather than trying to coordinate with different designers, vendors, and architects."
This design studio—a 10,000 square foot showroom—is part of what makes Logan Homes so unique. "Our customers can walk in and see, touch, and feel the pieces that will go into their home," Kelly says. "We keep everything under one roof, from hardwood to granite to cabinets to shingles. People really like seeing it in person—it makes it real and gives them the opportunity to truly personalize their home." The design center also employs four full time design consultants who can walk customers through each of their selections. "Some customers know exactly what they want," Kelly says, "while others need help. We're happy to offer all the assistance they need."
Details Are Everything
When the Vamvakiases purchased their home, the price included all the elements of a certain selection. At the design center, they had an opportunity to upgrade or downgrade certain elements, depending on their lifestyle and needs. As they tweaked and fiddled with various options, Logan Homes provided an ongoing total that was continually updated, so they could see, in real time, how each choice affected the total cost of the house.
In the end, the Vamvakiases decided to personalize and customize a number of details. They sprang for a higher grade of tile in the master bath, and nicer appliances and cabinetry in the kitchen. They were even able to change smaller details, like upgrading their light switches. Because they were concerned with energy efficiency, a few changes included things like a tankless water heater and better insulation. Finally, some of their upgrades were structural, including a bigger garage to make up for the lack of basements in most Carolina homes and an additional room for watching television at night.
While some of these upgrades raised the price of their home, the Vamvakiases were able to keep the total cost in check by downgrading other aspects that weren't as important to them. They chose to save money on the cabinets in their laundry room and guest room, and got rid of the outdoor kitchen that came with the home's original plans. By making these adjustments, they were able to design a house that truly felt like their home.
The Coast with the Most
Because the Vamvakiases built their home in Landfall, they were able to take more liberties with the look and design of their home's exterior than would have been possible in other communities. "With Logan Homes you can choose from hundreds of floor plans," Andy explains. "Once you pick one, you move on to choosing your elevation option for the front of the house. They offer traditional, coastal, classic, craftsman—basically, enough options that you can make your home look and feel however you want." The Vamvakiases decided to embrace the seaside heritage of their new city and opted for a coastal elevation. They also chose a floor plan with an open concept so the living room and kitchen are connected in one large, airy and free flowing space—a style that's very popular right now, according to Kelly. "Years ago, all the rooms in the homes we built were separated," he says. "Now, people are embracing that feeling of openness. They want to be able to look out and see their guests."
This sense of openness and community was important to the Vamvakiases as well. In addition to an open floor plan, their home has three bedrooms, a bonus room over the garage, and three and a half bathrooms. It also has a large covered porch where they spend a lot of their time, enjoying the sights and sounds of the neighborhood they've grown to love and the city they're happy to call home.
One More Time
The Vamvakiases have now been in their home for two years, and even though it's everything they wanted, they recently put it on the market. "We loved the process of designing and building our home so much that we want to do it again!" Jessica explains. While this is true, it's not the only reason they've decided to sell. When they first designed their home, they thought their daughter would move down with them. She decided to stay in Maine, which means a smaller house would better suite their lifestyle. Plus, Jessica says, in the two years since they completed their house Logan Homes has added many new options to their design center. "We want to try everything!" Jessica laughs.
Just like the Vamvakiases, Logan Homes also has some new projects on the horizon. "We've grown methodically over the years and business has remained strong, even during the recession," Kelly says. "For years we talked about expanding regionally, into South Carolina. About six months ago, we finally pulled the trigger. We're just starting to build homes in Beaufort County and the Hilton Head area."
In the meantime, Logan Homes will continue to follow their mission, uphold their values, and build beautiful homes for people who appreciate them. The Vamvakiases will be first in line.