Look Hot This Winter
04 Jan 2023
Dressing for colder weather doesn't have to be boring—Wilmington's local fashion boutiques have you covered.

Photography: Abigail Whitehurst
Model: Raquel Moretty
Location: In the center of the Historic District, the beautiful Dreamers by DW in downtown Wilmington (dreamerswelcome.com) offers travelers uniquely designed and luxurious rooms with high ceilings, crown molding and large original windows.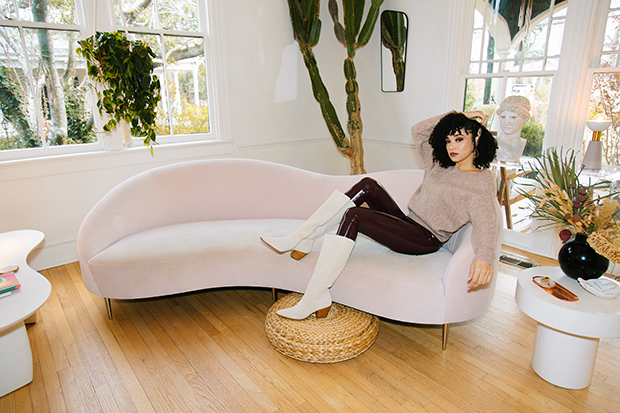 Island Passage
Islandpassageclothing.com
Island Passage Earrings, $14; Tart Collections Leigh Sweater in Twilight Mauve, $148; Spanx Ruby Pants in Faux Patent Leather, $128; Matisse Bruna Boot in Oat Suede, $278.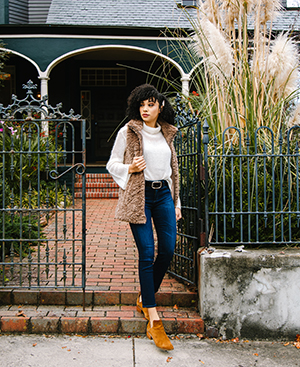 CoolSweats at the Beach
Coolsweatsatthebeach.com
AG Prima Ankle Jeans, $198; Dylan "Jackson Vest" in Birch, $216; Bella Dahl Brea A-Line Sweater, $194; Dylan Satin Camisole, $84; Streets Ahead Chocolate Brown Belt, $170.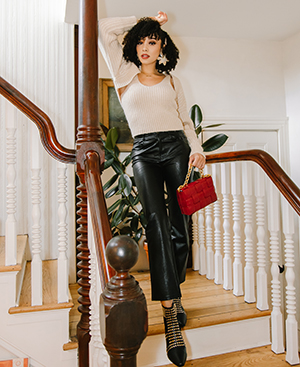 Monkee's of Wilmington
Monkeeswilmington.com
dh New York Rue Shrug & Tank Combo, $228; PAIGE Stella Vegan Leather Pant, $229; Mignonne Gavigan Camellia Pearl Earring, $325; Large Woven Chain Bag in Burgundy, $60; Cecelia New York Jayne Bootie, $245.