Make a Splash
07 Jul 2020
Port City's Ultimate Summertime Bucket List

By ANNESOPHIA RICHARDS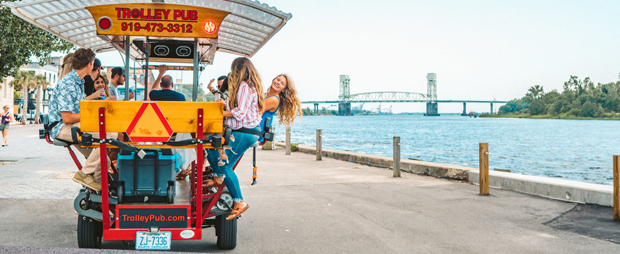 In a summer when elaborate travel plans are being swapped out for simpler staycations, there's never been a better time to become a tourist right here in our own town. Whether you've recently arrived in the Port City or have called Wilmington home for years, our area continues to offer visitors and locals a never-ending supply of summertime events and activities sure to help pass those lazy days away. We've compiled a list of ten unique experiences that make for one ultimate, and certainly memorable, summer bucket list.

*Please note that all events were on schedule at the time of publishing, but be sure to check with each before attending in case of cancellations or schedule changes due to Covid-19.



Catch a Ball Game
Enjoy America's favorite pastime with the Wilmington Sharks. Catching one of this collegiate baseball team's games makes for a fun, family-friendly night out. From fan pregame giveaways and theme nights to tasty ballpark food offerings and select Friday post-game fireworks, a Sharks game is the perfect spot to make lasting summertime memories.

Where: Buck Hardee Field, 2149 Carolina Beach Road
More info and game schedule: wilmingtonsharks.com



Enjoy Sunset Views Out On the Water
Hop aboard Wilmington Water Tours' comfortable catamaran, The Wilmington, for a relaxing cruise down the Cape Fear River. Take in scenic sunset views as you sip on a cocktail from the full bar and unwind. Enjoy a romantic evening or catch up with family and friends. One of their most popular offerings, Wilmington Water Tours sunset cruises include live music from local musicians (be sure to check with them before booking, as current restrictions require live music to be temporarily suspended and replaced with light narration and the Captain's choice of music on the sound system.) Advanced booking encouraged, and tickets are $30.

Where: 212 South Water Street
When: Thursdays through Sundays at 7pm
More info: wilmingtonwatertours.net



Strike a Pose Under The Sun
Whether you're a beginner or seasoned pro, early morning yoga on the Crystal Pier is sure to help you find some inner peace while getting a little salty and sweaty in the process. In partnership with the Oceanic, Be Unlimited Yoga is offering classes every weekday at 7:30am, and Fridays, Saturdays and Sundays at 9am. Be sure to stay after class to enjoy a healthy lunch or refreshing cocktail outside on the Crystal Pier. Reservations required.

Where: Crystal Pier, 703 South Lumina Avenue
More info and schedule: beunlimitedyoga.com



Listen to the Smooth Sounds of Jazz at Bellamy Mansion
One of downtown Wilmington's most iconic and historic attractions, Bellamy Mansion is the place to be to enjoy an evening of jazz this summer. In partnership with the Cape Fear Jazz Society, the mansion welcomes guests to relax on the lawn while enjoying music by some of the best local, regional and nationally acclaimed jazz performers. From duets to big band music, each concert features a new musician. Tickets can be purchased day of at the Bellamy Mansion Museum, with prices ranging from $10 to $20.

Where: 508 Market Street
When: The second Thursday of the month (July 9, August 13, September 10) 6:30 to 8pm
More info: bellamymansion.org




Catch Waves Like a Legend
If you've always dreamt of hanging ten but didn't know where to start, this is the summer to give surfing a try. Beginner group surf lessons with Wrightsville Beach Surf Camp are the perfect introduction to the sport of surfing, offering those ages 11 through adult instruction in positioning, paddling, safety, etiquette, and how to stand up and fall properly. Each 2-hour lesson includes all the equipment you'll need to get stoked and stay safe while learning a new skill.

Where: 222 Causeway Drive, Wrightsville Beach
When: lessons taught daily from June 9th through August 31st
More info: wbsurfcamp.com



Bike the Cross City Trail
Whether you choose to walk it, bike it, or run it, the Gary Shell Cross City Trail offers locals and visitors over 15 miles of primarily off-road, multi-use trail to enjoy and explore. Running from Wade Park, through Halyburton Park and Empie Park to the Heide Trask Drawbridge at the Intracoastal Waterway, you'll never run out of great spots to avoid city traffic and get some fresh air and exercise. Be sure to stop for a break once you get to the drawbridge and enjoy striking views of the Intracoastal from the new lookout station.


Pedal Your Way Through Downtown
If the notion of enjoying a tasty beverage while pedaling your way through the streets of downtown sounds pretty amazing, then the Trolley Pub was made for you. This BYOB, pedal-powered, eco-friendly, pub-crawling trolley lets you experience the city in the open air. Rent out the entire trolley or reserve a spot on a mixer tour and get ready to simultaneously move those legs while sitting back at the bar and make your way to two or three breweries or pubs during your tour.

Where: 118 Princess Street
More info: trolleypub.com



Check Out a Farmers' Market
If you're in the mood for some fresh fruits, vegetables and other local produce at the peak of season, you're in luck this summer. The Port City is brimming with several great farmers' markets, and by checking them out you can feel good about supporting area farmers while helping strengthen our community and local economy. Check out the list below for all the weekly farmers' markets in and around Wilmington:

Riverfront Farmers' Market
Where: Dock & Front St., downtown Wilmington (Temporary location is Waterline Brewing Company, 721 Surry St.)
When: Saturdays 9am to 1pm through November 21


Wrightsville Beach Farmers' Market
Where: Wrightsville Beach Municipal Grounds, beside Town Hall, 321 Causeway Drive
When: Mondays 8am to 1pm through September 28


Kure Beach Market
Where: Ocean Front Park, 105 Atlantic Avenue
When: Tuesdays 8am to 1pm through August 25


Poplar Grove Farmers' Market
Where: Poplar Grove Plantation, 10200 U.S. Highway 17 N.
When: Wednesdays 8am to 1pm through September 30


Carolina Beach Market
Where: Carolina Beach Lake Park, 400 South Lake Park Blvd
When: Saturdays 8am to 1pm through Sept. 26


Dance the Night Away Under the Stars
A summertime staple, the Airlie Gardens Summer Concert Series welcomes an impressive lineup of musical performers, many of them returning acts and local favorites. Grab your blanket, pack a picnic, and get ready to enjoy some cool tunes on a warm summer night.


Where: Parking at New Hanover County Government Center Building, 230 Government Center Dr. Free trolley runs continuously from 5pm
When: Every first and third Friday of every month through September, 6 to 8pm
More info and tickets: $3 to $10 at airliegardens.org (New in 2020: Member tickets must be reserved in advance.)

July 31: L Shape Lot - an Americana-folk rock-roots rock-bluegrass hybrid known for their four-part harmonies

August 7: Bibis Ellison – longtime Summer Concert Series favorite, this soulful singer reinvents everything from The Police to Led Zeppelin

August 21: Machine Gun Band – known for its high-energy performances, Machine Gun Band continues to impress with a mix of powerful vocals, tight rhythm section and brilliant guitar work

August 27: Jim Quick & Coastline - with their own genre of music known as Swamp Soul, this group combines sounds of Soul, Blues, R&B, and Americana

September 4: Mac & Juice - with a sound all their own, this dynamic quartet showcases a vast stylistic range with a sound personally described as "Jammy-Soul-Rock & Roll"

September 18: Signal Fire - a local favorite, this feel-good reggae rock band never fails to get people up on their feet and dancing.

September 25: Jack Jack 180 - a multi-genre musical group specializing in covers of high-energy party, pop and rock songs.



Watch a Film Outdoors on the Big Screen
Trade up your living room couch for a blanket and beach chair and enjoy an outdoor movie each Sunday night at Carolina Beach Lake. Moviegoers can bring their own snacks or opt for the cotton candy, popcorn, candy, and soft drink options available for purchase. Each movie is family-friendly and free.


Where: 400 South Lake Park Boulevard
When: Sundays at dusk
More info: pleasureislandnc.org