Tequila Comida and Cantina
07 Jul 2020
A unique Mexican experience serving new and authentic dishes alongside some of your familiar favorites

By BRIDGET CALLAHAN » Photos by ERIN WHITTLE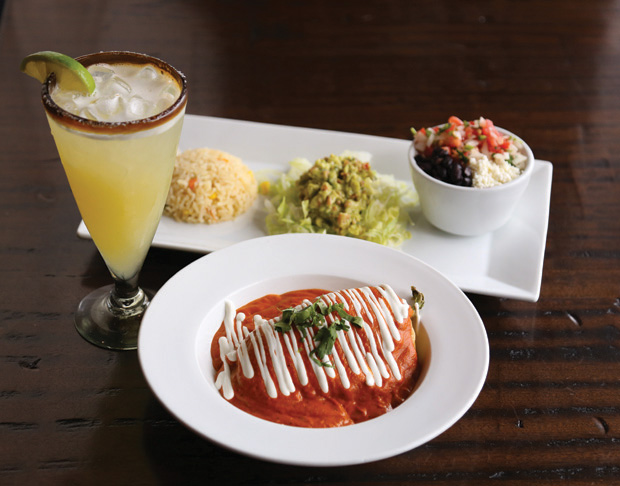 If you're in the know when it comes to Mexican food in Wilmington, you're already very familiar with Taqueria Los Portales. This Wilmington institution is regularly touted as the best traditional Mexican tacos in town by its converts. Its sister store, Los Portales Supermarket just down the road, is one of the best spots in town to buy affordable produce, meats, bread, and fresh tortillas. Now the four Villasenor siblings who own both places, Fernando, Miguel, Mirabel, and Ramon, along with part owner Luis Marez, have done it again with Tequila Comida and Cantina in Myrtle Grove.

Tequila Comida and Cantina is really the dream of chef/owner Ramon Villasenor, the youngest brother. After years of working with the taqueria, Ramon found himself wanting to learn more about the culinary world. He enrolled in the Cape Fear Community College culinary program, and after graduation spent a year building and perfecting a menu that was also a vision.

"I wanted it to be more than just a regular Mexican restaurant," Villasenor says. "I wanted to offer more quality and richness of Mexico. My food represents all the quadrants of Mexico, I have plates from Chiapas, from Veracruz, from Jalisco, Michoacan. Yucatan, Puebla, along with other states"

Growing up in Jalisco, Villasenor watched his mother and father working the taco stand they ran, then worked for a butcher in his hometown of Degollado, Jalisco.

"Degollado is a land of agriculture, porciculture, and cow cattle. So we don't have any seafood there, and that was one of my challenges to explore seafood dishes for the menu here," he says. The carne asada he offers is a traditional Jalisco favorite, as well as the variety of salsas with fresh ingredients, like the salsa de tomatillo that he inherited from his parents.

"It is really hard to take plates from our hometown and introduce it to this area, because this area is more about Tex Mex," Villasenor says. "The standard Mexican restaurant, you see chimichangas, burritos, enchiladas, etc, But we're more than that, we can offer more than chimichangas. I want that your experience eating at Tequila be unique and transport you to Mexico while you are there enjoying a great plate"

Since opening the restaurant, there have been some dishes that just didn't take, like a banana-wrapped red snapper, or the chicken soup-like Sopa de Fideo, a homestyle favorite for his hispanic customers.

"But I've been finding out what works in this area. I've introduced some new dishes. And now in our second year people are being more adventurous. So we've been able to try some plates on the menu I was previously struggling with," Villasenor says.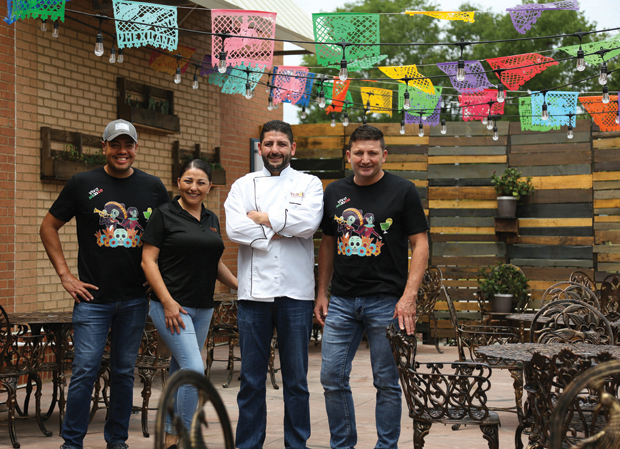 The second year is always a milestone for a restaurant, a point when a place is starting to get its stride. Villasenor has finally been able to cut back from 12 hour days and see his family a little bit. But of course, 2020 has presented very unique challenges for restaurants. Though they have survived the last two and half months, he's thrilled they're back open even at half-capacity. And with the patio open and summer evenings ahead, while they've already lost a few months, there's hope warm weather business can make up for it.

While Villasenor wants to make the Tequila menu smaller and more seasonal, and has been working on some Fall platters, the only immediate goal this summer is to stay open and hunker down through the rest of COVID-19 advisories. But he did find time to add a new duck entree that has proved very popular, served with tamarind, hibiscus, and mole poblano sauces. Other current menu favorites include the Mahi-Mahi tacos, featuring a combination of mango and his father's mole recipe, and Pechuga Rellenas, chicken breasts stuffed with mushrooms, spinach, onions, and cheese, drizzled with sour cream and a creamy poblano sauce.

There is a Tex Mex section on the menu, for people who want familiar flavors. But for people who want to explore some more traditional Mexican dishes, there's plenty of new things to try. Cochinita Pibil from the Yucatan is pork wrapped in banana leaves with achiote and slow-cooked up to six hours. The traditional Puebla dish, mole poblano features over 14 different spices, resulting in a sweet and not overwhelmingly spice sauce. Or you can try the Chiapas version, mole pipian, made with pumpkin seeds.

Luis Marez, part owner, worked with the Villasenor family for the last fifteen years and was brought on board to run the bar. Marez took a year off himself to learn, research, and design the drink menu. He makes all the juices and syrups fresh, and the drink menu specializes in mezcal, which features in a variety of craft mojitos and margaritas. Most people are only familiar with tequila, which is a type of mezcal the same way bourbon is a type of whiskey. While the simplest way to describe mezcal is to call it smoky, it can actually have a wide range of flavors, depending on where the agave is grown, making it a complicated and fascinating liquor.

Breaking the stereotype of the Mexican restaurant hasn't been easy. But as new customers become regulars, even the most skeptical have started to branch out in the menu. And Villasenor is looking forward to trying new dishes and pushing boundaries.

"At the beginning when you're making a menu, you're making mistakes and then perfecting them," Villasenor says. "Once you open the restaurant, not everything you expect to work will, so you have to go with the flow. It is challenging like any other job, at the end of the day it's worth it though. We want to show our passion and who we are. When people compliment a dish and say, you know this is good, I never had this in a Mexican restaurant, it encourages you to be more imaginative, more creative, and to work harder, to represent your country's cuisine with pride."
5607 Carolina Beach Rd., #130
Wilmington, NC
910-399-1643
tequilacc.com