A True Original
07 Jul 2020
Rebuilding a Figure Eight Island home with Sterling Custom Construction

By CHRISTINE HENNESSEY » Photos by G. FRANK HART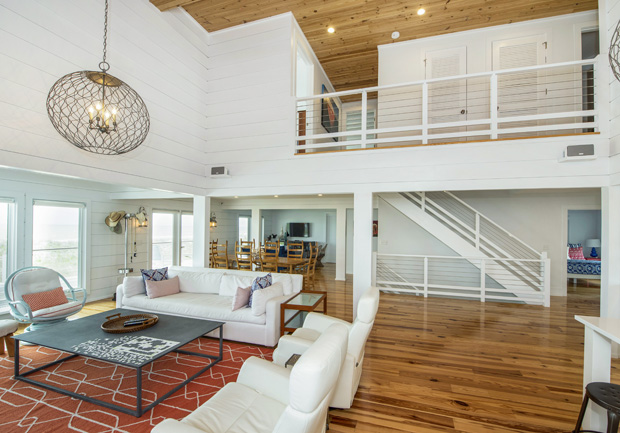 Jeremy Bishop, owner of Sterling Custom Construction, has spent just about his whole life in the construction industry. "My dad was a trim carpenter and cabinet maker, and I grew up on job sites," he says. Those early experiences led him to his first-post college job as a draftsman and an early career in architectural design. "I cut my teeth with a great architect here in Wilmington, and that background has given me a great understanding of what goes into designing a building."

In 2008, when he started his own design firm at the age of 24 in the midst of the Great Recession, those early experiences also gave him the insight and the confidence to pursue his dream of building custom homes and renovations through innovative design, quality craftsmanship, and incredible service. "I started with a tool belt and built my way up to the bigger projects that we're doing now," he says. Similar to his time working alongside his father, his firm is also a family affair. "My wife Janice and I run the business together. She does the office side and the books, and I do the field work," Bishop says. "I'm relatively young for a contractor, but I'm moving out of that bracket."

Sterling Custom Construction provides everything a client needs to build a custom dream home, remodel an existing home, or take on a complete home renovation, and their work can be found in Topsail Island, Figure Eight Island, Wrightsville Beach, Landfall, and the surrounding Wilmington area. "I like working with architects on design-driven projects, and we tend to seek those out. Very rarely do we just work off a stock set of plans." As for style, their work is generally driven by the client. "We love modern architecture," Bishop says, "but at the same time we appreciate and build all styles. I'm versatile when it comes to understanding what the client needs and wants, and balancing that with the needs and wants of the designer."

For Bishop, all the pieces of a perfect project came together in 2013 when he was awarded the bid for a major renovation of a beach house on Figure Eight Island. John Stirewalt, a Wilmington architect with whom Bishop regularly works, reached out about a project he was working on. Bishop bid on the project and his proposal made it to the final round. After interviewing with the clients and sharing his process and vision, they ultimately chose Sterling Custom Construction to turn Stirewalt's plans into reality.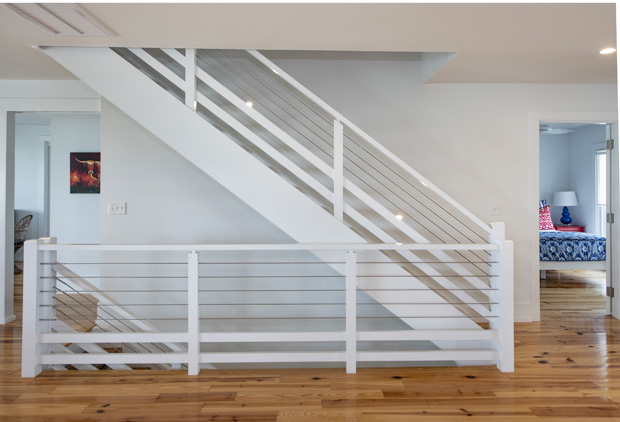 A Solid Foundation

The clients, a married couple, lived full time in the Midwest. They'd always wanted a beach house, and after working their way up the corporate ladder for many years, they finally had the means to make their dreams come true. Their search for the perfect location led them to Figure Eight Island, which checked a few important boxes. It was close to Raleigh, where their son was going to college. It offered plenty of seclusion, thanks to its status as a private community. And the beachfront property they purchased boasted amazing views of the Atlantic from multiple angles.

The home itself, however, was not yet perfect. It was originally built in the late 1970s, and by 2013 it was not only dated, but had also fallen into some disrepair. The clients wanted to completely renovate and remodel it, so they hired John Stirewalt, the original architect, to create a new plan that would provide a fresh and contemporary coastal design.

Many homes on Figure Eight Island, especially the newer ones, are large and sprawling, with soaring square footage, countless bedrooms and bathrooms, and multi-car garages. Not this one. "The clients weren't looking for a huge house on the beach," Bishop says. "They wanted more of a cozy beach cottage. Shiplap walls on the inside, warm wood ceilings and floors. But they also wanted it to feel open and clean." Finding that balance would be a key aspect of the remodel.

Starting from Scratch

The project's to-do list was extensive, and required much more than a simple facelift. "We basically tore the house down until all that was left was three walls and the foundation piles, then rebuilt it according to John's plans," Bishop says. "We brought everything up to code, rewired it—it was basically a rebuild."

The original home was full of small, sectioned-off rooms that made it feel small and cramped. It also had an old solarium made of curved glass attached to the back of the home that reminded Bishop of a fast food restaurant. "Obviously we got rid of that," he says. Inside, they opted for a clean, open floor plan and a fresh, modern interior. The kitchen was upgraded with white quartz countertops and a large island. They also added more windows and glass to take full advantage of the ocean view. "We wanted to make sure they could look at the Atlantic all day long," he says.

While the various updates and renovations were needed and appreciated, neither the clients nor Bishop wanted to lose the details of the house that made it so unique and eye-catching in the first place. To preserve some of the its original charm, Bishop removed the 30-year-old heart pine floors and stored them for a year, then milled them down and used them in the living room ceilings. He did the same thing with the original floating stair treads, repurposing them in the exposed details throughout the house. "It was a good project for reusing materials and not just throwing them in the dumpster. The fact that the clients were willing to take a chance on storing all those materials was great—especially because it worked out so well," Bishop says. "This was one of the original homes on Figure Eight Island, and we wanted to honor that."

It was a big job with a lot of moving pieces, but Bishop enjoyed the challenge. "We always like to do major renovations, they're like a giant jigsaw puzzle. You've got a plan and that's great, but as you start taking things apart there are always surprises. Figuring stuff out in the field is the fun part."

This particular project offered plenty of surprises along the way, which was to be expected when renovating and rebuilding an older home. "When we did the demolition we discovered that the old piles had steel plates splicing them to the structure, and those had to be beaten out with a hammer because they were completely rusted through," Bishop says. "We had to redo all those connections, which required having steel plates made, installing them, and then bolting them in place. This house had been there all those years and for some of that time, it wasn't even connected to its foundation," Bishop marvels. "It was cool to figure out how to fix that."

Another surprise they discovered was the original driveway, which Bishop guesses was buried in a hurricane at some point. Instead of unearthing it, the owners at the time simply poured a new driveway over the sand. "We found the old driveway about three feet down, and had to drill through and break it out of the ground," he says.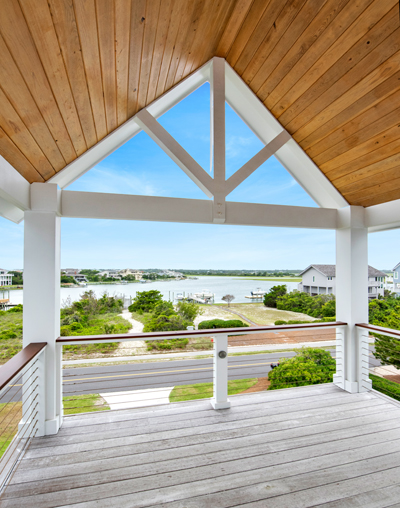 An Island Oasis

Despite the fact that the renovation and rebuild were completed nearly seven years ago, it remains one of Bishop's favorite jobs. "The project was a stepping stone onto Figure Eight Island for us," he says. "Since then, we've built seven or eight houses out there."

Another reason the house holds special meaning is because the homeowners, once Sterling Custom Construction clients have, over the years, become friends of the Bishops. They still live in the Midwest, but come to Figure Eight Island at least every other month to enjoy the beautiful home that Stirewalt designed and Bishop built. "It's their retreat," he says. "When they finally retire, they'll most likely move here and make it their full time home."

And with a view like that, who could blame them?

Sterling Custom Construction, 910-231-1844 sterlingcustomconstruction.com