Making Progress
12 Sep 2014
By Jamie Penn Photos by Gary Breece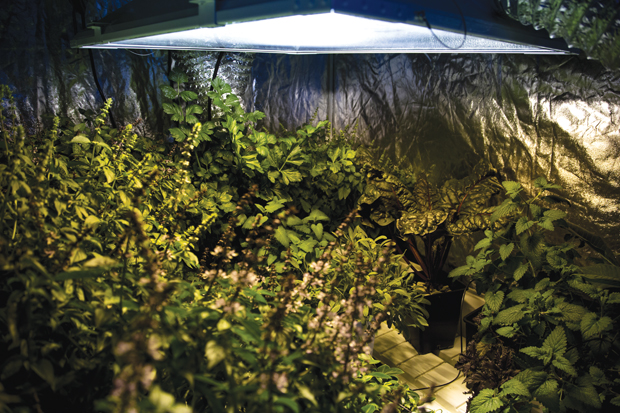 Gardening in the south is something akin to fishing in Alaska. Though challenging at times due to various conditions, there's endless possibility for natural beauty and plentiful harvests most of the year. So, growing almost anything—especially food—just makes sense. And Wilmington has caught the wave, as evidenced by the fabulous gardens, complete with prolific blooms, foliage in various shades and textures, and raised bed veggie gardens that animate landscapes all across the city. The more recent focus on local, sustainable farms and local food represents an ideology that allows southeastern gardening to flourish.
Riding the Wave
Like the rest of the country, a focus on the environment and food production has spawned unlikely gardeners and farmers who are taking a more holistic approach to gardening and food growing in order to help preserve our bountiful southern soil and to feed themselves, loved ones, and the community.
Evan Folds, owner of Progressive Gardens (PG), says employing a holistic approach is really the only way to garden effectively here. Folds, widely considered our soil's resident spokesperson, is dedicated to teaching local gardeners and farmers how to feed and preserve soil so that southeastern harvests can continue to grow.
"Healthy soil and healthy people go hand in hand," Folds said. And Folds' mission is to create both through education.
The state of Wilmington's soil is not so pretty, says Folds. Already a sandy oasis under all that St. Augustine and zoysia, the tons of synthetic fertilizers, pesticides, and fungicides used each year to produce picture-perfect lawns and gardens have killed most living things, including beneficial microbes that feed plants and inject vegetables with nutrients. His solution can be found in his shop, Progressive Gardens (PG).
The Anchor
Walking into (PG), you're instantly aware that it's something more than a garden shop. It feels more like a working lab with its Vortex Brewer (a compost tea distiller) set up on the back wall, shocking vibrant green wheat grass under fluorescent grow lights lining shelves, and a hydroponics showcase hemmed in by silver insulation filled with perfectly formed plants and vegetables. Stacks of fertilizer bags, growing mediums, and seed packets ensure that indeed, there is a garden shop component here. But beyond the supplies, the shop opens a Pandora's box of opportunities when it comes to growing your own organic food, regardless of space and situation.
The large Vortex Brewer can be daunting to onlookers, but while compost tea has an unconventional, almost bizarre ring to it, it's slowly becoming a popular product among landscapers, home gardeners, and farmers across town.
"We not only brew living compost tea in our Vortex Brewer®, but we distribute these brewers to locations across the country. Compost tea is made by growing microbes using high-quality compost, aerated water and organic microbe foods like fish, kelp or molasses," Folds explained.
Residents are thrilled to have alternative options to synthetic fertilizers.
"It really works," says Julie Hurley, a Wrightsville Beach resident. "It all does." Hurley's other favorite PG product is Dr. Earth fertilizer. "It's real food," she said. "Things really grow with their (PG) products. The way they're supposed to. You don't get the burn effect that chemical fertilizers can cause."
Hurley's flowers are robust and very obviously "well-fed" -- as is her nine-year old boy who can trample barefoot with his friends through the yard without concern when it has been has been fertilized or "treated". The family is committed to eating whole foods grown locally and raised sustainably. "When something safe and whole is available, and it works, why not?"
Oyster harvester and home gardener Henry Temple agrees. "I couldn't get a good tomato until I met Evan," Temple said, a long-time tomato grower before he moved here from the NC mountains. His home garden located off Military Cutoff is now filled with them. "The soil here is no good. Building it up has been key, and Evan has really helped with that. Just about everything I use in the garden comes from Progressive Gardens."
The Swell on the Horizon
While Folds is happy to continue on the consultation path, he has a vision that leads him far from the shop parking lot. He's becoming a farmer. As a matter of fact, he thinks we could all be farmers.
Early in 2014, Folds launched Progressive Farms under the PG umbrella, selling produce from the eight acres of farmed land scattered on farms and throughout town (including their prototype farm on Oleander across from the shop) to restaurants such as Manna, in downtown Wilmington, Tidal Creek Co-op, and at farmers markets. In spring 2015, Folds plans to launch a CSA (Community Supported Agriculture) supplied by these farms as well as resident farms called Food Lawns.
Farm manager Mike Staton, formerly a manager at Black River Organics (Wilmington's first official organic farm), said, "We just want to farm, and in the meantime help build a paradigm that people can do it. That they can learn how to feed and preserve the soil while feeding themselves and the community."
What are Food Lawns?
"We're going to farm in residents' yards, in 15-gallon raised, portable, mini-beds called 'morsels', in exchange for a CSA membership. And, they don't have to lift a finger," Folds said. "All they have to do is provide water." Branch managers will oversee neighborhood Food Lawns, harvesting, weeding, watering, and fertilizing plants contained in these fabric morsels each week.
Each member of this program will have joined the CSA, which provides a box of locally grown organic vegetables each week. By becoming a member of the Food Lawns program, they will be given four morsels, three of which will be full of thriving vegetable and herb plants to be placed in the sunny location of their choice. One of the morsels will be the homeowner's to cultivate their own vegetables and herbs. A percentage of the profits from food grown and sold or distributed through the CSA from these Food Lawns will reimburse participants for the cost of the CSA.
Through these programs, Progressive Gardens plans to build a residential farming community that can help demystify sustainable food production. "Our goal, all the way around," Folds said, "is to decentralize food production and to help people grow the best garden of their life."
The Food Lawns pilot program is scheduled to begin in the fall. For more information, contact Evan Folds: evanf@progressivegardens.com.