Merediz Makes Magic
03 Jul 2019
Among the chaos of our multitasking lives, local artist reminds us to take time to stop and step into joy
By KIM HENRY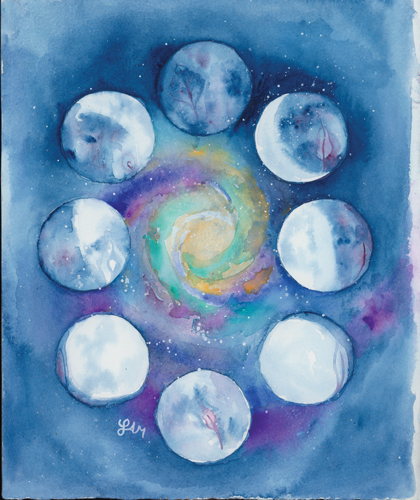 Art has long been one of the most potent ways for people to express a thought, idea or feeling without the inherent limitation of words. Colors, brush strokes, textures combine to speak of things that even the most articulate of people, may never be able to capture. For local artist Gaby Merediz, never a truer word was spoken. For this mother of two young boys, her watercolors, line drawings and digital creations share something of her soul that she could never express with words.
Having loved art from the moment she could hold a pencil, Merediz has always been a prolific artist but not always a confident one. Born in Connecticut, her father's work took the family to Germany for her high school years, and then back to the US to Tennessee where she went to Vanderbilt University to study Studio Art, Psychology and Communication. "I was quite insecure growing up. I felt like my personal voice was stifled. At first I associated this with being a woman, and then I realized that any voice that is soft, emotional or challenging the status quo is silenced as much as possible," said Merediz.
As her own artistic exploration from oil paints and giant canvases, to smaller water color studies of the female form evolved, Merediz gradually found freedom in her expression, and a deeper connection with her own truth. This blossoming self-acceptance and celebration began to inspire a similar experience in the people that viewed her work - particularly, but not exclusively, in women. For Merediz, the piece of art is completed by people receiving it.
Mothers in their middle aged, post-baby time of life are a definite point of focus in Merediz's work. Encouraging women to nurture self-love in all of their diverse shapes and forms, she recently held an exhibit at Terra Sol on Castle Street. Real representations created from photographs sent by real women were individually lit within boxes, while a lone dancer moved through the space bringing the poses to life. One of the many questions the show provoked was how do women break free of the boxes they are placed within as mothers, wives, and members of the workforce, in order to express their most authentic selves?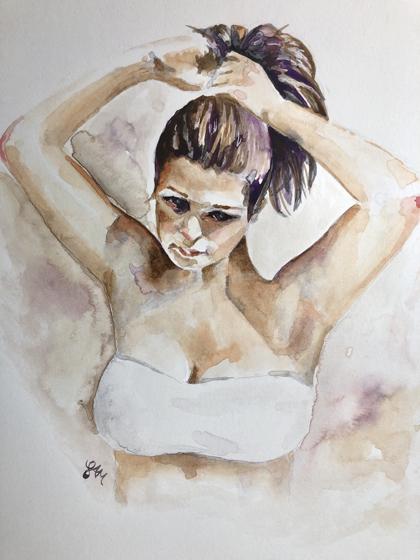 Becoming a mother was a life-changing event for Merediz, as it is for the majority of women. From this moment on, she had to juggle her art, expectations to succeed in all areas of life and the needs of her family. She established a creative play space called Tmuffin, where babies and toddlers could explore freely while mothers gathered to share their experiences and overcome the isolation that motherhood can induce.
"I've so often heard women saying, 'I'm not creative' and I just don't believe that. We're all creative beings. One of my intentions is to help women rediscover their passion again after the initial stages of motherhood," explains Merediz who carves that path by example.
Following the closing of Tmuffin, Merediz launched Make Your Perfect in 2016. This online community provided resources for mothers to take steps toward living their fullest lives despite being swamped in motherhood. In 2018, she expanded Make Your Perfect to include all women. Empowering others is clearly at the heart of this artists work, but Merediz also realized that she must dive into her own creativity in order to truly inspire others. Focusing on her own art with a deeper connection to something beyond the 'culture of productivity,' Merediz experienced a new found freedom that relinquished previously taught techniques.
The more her own spiritual path unfolds through meditation and intuition work, the more clearly Merediz experiences her art as a language unto itself. The Moon Calendar series is a beautiful portrayal of ritual and rhythm within nature and how inextricably a part of these cycle's humans are. "Coming from a more meditative state, sometimes I feel like I'm just tracing over lines that are already on the paper," explains Merediz, eyes aglow with an intoxicating joy when speaking about her pleasure in the creative process.
"Creativity has helped me all my life. My college statement said, 'when I paint something, I see it more clearly.' I was told how simplistic that was at the time but I see now more than ever, how right I was, I just had to believe it!"