Epicurean Evening
03 Jul 2019
A culinary delight benefiting the community
By JUDY ROYAL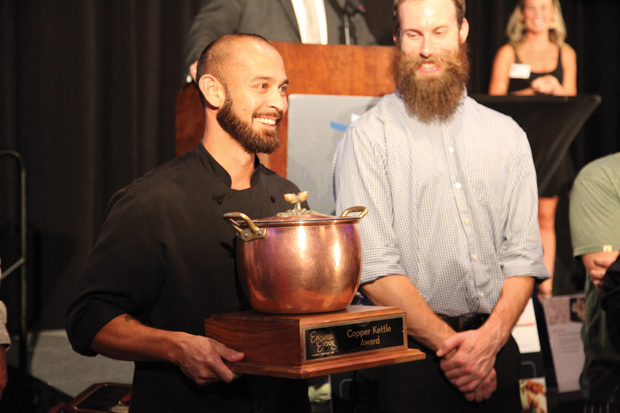 After a forced cancellation due to Hurricane Florence last year, Wilmington's Epicurean Evening is back for 2019, and organizers are expecting the popular fundraiser for the Methodist Home for Children to be better than ever.
The event, which will be held Thursday, August 29, beginning at 5:30pm at the Wilmington Convention Center, is now in its 13th year. Attendees can expect the same showcase of unique food, creative beverages and valuable live and silent auction items from years past along with a few new twists, including a cocktail tasting and a "wine pull" in which people can pay $20 for a grab bag that includes a bottle of wine worth $20-$140.
"We try to make it fresh and new every year," said Regina Hawse, development officer for MHC. "We polish it and tweak it and try to make it better. It's such a fun evening."
Epicurean Evening started in 2006 at what was then Hilton Wilmington Riverside with eight restaurants participating and 200 people attending; today there are 30 participants serving their signature dishes and drinks to a crowd of 650 at the Convention Center. In 2017, the proceeds from Epicurean Evening were able to help 168 children and families.
There are gold, silver and bronze prizes at stake in various categories, including taste, presentation, decoration and People's Choice, but the ultimate honor is the coveted Copper Kettle Best in Show, currently held by Convention Center Chef Don Vilain who won in 2017. The award goes to the participant with the evening's highest cumulative score from a blind panel of culinary judges.
"Mostly, however, those who give their time to make Epicurean Evening a success are there because they care about the community," Hawse said.
"Those chefs and restaurants don't have to do that," she said. "They enjoy the camaraderie and the competition, but the main reason they are doing it is the children and the families, to give back."
Founders of Epicurean Evening wanted to establish an event that not only highlighted the area's culinary offerings, but also brought attention to the plight of many of the kids who benefit from MHC.
"We just wanted to celebrate the chefs and the diversity of the food culture we have in Wilmington," Hawse said. "The children we serve are often in conditions with neglect and abuse, and with all of that goes hunger. I remember visiting one of our group homes where they all sat down together to eat as a family. One little boy, when they would say grace, would try to grab and hoard food because he had been so deprived in his early life."
The keynote speaker for this year's Epicurean Evening is Jason Brown, a North Carolina native who decided to walk away from football and the NFL at age 29 to become a farmer in Louisburg and has since given away over 46,000 pounds of food.
Tickets for the black-tie-optional event are $150 each and available online. Sponsorships are also available. For more information, visit www.mhfc.org/our-events/ee.