Wilmington's new ultimate burger destination

By BRIDGET CALLAHAN » Photos by KELLY STARBUCK PHOTOGRAPHY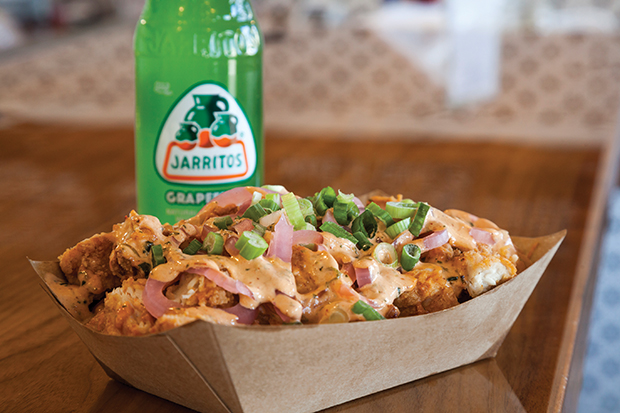 348 Hutchison Ln.
Wilmington, NC
910-604-4927
messhallilm.com

If you haven't visited the Cargo District yet, located just between Castle St. and Wooster downtown, then you're missing out on Wilmington's newest destination for a Saturday afternoon hang out. A collection of unique boutiques and businesses housed in remodeled shipping containers and other buildings, it's quickly picked up a reputation for being a tight knit, but welcoming community of small entrepreneurs. Buy a plant, get a haircut, even get a cup of coffee or a beer. But for burger aficionados, the real draw is Mess Hall, Chef Sam Steger's love letter to the greasy and delicious American staple.

"I'm not a cute person. I'm a little rough around the edges," says Steger, who came from the kitchen of Market St's beloved Casa Blanca. "I don't look like I belong making super cute dishes. Messy food is my thing. I'd rather eat something that when you look at it...it's a little ugly. But, then when you taste it, then it's like, "Oh, I understand.""

Originally, Steger had a food truck in mind. But he was turned on to the Cargo District by his son's barber, and found that starting a brick and mortar, something he initially figured was far in the future, turned out to be just about the same in cost. Mess Hall moved into the old Bespoke space when the coffee shop owners decided to focus on their original downtown location, and Steger took full advantage of the already remodeled space. He started the work of getting the kitchen ready in December of 2019, and then...well, you know. World events happened.

Turns out Steger is the king of turning tragedy into momentum. He likes to tell the story of how two trees falling on his old house gave him the financing to get his business started, and when it came to the pandemic, Steger pulled out all his
silver linings.

"Our concept works very well with takeout. So we figured opening up for that was better than nothing. Of course, the health department took longer than expected too. But when things began to open up again, people had been on lockdown for so long, and they were ready to get out of the house. We have a lot of outdoor seating, and the indoor seating is pretty spaced out. So I think that's why we were able to be busy right off the bat," Steger says. It doesn't hurt that Mess Hall sits conveniently adjacent to Alcove Beer Garden and End of Days Distillery. With open air, picnic tables, and Wilmington's awesome weather, they quickly became a favorite destination for lunch breaks and sunset dinners.

But unlike other burger places that stake their names on fancy toppings and mad scientist combinations, the Mess Hall menu is extremely limited, with basically only a few burgers and a chicken sandwich. That's very much on purpose.

"From the very start when I had this idea, the menu was always simple. It's partially because I'm lazy, and I get stressed out when a menu has forty different things on it. I wanted to be known for our burgers, but I also want burgers done the way I think they should be done. And obviously people come in and modify things and add stuff, but this is how I think a burger should be eaten," Steger says.

His burger philosophy? Well first of all, it has to be a smash burger.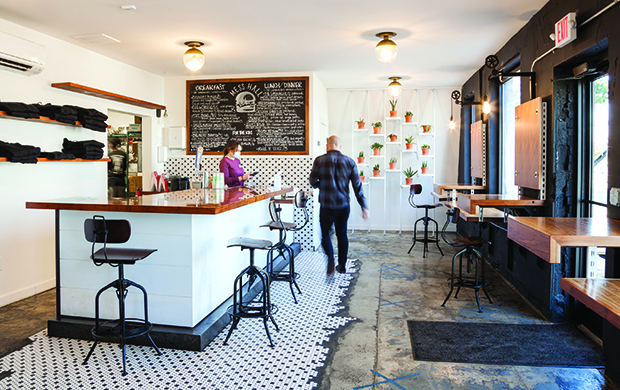 "Done on a f lattop, absolutely," Steger says. "Smash it thin so it gets crispy on the outside with a nice crunch but stays juicy on the inside cooking in its own fat. Toasted bun, extra melty cheddar cheese that also gets a little crunch from the flat top. So when you're eating it, there's crunch coming from a few things - the burger, the cheese, the onion straws, the bacon. Ratios are important. The toppings on the burger aren't overwhelming, so there's a balance between the patty and the toppings."

The menu features three burger options. There's the Samburger, served on a potato roll, with cheddar, bacon, onion straws, caramelized onion, and "mess sauce." Or the Old Fashioned, with lettuce, tomato, cheddar, and onion straws. And finally the McWhat, a homage to Steger's favorite McDonald's "secret menu" order.

"You get a McDouble and a McChicken, you open up the McDouble and put the chicken inside and eat it, and it's delicious. If I go to McDonalds, I still get this, and I own a burger restaurant. I've loved those for years, and there are some other more inappropriate names for it, but I thought man, I should have one on my menu and call it the McWhat. It was honestly kind of a joke at first but then I made one and it was delicious."

If you're not in the mood for a burger, there's the huge chicken sandwich featuring fried tenders, spicy hot honey and pickled onions. And for non-meat eaters, there's a vegan option with a house-made patty crafted from black beans, brown rice, walnuts, mushroom, onion, and panko, covered in locally made Kind Cultures vegan cheese.

But just don't ask for fries or pickles. With storage and cooler space at a minimum, Steger's dreams of fresh cut fries and homemade pickles will have to wait, along with plans to expand to breakfast, and he's not willing to compromise in the meantime. So every burger instead comes with crunchy tots, which can be ordered on their own too, smothered in cheddar, with a chopped patty or fried chicken, bacon, pickled onions, chipotle mayo, and green onions.

"We're working on trying to be more clear, but people are used to going to a burger place and saying, "I want this and this." And with only three burgers on the menu, we can't do that. We're happy to try and oblige. We're not going to force you to put sauce on your burger, but personally I think you should try it at least once," Steger says.

Mess Hall is open from 11am-9pm Monday thru Saturday.