Second Time's A Charm
04 Mar 2021
Rebuilding home after Hurricane Dorian

By CHRISTINE HENNESSEY » Photos by G. FRANK HART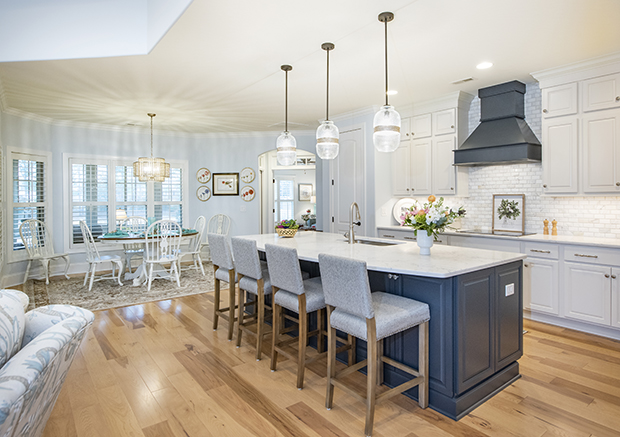 Jack and Patsy Mackmull were at the Atlanta airport, about to board a flight to the Galapagos Islands, when they got a phone call from their neighbor. "You need to come home right now, your house was just hit by a tornado," she said. "We thought she was joking at first," Patsy recalls. Unfortunately, she was serious. Not only that, Hurricane Dorian was bearing down on Wilmington and, thanks to the damage from the tornado, their wind-ravaged home in Porters Neck Plantation was defenseless against the storm.

The Mackmulls immediately canceled their vacation and headed back to Wilmington. When they arrived, a surreal scene greeted them. "Pulling into Porters Neck Plantation, there were trees down everywhere," Patsy says. "When I looked to the right, I realized I couldn't see the house next door—it was completely hidden by fallen trees". When the couple pulled into their driveway, their house at first appeared to be intact. Then they looked up.

A third of the roof had been peeled away, opening everything but two bedrooms and two bathrooms to the sky. Their master bedroom, master bathroom, master closets, living room, kitchen, dining room, breakfast nook, beer and wine bar and powder room were essentially destroyed. It was clear they would also need new flooring, trim and paint throughout the rest of the house.

In addition to the roof, the back of the house took the brunt of the damage. The Mackmulls' 55-foot long lanai, which was made entirely of glass, had completely imploded. The lanai was separated from the rest of the house by a trifold door, which the Mackmulls usually keep open. On the day of the storm, however, their dog-sitter just happened to shut the trifold door. "When the lanai imploded, the glass was strewn everywhere including in both of our neighbors yards. Luckily no one was hurt," Patsy says. "If the dog-sitter hadn't shut that door, it would have been a whole different scenario".

The Mackmulls were no stranger to construction projects, as they had built their Porters Neck home just four years earlier. "We lost our Topsail Beach house in Hurricane Florence," Jack says, "and had just finished rebuilding that a month before Dorian. Four years into retirement, and we have rebuilt two houses from two hurricanes and a tornado." While it was difficult to face yet another big project, they were grateful to have a place to stay during the restoration and to have the team at RMB Building & Design in charge of getting them back home.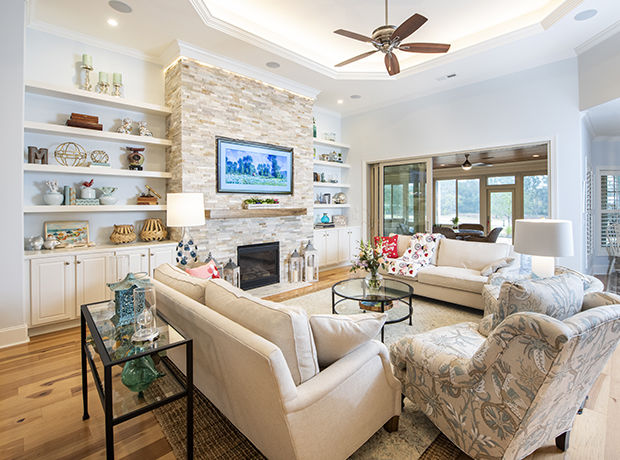 RMB Building & Design

Owned by Mack Braxton, the partners of RMB Building & Design have been in the industry since 1973, and building homes in and around Wilmington since 1987. A boutique builder, the firm does everything in-house, from initial design to construction, and is very hands-on when it comes to their projects.

Travis Braxton joined the family firm as a Project Manager in 2012, and in recent years has started taking on more renovation projects. This is a change for RMB, who previously stayed busy with new builds. "When I came on board full time, it gave us the opportunity to expand what we do," Braxton explains. "It's worked out well, especially with Covid. Right now, everyone is home all the time, and they're looking for ways to make their homes more livable."

Some clients approach RMB Building & Design with ready-to-go plans, while others come with ideas. No matter how a project starts, the end goal is the same: make sure the process is pleasant, and the final product is perfect. "We're a boutique builder and renovator," Braxton says. "That allows us to give our clients the attention they deserve. We're by your side, all the way from the initial idea of what you want, to when we hand you the keys. We can be really hands on from start to finish."

While it was a tornado and not a pandemic that brought the Mackmulls to RMB's door, Braxton's philosophy and goals still applied—make sure the Mackmulls have a pleasant process, and end up with a perfect product. Needless to say, this was music to Jack and Patsy's ears.

"We were looking for highly regarded custom builders who were also great communicators and very transparent," Jack says. "We couldn't have picked a better group of people than RMB to put our home back together."

"They were easy to work with and open to suggestions," Patsy adds. "We aren't architects or designers, and we really didn't know what questions to ask at the beginning. They reassured us and told us the house would be even better than before, and they were right."


A Second Chance

"After you build a house and you're actually in it, you start to notice things," Patsy says. "You think, oh, maybe those cabinets should have gone to the ceiling. Maybe the fireplace, which is the center of the great room, should be a bit more eye-catching." And so, even though their home was only four years old, they decided to make some enhancements and improvements during the restoration. After all, what better time to make a few updates then when your home is already stripped down to the studs?

Because the rain from the hurricane had completely flooded the home, everything from floors to ceilings to walls had to be replaced, not to mention most the Mackmulls furniture and décor. To make sure the restoration met the Mackmulls' vision and that the enhancements they made were worthwhile and meaningful, Braxton brought in Jo Howell from Big Sky Design. "This restoration really went beyond just putting the pieces back together," Braxton says. "It was more of a hybrid of a restoration and a remodel."

The Mackmulls appreciated Howell's help, especially because they were still dealing with the shock of what the tornado had done to their home. "It was nice to have someone around who could ground us, help us think about what we want to do and bring it to fruition," Patsy says. "Even when we didn't know how to express what we wanted, Jo and Travis figured it out and got it done".


New and Improved

Before the tornado and hurricane, the Mackmulls' kitchen was all white. While clean and simple, they realized after living with it for a few years that it lacked personality. "I felt like the island needed to be anchored," Patsy says. "We decided to make it cadet blue, and then used the same color for the hood over the stove." The beautiful and bold blue hood brightened up the kitchen and added interest and depth, while a new marble backsplash in the kitchen further enriched the area.

The living room also received a refreshed look and feel. It, too, lacked texture and interest, thanks to 16-foot tall ceilings that were little more than sheetrock. During the remodel, RMB redid the built-ins and the fireplace by installing floor to ceiling stone and a new granite hearth, as well as floating shelves and new cabinets. They also widened the fireplace by a foot on each side, making the fireplace a statement piece that truly feels like heart of the home.

"We also went in and changed paint colors, redid the flooring throughout, using gorgeous wide plank hickory and added new light fixtures and fans," says Braxton.

The lanai that was so badly damaged it also got an impressive upgrade, one that ensures not only beauty, but also safety. "We rebuilt it using hurricane rated impact glass," Braxton says. "In addition, we installed a mahogany ceiling on the lanai to make the porch more of a 'man room.'" For Jack, who likes to watch football on the lanai, it was a welcomed upgrade.


Home Sweet Home (Again)

The Mackmulls moved out of their beach house and back into Porters Neck this past September, and home has never been sweeter. Between the new improvements, the thoughtful upgrades, and the well-placed enhancements, their difference is, in Jack's words, "like night and day." It's an incredible transformation, and it wouldn't have been possible without the team of professionals enlisted to put the pieces of the Mackmulls' life back together.

"We couldn't have chosen a better builder," Jack says. "We thought our house was pretty before, but it's absolutely beautiful today. And to have Patsy and Jo from Big Sky Design go through the house with paint colors, new lighting, and new furniture—it really made a difference. It was so nice to have a team that could do a long term project together and do it
so well."

"We learned you need somebody who understands what you want, and won't take you to the bank to get things done," Patsy adds. "The whole time we were doing this, we were working with the insurance company because there were thousands of other people trying to get money for their houses after Dorian. Not having to worry about the restoration was a huge relief. "

While no one wants to see their home destroyed by a tornado or a hurricane, the Mackmulls—with the help of RMB and Big Sky Design—were able to find the silver lining hidden in the rubble. "The house has pizzazz now," Patsy says. "It turned out magnificently."

RMB Building & Design, 910-256-6326, rmbbuildinganddesignnc.com