Nice to Meat You
03 Mar 2021
Piling up the Port City's most revered BBQ

By FANNY SLATER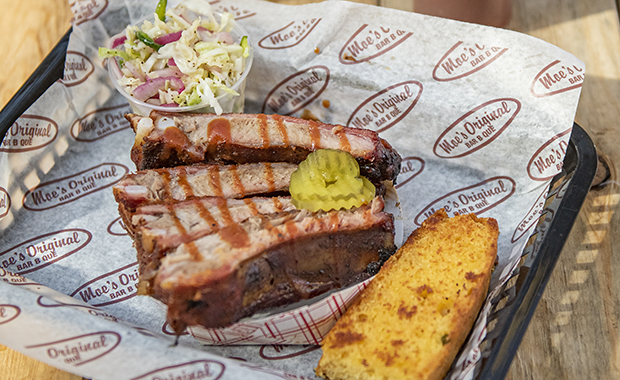 North Carolina's appetite for all-things-pork is particularly insatiable, and Wilmington is no exception. Whether it's pit masters perfectly smoking whole hogs or hospitably southern crews coating crispy, golden-fried chicken in lusciously creamy, expertly tangy Alabama white sauce—there's no shortage of smoked treats for everyone to enjoy.

So belly up with a bib and an ice cold beer. From hip haunts to old-timey hangouts and every hog haven in between. Here are the Port City's 'cue claims-to-fame.


Mission BBQ
910-338-2858, mission-bbq.com

Valiantly "serving those who serve", the altruistic founders behind Mission BBQ are as proud of their calling for 'cue as they are about their devotion to running a business with meaning and purpose. From the mid-day salute to the Stars and Stripes to smokehouse signatures like sticky St. Louis-style spare ribs and a moist half yard bird, there's nothing not to love about this patriotic palace of pork. Don't forget your military ID for a complementary dessert and round up the whole crew—as the collection of Mission's entrees, made-from-scratch sides like baked beans with brisket, and sauces (Alabama White to Carolina Vinegar to Georgia Mustard and beyond) covers something for everybody.


Primal BBQ
910-679-5065, primal-bbq.com

Smoked whole chicken wings and fried okra and burnt ends, oh my! A newbie to Lumina Commons, this locally-owned and operated smoke shop is burning up Wilmington's barbecue scene and not stopping anytime soon. With creative combos like pulled pork grilled cheese with griddled onions and bacon, Primal is serving up all the classics with a side of swag. The smoked meatloaf and tongue-smacking key lime pie are must-haves, and when it comes to saucing it up—go tart cherry molasses on the wings and velvety Alabama zing on the fried chicken. Trust me. Keep an eye out for daily specials like soup and sliders.


Moe's Original Bar B Que
910-769-0617, moesoriginalbbq.com

This downhome modern chain bases its belief system on all things southern: BBQ, blues, college football, and whisky. Well, and crispy-fried Boudin Balls. The exposed-brick atmosphere is relaxed, spontaneous, and loaded with flat screens for all your sports-watching needs. For the 'bama boys who brought the vision of Moe's to life, fire-roasted meat is the epicenter of clutch 'cue—but it doesn't stop there. Eight to ten sides and desserts are whipped up from scratch each day to pair alongside your spare ribs or smoked half chicken with zingy, mayo-based white sauce. Peep their catering packages to marry Moe's with your next event.


Mac's Speed Shop
910-947-6100, macspeedshop.com

In addition to slinging world championship barbeque for nearly two decades, Mac's calls on beer and bikes to create a truly unique dining experience. Their commitment to taking BBQ to the next level is fully evident in the made-from-scratch sauces, dressings, and sides. Thanks to the eatery's wide-open design, the space is massive—which ultimately makes room for more brews. Did I mention they offer over three hundred varieties of beer? Elevated comfort food like hickory-smoked pulled chicken and crispy onions on brioche, mustard-sauced pork tacos, and brisket and black bean chili satisfy hunger pains—while live music, events, and a dog-friendly patio keep customers entertained.


Leland Smoke House & Southport Smoke House
910-228-5008 (Leland), 910-363-5035 (Southport)
lelandsmokehouse.com

Do wood-smoked barbecue and life-changing hushpuppies spark your appetite? Go, with gusto, towards the light. And by light—I mean Leland (or Southport) Smoke House. Troy Knight, owner of both locations, developed a loyal fanbase back in 2014 and has since witnessed folks drive from Wilmington and beyond for his dry-rubbed, heavily smoked pulled pork, peppery ribs, and rich white slaw. A true purist, Knight knows his main event meats don't need messy accompaniments—as it's the hearty hickory flavor that shines through. But don't worry, seven different varieties of finger-lickers from Lexington to Eastern SC mustard to Alabama White are available for all your saucing needs.


Casey's Buffet & BBQ
910-798-2913, caseysbuffet.com

Having worked in fast food and fine dining, Casey's owner Larry Casey is no stranger to the restaurant industry. This no-frills soul food café is famed for its family-friendly environment, reasonable prices, and highly-praised 'cue. Casey and crew have been serving their legendary smorgasbord since 2005; and whether you're craving crazy good collards, tender BBQ pork chops, or oven-baked cornbread so fluffy it'll make your taste buds dance—this country dream team has got you covered. Duck in for daily specials like Thursday's squash casserole and baked spaghetti, and linger at the full dessert bar brimming with sweets like Hershey Bar cake and blueberry pie.


Jacksons Big Oak Barbecue
910-799-1581, jacksonsbigoak.com

A true Port City staple positioned just near UNCW, Jacksons has been receiving high marks for its succulent, slow-cooked, vinegar-doused barbeque and pungent mustard slaw since the 80's. It's rare to find the warm, wood-paneled dining room empty, as satisfied regulars are always bustling about exchanging laughs, stories, and sweet, buttery hushpuppies. The silky banana pudding is a mouthful of "my-goodness-that's-good" and the crackly fried chicken is a true southern delight. You'll also find quirky pig murals and framed historic Wilmington nostalgia alongside Jacksons Wall of Fame (featuring celebs from all over who have indulged in the delicious country fare).


Poor Piggy's BBQ & Catering
910-632-4229, poorpiggys.com

If you've got a hankering for hushpuppies on-the-go, Poor Piggy's is at your service. With three BBQ buggies scooting around town, this rad red trailer (the first of its kind) is always nearby. The certified angus beef brisket, hickory-kissed chicken, and piled-high pork sandwiches (all cooked on eco-friendly, sustainable wood pellets) are as nosh-worthy as it comes. From downtown summer concerts to neighborhood gatherings and brew pubs, Poor Piggy's is always a dependable source for easing your barbeque blues. The Cowboy Fries (spuds, cheese, bacon, crispy fried onions, and brisket) are a four-napkin kind of meal.


Parchies Barbecue
910-763-2565

Parchies homey vibe, exceptionally good hot dogs, famous cheesesteaks, and sensational pork plates have made it a true dining destination for nearly forty years. That's a lotta love, y'all. The humble, diner-style gem is an idyllic landing zone for smoked-laced sammies and catching up with old friends. You can't beat fried chicken day Thursdays, and if you want the real Parchies experience, saddle up to a counter stool and confidently order a "float": a dreamy mound of grits with your choice of goodies including bacon, cheese, sausage, and eggs. Keep an eye out for their catering service at local events.


Merritt's Burger House
910-763-5844, @Merritt'sBurgerHouse (on Facebook)

Seeing as business at this Carolina Beach drive-up has been rock solid for almost sixty years, I think it's safe to say Merritt's has stood the test of time. If you know you know, and let's face it—most folks in town have grown up sipping Merritt's sweet tea. The cash-only menu boasts classics like thin, grill-smashed burgers, savory pork chop sandwiches, and crinkle fries all served on old-school aluminum trays. Words of wisdom for you first-timers out there: don't miss the milkshakes, and if you feel confused—hang in your car. They'll come to you.


Rebellion
910-399-1162, rebellionnc.com

From finger-licking, jumbo, dry-rubbed smoked wings to mornay-smothered mac and cheese—this hip gastropub (a beer and whiskey enthusiast's dream) hails from DC, and seems to have finally broken the curse of that Front Street space. The inventive American specialties (see: flash-fried Brussels Caesar salad with pretzel croutons) are topnotch, and the barbecue game is equally on point. Pop your head into the kitchen for a peak at the lofty smoker, but sit back down at the bar for your deviled eggs dolloped with tangy relish, air-dried beef, and oniony scallions. For a mix of all things yum, the Don't Tread Bahn Mi with smoked pulled pork, pork rinds, bacon fat mayo, and chow-chow is worth breaking your diet over.