Backyard Oasis
03 Mar 2021
Elevate and refine your outdoor living space

By EMILY GORMAN FANCY and Judy Royal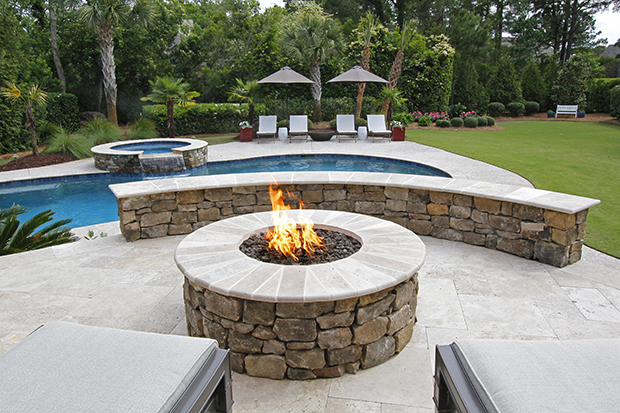 From spring through early fall, often even stretching into the occasional mild winter day, Wilmington's temperate climate brings ample opportunities to enjoy outdoor living. And with COVID-19 restrictions still in place, what better time to enjoy a change of scenery than from the safety and comfort of your own backyard? From creating a garden oasis to building your ideal outdoor living escape to providing the perfect furnishings, we spoke to four local businesses that specialize in exceeding your expectations.


Stone Garden
910-452-1619
stonegarden-nc.com


"With spring arriving, it's time to bring your landscaping dreams to reality", says Nina Brown, owner of Stone Garden. The process of creating an "outdoor room" is both exhilarating and intimidating, like building a new home or renovating an old one. But outdoor spaces are more forgiving and, like a garden, can evolve over time.

Brown offers several tips to transform your outdoor garden space. "Start by creating an overall vision and determine which features you want to include: a patio, fireplace or firepit, a grill and kitchen, a fountain or pool," she says. "Finding the right materials and matching them with the right contractor is the biggest challenge." Stone Garden provides a huge inventory of 3.5 acres of products and display gardens and a contractor referral network that has been fine-tuned over twenty years. In this article, we'll highlight three Wilmington projects in which they have played an important role.

Residence #1

This home juxtaposes the beauty of two essential elements: fire and water. This project evolved in several phases. In 2015, the homeowners hired Phil Harris of Caribbean Pools, who designed and installed a free-form pool and circular spa.

Four years later, Adam Sedney of Ace Masonry met with the homeowners to achieve the next phase of the project. Ace Masonry installed a travertine patio, curved seating wall, and dramatic gas fireplace using the same stone that encased the original spa. The result is positively dramatic.

Residence #2

The homeowners wanted to replace a sloped area leading down to a pond with a terraced patio to take advantage of the beautiful natural view. Landscape architect, Lara Berkley of B&O Design, teamed up with Jason Cohan of Cohan Contracting to create a walled terrace large enough to accommodate an expansive entertainment space.

Father and son team, Mike and Vince Edmondson of Millennium Masonry started construction of the 9-foot high walls that encase the bluestone patio in the fall of 2020. They were interrupted by a storm, but picked back up and completed the project this past winter. "Their masonry skills are worthy of applause," Brown exclaims.

Residence #3

The homeowners had a vision of transforming a narrow, overgrown beach property into a "coral reef style garden," Brown says. The interior of the house served as "the room," and the view from every window, looked onto a stunning combination of stone and succulents.

Ten years ago, fountain artist Ryan Shaw added a disappearing fountain with three basalt columns. The homeowner created a stunning garden with stone pathways that encircled the house. In 2020, he hired Thorpe's Landscaping to add to the hardscaping. "In an amazing feat of agility, they succeeded in getting 20 tons of boulders over the fence and perfectly placed," Brown describes. "Now the garden will continue to grow and evolve in future phases."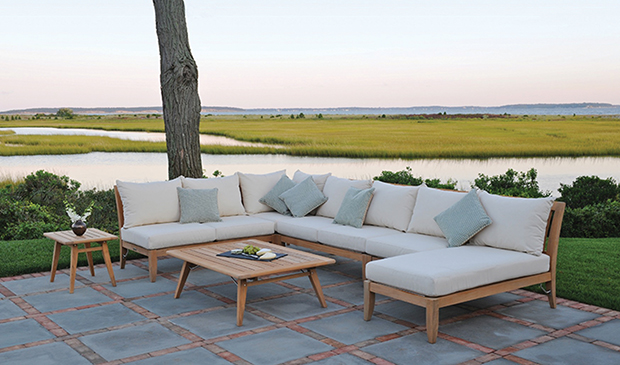 Lowcountry Landscaping
910-200-1489
lowcountrylandscaping.com

Offering many years of landscaping experience, Lowcountry Landscaping's designs, craftsmanship, and artistry have made them one of the most sought-after landscaping businesses in the area. Taking into consideration the characteristics of the residence's home and lawn, as well as the homeowner's vision for how they would like to utilize their outdoor spaces, Lowcountry designs the perfect spaces for their clients.

Lowcountry Landscaping lent their expertise to the Timeless residence, a three-acre property situated at the intersection of Hewlett's Creek and the Intracoastal Waterway. To complement the house designed and built by Timeless Properties, Lowcountry Landscaping created a beautiful one-of-a-kind outdoor
living space.

In the Timeless residence backyard, you'll find everything a family would need to relax and enjoy a breathtaking view of the Intracoastal. Lowcountry Landscaping created the custom stonework featuring sand-blasted marble pavers surrounding the pool, spa, and patio. They also built retaining walls, upper and lower terraces, and stone porches. The upper patio also features a putting green for the golf enthusiast and a fire pit for gatherings.

Lowcountry installed custom, low-voltage landscape lighting to highlight and enhance the property's architecture and landscape, while also making the entire space functional for nighttime and daytime usage.

Hinson designed and cultivated the residence's garden in what he calls a blend of the "old south and the lowcountry" traditions. The gardens feature carefully-selected amelias, roses, and live oaks. Additionally, the expansive grass meets the marsh and the Intracoastal.

At the homeowner's request, Lowcountry had a 50-foot tall live oak tree specially shipped from Florida to be installed in the front of the residence. "It's an amazing tree and one of the biggest live oaks in Wilmington," Hinson says.

With this large live oak in the front and several live oaks in the backyard as well, the home's landscaping is reminiscent of a mini Airlie Gardens. "Something is always blooming at this house," Hinson says.

When asked about how the COVID-19 pandemic has affected business, Hinson says he has seen an upsurge in clients looking to reimagine their outdoor spaces to make the most out of quarantine situations, as well as create safer ways to gather outside with small groups of family and friends. "People are nesting and looking to enhance their options to enjoy their outdoor spaces," he explains.


Firetti Builders
910-477-6018
firettibuilders.com

Firetti Builders has been specializing in new construction of custom homes in the Southport/Oak Island corridor of Brunswick County since 2000, but recent years have sparked more interest in outdoor spaces than ever, said owner Joe Firetti.

"It's always been in demand to a certain degree, but now all my clients want something, whether it's an outdoor kitchen, fireplace or pool," he said. "The homes of today are not what they were 10 to 15 years ago; 80 percent of homes we build have some level of an outdoor living space. Especially in an era of COVID when we haven't been able to get out as much, people are putting their money into entertaining locally in their home."

Our region's mild climate – which offers outdoor enjoyment practically year-round – plus an abundance of semi-retired and retired people relocating to the area are responsible for the trend, Firetti said.

"The clients who are looking for this either have visiting children and/or grandchildren or local friends that they simply want to entertain," he said. "They are people who love to
be outdoors."

One such client in the St. James community was looking for all the bells and whistles of an outdoor oasis when building a custom 4,300-square-foot home that Firetti Builders completed in 2019. The residence features a large heated pool with fountains, lush landscaping, an outdoor fireplace with a TV above it, an expansive covered porch made of slate with stained pine ceilings, a balcony that overlooks the pool, a custom sound system and a fully loaded outdoor kitchen that offers all the conveniences of the indoors. The space overlooks a nature preserve full of birds and other wildlife.

"It's definitely one of our more elaborate outdoor finishes," Firetti said. "The homeowners wanted to create a spectacular outdoor living environment, and we delivered just that."

Firetti suggests that those interested in creating an outdoor retreat begin by thinking about exactly how they will use the space and start gathering photos and ideas online. Some people just want a nice grill to use occasionally, while others are seeking a setup that allows them to cook every meal outside, he said.

"Most clients come to me with a bullet list of features," Firetti said. "I just want a vision. We're a complete design-build company, so we work together with a local designer to conceptualize and bring the space to life."


Leisure World Casual Furniture
910-392-7748
leisureworldcasual.com

When a client approaches Trey Folcher, owner of Leisure World Casual Furniture, about furniture options for an outdoor living space, his first question is, "How do you intend to use this space?" Sometimes clients focus on staging the space for when their college kids come home for breaks or extended family is in town, instead of thinking about how they will truly use the space on a daily basis. "If it's only the two of you, eighty percent of the time, gear the space toward how you will use it the majority of the time," Folcher explains.

Folcher enjoys the opportunity to visit clients' homes or view aerial photos of their outdoor spaces, and then make recommendations that perhaps the client hasn't previously considered. "Sometimes a lightbulb will go off in the client's eyes, and this is a great feeling," he says.

Incorporating modern looks in outdoor furnishings is a trend that has become more popular in Wilmington, according to Folcher. The modern style of outdoor furniture involves what Folcher calls a more "linear" look and a blend of materials, such as wicker and teak, wicker and aluminum, and teak and aluminum. Modern sectionals often have low backs and are made for lounging. "When you look outside your back window, the low back of the modern furniture doesn't obstruct your view," he explains. "The lounge style allows people to sit back and relax with a bottle of wine."

The modern look has always been popular in larger cosmopolitan areas such as Miami, Atlanta, and New York, and now with the prevalence of HGTV shows and home design online communities like Houzz, the trend has spread to coastal areas. Folcher encourages clients to garner ideas from HGTV or online resources like Houzz and Pinterest, and then take those ideas to local businesses and give local vendors the opportunity to make those visions into a reality.

When it comes to investing in furniture for your home, there is no substitute for selecting and trying out the furniture in person. "I can't imagine buying a $1,000 chair without sitting in it first," Folcher says.

As a small business owner in Wilmington for more than 35 years, Folcher values serving the local community. Lump to Laughter, the Cape Fear Heart Ball, and the Brigade Boys and Girls Club are just a few of the local nonprofit organizations that Leisure World has supported.