Musically Inclined
26 May 2023
The perfect weekend in Nashville

By Katie McElveen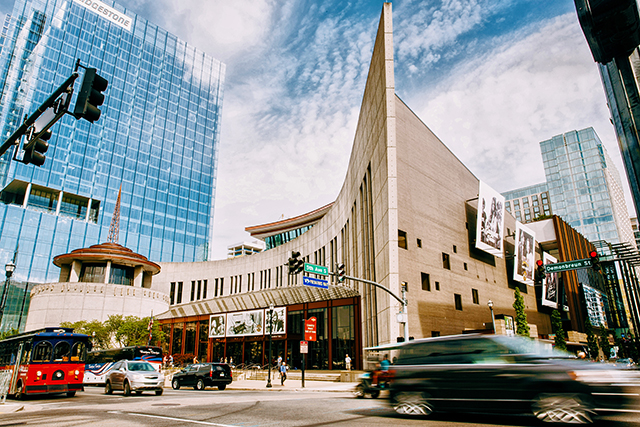 Before I visited Nashville's Country Music Hall of Fame and Museum, I imagined some sort of rhinestone-paved Yellow Brick Road studded with life-sized figures of Johnny Cash, Taylor Swift and other country music legends, all clad in authentic stage costumes. There would, of course, be music blaring in the background.

That assumption ended the moment I stepped into the guitar-shaped building, where I discovered a multi-sensory experience that utilized photos, videos, artifacts and even wonderfully huge wall-mounted diagrams to trace the origin of country music from its 18th-century roots (really!) to the present.

I had no idea, for instance, that it was Hollywood that added the Western component to country music or that cross-pollination between country and rock artists started in the late 1950s, not the 1970s as I'd thought. I left the museum with tremendous appreciation and admiration for the talent and innovation of country music's artists and songwriters. Oh, and I was humming, too.

The Country Music Hall of Fame and Museum isn't Nashville's only museum devoted to music. There's also the Musicians Hall of Fame & Museum, which pays tribute to the musicians who played on famous recordings; RCA Studio B and museums devoted to Johnny Cash, Glen Campbell, Willie Nelson, Patsy Cline and George Strait. The newest entry is the National Museum of African American Music, which opened in 2021 and looks deeply into the 400-year evolution of Black music in America.

We started in the Roots Theater, where a film sets the stage for the experience, linking Black music to the arc of history. From there, galleries use photos, videos and artifacts to take a deep dive into various genres of Black music like gospel, rap and soul. A sense of history comes courtesy of innovative listening stations, which offer an auditory journey through the musical sphere of hundreds of Black artists.

But while music might be the banner that identifies Nashville, it has also shaped the city, drawing thousands of creative types—beyond musicians—who have opened restaurants, galleries and shops in neighborhoods all over the metro area.

For visitors like me, that influx of creativity means there's a huge variety of cool, off-beat and interesting things to eat, drink and do in Nashville. There's a slew of new hotels, too, including a 235-room Four Seasons, where programs like private songwriter sessions and VIP access to the Gibson Guitar Garage translate the brand's signature elegance through a musical lens. ONE Hotel might be the site of Nashville's hottest rooftop bar, but the welcoming guest rooms are as hushed as they are comfortable. Even better, the luxury property is focused on sustainability, both in design and operations. For guests, that means rooms filled with live plants, in-room water dispensers and organic body products from the British brand Bamford that smell like a summer garden.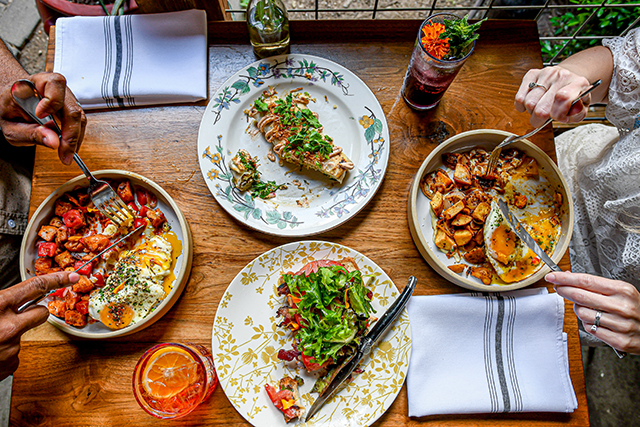 Where to Shop & Eat

Legendary record and bookshop Grimey's also serves as a small-scale music venue, hosting local groups who play on a small stage in the back. Up the road but a world away, it was hard not to get lost in the gorgeous artwork at the elegant LeQuire Gallery, where a shy shop goat clickety-clacks around the gallery doing her best impression of a shop dog.

I wish I'd had more time to shop at ABLE, which got its start selling scarves made by women coming out of the sex trade in Ethiopia. As the company grew, it began to offer sustainable jobs to more and more women, who, today, design and create jewelry, handbags, clothing and shoes in Ethiopia, Brazil, Mexico, China, Portugal and Nashville.

I ate well in Nashville, too, starting at Chauhan Ale & Masala House, where chef Maneet Chauhan's mashup of Indian and Southern cuisines—like nachos made from spicy keema and crispy Indian papadi instead of tortilla chips and fritter-like Nashville hot cauliflower pakora—was a delicious departure from what I thought would be a weekend of Southern fare. Dinner at the Nashville location of Butcher & Bee was another explosion of flavors, some familiar, others not, but all delicious. As innovative dishes like a citrus salad with creamy labneh and pepper jelly vinaigrette, whipped feta with fermented honey and an amazing pastrami-spiced tri-tip roast appeared on the table, I was glad we were eating family style.

I spent one entire day eating food prepared by Chef Sean Brock, who got his start cooking in Nashville, became a legend in Charleston with the restaurant Husk and, in 2014, returned to Nashville.

My first two meals were combined into a brunch of champions at Brock's kid-friendly Joyland that included an egg, bacon and cheddar sandwich on a meltingly soft biscuit, a malted milkshake, part of a cheeseburger and too many fries to count. Dinner was at Audrey, which Brock opened in 2021 as an ode to his grandmother, who taught him both to taste and to cook. Her legacy lives on at the restaurant, which serves perfect iterations of classic Appalachian dishes, but with dashes of brilliance that transform each dish from simple to sublime. Truffles, it turns out, give chicken and dumplings a shot of umami that makes a great dish better; horseradish sabayon bathes oysters in silky warmth that still allows their sweetness to shine through. Desserts were deceivingly simple, like my butternut squash, which had been roasted in maple syrup until it couldn't hold another drop. It arrived warm, atop a pool of homemade butterscotch pudding, alongside a melting scoop of butter pecan ice cream. Instead of putting the dish over the edge, the accompanying drift of whipped cream served, oddly and happily, as a palate cleanser.

Like many creative types who have made Nashville their home, Chef Brock found himself drawn back to the city by its energy and spirit. "There's a lot of creative momentum in Nashville right now," he says. "For people with big dreams, it's the place to be."