Mysteries & Intrigue
02 Jul 2022
Diverse reads for Summer's bookshelf
By Lewis Bowling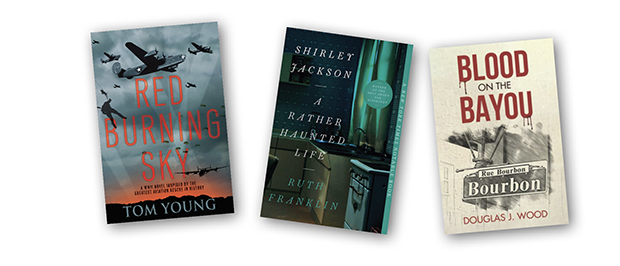 Red Sky Burning by Tom Young
Tom Young knows how to write military novels. His latest book, Red Sky Burning, based on actual events, is about Operation Halyard, a daring mission to rescue Allied airmen who had been shot down over Yugoslavia during World War II. Red Sky Burning is about the brave efforts of airmen flying through dangerous skies, controlled by Germans. These planes landed on crude airstrips carved out of forests. It was such a dangerous mission that airmen rescuers were all given an L-pill, which when swallowed would kill them. This would save the captured crew from being caught and tortured to death by the enemy, and also to keep them from revealing important and sensitive information. Red Sky Burning covers an operation in World War II that is not so well known, until now.
Young is a decorated air combat veteran who flew over 5,000 hours in places such as Iraq and Afghanistan. Along with that combat experience, Young today is an airplane pilot based out of Reagan National Airport in Washington D.C. With all this flying to his credit, both in combat and peacetime, the author takes readers right into the cockpit with the airmen of Red Sky Burning. This is appropriate, because as a young boy growing up in Granville County, N.C., Young would often go to the library in Oxford where he found books written by the French aviator Antoine de Saint-Exupery, inspiring young Tom to be a pilot.
We are proud here in North Carolina to be known as "The Writingest State," as coined by Doris Betts. Absolutely, Tom Young belongs to our long list of authors who continue to make our state deserve that moniker. We are losing our World War II veterans, yet books such as Red Sky Burning will make readers more fully appreciate the service of these good men and women who did extraordinary things to protect our freedoms.
Shirley Jackson: A Rather Haunted Life by Ruth Franklin
Shirley Jackson was a chain smoker, drank too much, was very obese, and had a husband who berated her and openly had affairs. Her mother wrote derogatory letters to her, often criticizing the way she looked. Along with all of this, and surely in part due to this, Jackson suffered from agoraphobia, a condition that makes people afraid to go out in public. Despite all these hardships, Jackson became one of the leading writers of horror in the 1900s. To make it even more difficult, Jackson was a married woman, expected to raise children and "keep house," during the times in which she became a successful writer, the 1940s, '50s, and early '60s.
But succeed as a writer Shirley Jackson did, turning out such classics as The Lottery and The Haunting of Hill House. And not only did Jackson write these books dealing with ghosts and the supernatural, but she did this while raising a family of four children. She used her experiences of being a wife and mother to write a bestselling, hilarious nonfiction book about her family, Life Among the Savages. Jackson became adept at writing when she had snippets of time from raising young children, such as when the kids were napping, when at school, late at night when they slept. Jackson had another barrier to success, she died at the age of 48.
Ruth Franklin does a superb job of writing this definitive biography of Shirley Jackson. Not only does Franklin write about Jackson's life in a detailed, but entertaining way, Franklin blends in the times of the 1930s through the mid-1960s, lending context to the struggles and ultimate triumphs of Jackson.
Blood on the Bayou by Douglas J. Wood
If you want to write a murder mystery in the vein of 20/20 or 48 Hours, you might want a setting like New Orleans with its dark alleys, sultry setting, partying tourists, and of course a murder, or maybe a serial killer. You might include good cops/bad cops, voodoo, the KKK and race issues, FBI involvement, and romance. Douglas J. Wood's new book, Blood on the Bayou, has all of this and more.
Wood lives in N.C. and has written other well-received books. In this one just released in April, you will meet Captain Raleigh Broussard, who assigns the murders to Rebecca Simone and her team. Every bit of evidence collected sends the team off in a different direction. And the murders keep happening. As soon as you think you may know who the murderer is, the evidence doesn't support your guess. This book is fascinating, and it becomes a page turner until the finish. Wood knows the legal system from his over 45 years as a lawyer. His characters in Blood on the Bayou are well thought out and getting to know them is a delightful byproduct of the storyline. Is the suspect apprehended at the end? I won't tell as I want to save the surprising end for your own pleasure.