Paradise Remains
03 May 2021
Updates abound at the Amelia Island Ritz Carlton, but thankfully not everything has changed

By Katie McElveen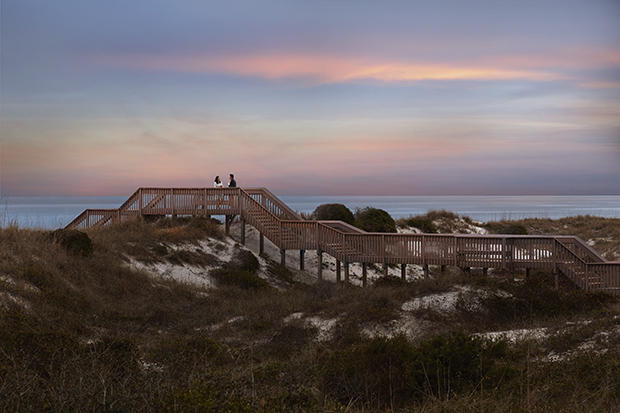 In the hotel business, first impressions matter. Pulling into the Amelia Island Ritz Carlton, I was greeted by a valet, who, when I missed his outstretched hand and dropped my car key into the footwell, grabbed a flashlight and, without the slightest hint of an eye roll, spent the next five minutes digging around under the driver's seat. When he emerged, sweaty and triumphant, my embarrassment vanished, and I knew I was in for a wonderful stay.

Ten minutes later, I found myself in a place I hadn't been in almost a year: a restaurant bar. Since the pandemic began, I'd enjoyed a handful of outdoor meals at restaurants, but I missed the camaraderie of dining at a bar. At Coquina, the Ritz Carlton's stunning (and brand new) open-air tapas restaurant, I'd found a gorgeous one where I could look out over the cobalt Atlantic as I dug into grilled mahi tacos. Tables offer equally atmospheric dining, with spaces – some set with rattan hanging chairs – available around firepits, under a pergola or in an orchid-strewn outdoor garden overlooking the pool.

Coquina is one of many recently unveiled changes at the resort, which celebrates its 30th anniversary in 2021. Several new dining options, including casual Tidewater Grill and a new coffee shop called First Drop, have expanded the Ritz Carlton's culinary scene.

The resort has also been transformed both visually and functionally: rooms have been redone in cool earth tones and now feature bathrooms with double vanities and larger showers. There are also outlets galore, bedside charging stations, and smart TVs in every room.

Thankfully, not everything has changed. The spa is again offering its full array of pampering treatments, many of which are unique to the resort. My advice? Skip the more typical services and reserve a big block of time in your schedule for a specialty treatment that will allow you to take advantage of cool equipment like balancing crystals and a zero-gravity hammock. My Ocean Healing treatment began with a colorful chromatherapy bath – underwater lights to transform the water into a rainbow of relaxation – followed by a salt scrub, a quick shower, and finally, a full-body massage. The only thing I would change is my arrival time: had I gotten to the spa a bit earlier, I could have enjoyed the private spa pool and, perhaps, a glass of champagne.

Amelia Island's Lowcountry landscape – it's part of the same sea island chain that includes Isle of Palms in South Carolina and Jekyll Island in Georgia – has also remained blissfully unchanged. Tall dunes line the shore; most days, you can spot gopher tortoises as they make their way with excruciating slowness through the dune grass. Yards away, dolphins zip through the calm surf like silver torpedoes. Just off the beach, bike trails twist and turn through the island's cool marine forests, offering an easy way to explore the island. Head south a couple of miles (Ritz Carlton guests have complimentary use of bikes each day) and you'll arrive at American Beach, which is home to NaNa Sand Dune, Florida's largest. The massive tower of sand was named for MaVynee Betsch, whose great grandfather, Abraham Lincoln Lewis, developed American Beach in the 1930's as a resort community for African Americans. After a brilliant music career that took her all over the world, Ms. Betsch, who called herself The Beach Lady, gave away her fortune and lived on the beach in the shadow of the dune that's been named in her honor.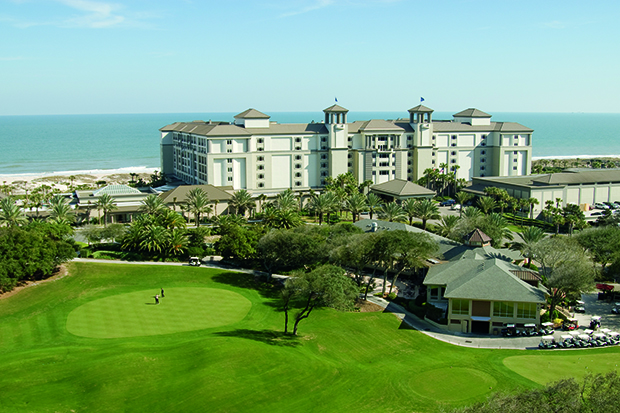 It's about 10 miles north to Fort Clinch State Park, a 1,400-acre site set on a peninsula that's loaded with freshwater ponds, ancient marine forests, creeks, marshes, a massive Civil War-era fort, and several beaches. On the Atlantic side of the peninsula, shark's teeth dot the sand and surfers catch surprisingly decent waves. Head to the northern tip for views across St. Mary's Inlet to Cumberland Island and, if you're lucky, a glimpse of the wild horses who live there. It's also one of the best places on the island to spot highly endangered North Atlantic right whales, who visit the calm water each winter to give birth. Submarine buffs might also want to consider a visit: The United States Navy uses the inlet to move Ohio class Trident subs from Naval Submarine Base Kings Bay into the open Atlantic.

Long before the creeks, rivers and marshes that comprise Amelia Island's west coast became a popular destination for paddlers and other sporty types, legend has it that pirates, buccaneers, and other scoundrels hid from authorities within the twisty maze. It's easy to see why: beyond offering options galore for hiding out and burying treasure, the island's 13 miles of wide beaches lapped by an azure ocean made being on the lam pretty appealing. Who could blame them for wanting to escape to paradise?

Today, the pirates may be long gone, but paradise remains.