Parental Provisions
05 May 2019
Port City's top spots to celebrate Mom and Dad
By FANNY SLATER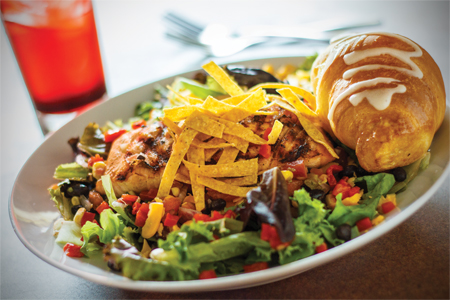 Your everyday life is surrounded by vibrant beaches, historical attractions, and coastal cuisine out the wahoo (pun intended). You can't blame your parents for wanting to celebrate Mother's and Father's Day in your seaside digs. And, being the Wilmington native (and earnest child that you are), it's your job to showcase the best eats your Port City paradise has to offer when these holidays come around. Ready to tackle these tour guide duties like a boss? Read on for our top picks of Wilmington's tastiest places to please the moms and dads in your life.
Jimbo's Breakfast & Lunch
910-799-2211
If your parents dig a classic greasy-spoon that dishes out everything from fluffy buttermilk biscuits to righteous ribs, Jimbo's will no doubt be their jam. This unfussy, family-owned South College Road diner is clutch when it comes to nostalgic vibes and old-fashioned charm. With over four decades in service, Jimbo's is truly where the locals feast. Open every day of the week with overnight hours (10PM – 2PM), the restaurant is constantly swarming with all types of hungry patrons from college kids to tourists to longtime loyal fans. Scratchmade specialties include crispy country fried steak, fully loaded omelets, fruity waffles, and flat-top hashbrowns.
Famous Toastery
910-256-7030 | famoustoastery.com
Born in the Carolinas, this "toastery with the mostery" is all about bringing creative breakfast, brunch, and lunch to your plate. Thanks to their "every server is your server" trademark, you couldn't ask for a friendlier place to bring your parents. The menu features a variety of morning staples (with plenty of health-conscious specialties) and lunchtime options that vary from a New England Crab Roll to a Quinoa & Kale Salad. Did I mention the dynamite bev selection? Mom feeling that noon-ish buzz? Steer her towards the Champagne Punch with wildberry sorbet and a dash of bubbly. Soak it all in with Coconut Flapjacks or an egg white and brie burrito.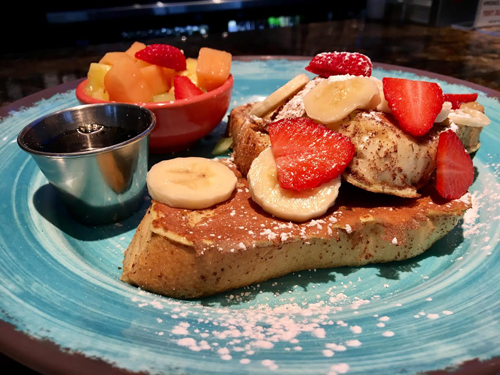 Temptations Gourmet Café
910-763-6662 | temptationscafewilmington.com
Whether your folks have a hankering for brunch, lunch, or dinner—Temptations is bounteous with artisanal treats to make your crowd go wild. This gourmet café is conveniently situated in Hanover Center and boasts a broad menu brimming with thoughtful items. Not to mention: holy bottles, Batman. With over three-hundred superior, yet affordable wines, Temptations clearly has their degree in grapes. If you're looking to satisfy a salad craving, you've come to the right place. Chilled scampi shrimp with creamy dill dressing and greens, anyone? On the heartier side, the Tuna Melt Panini and Famous Homemade Pimento Cheese Sandwich (try it with bacon) are winners.
JohnnyLukes KitchenBar
910-769-1798 | johnnylukeskb.com
If you need to please sports fanatics, JohnnyLukes upper deck is the spot for your 'rents. If your family prefers a more tranquil tasting experience—the lower level is the place to be. With several floors each offering a distinctive ambience, this eclectic gastropub deserves every bit of praise it receives. Sunday brunch on the outdoor patio is ideal on a gorgeous Wilmington day, and Ed's Chicken & Waffle Supreme (smothered in homemade sausage gravy) is a sinful treat. For dinner, don't miss JL's inventive New American cuisine like garlic orange mandarin lamb chops with Romano cheese risotto. Mom or dad got a sweet tooth? The Crème Brulee is divine.
RuckerJohns Restaurant
910-452-1212 | ruckerjohns.com
RuckerJohns is one of coastal North Carolina's finest neighborhood-style chains, and they've got something for everyone. High-quality ingredients, a diligent staff, and an almost entirely scratchmade kitchen are just a few of the reasons this American café never fails to impress. Everyone at the table will likely fight over the last flaky croissant draped in honey-butter—but that's what family is for. For Sunday brunch, the rotating quiche is a favorite. At dinner, show off one of Wilmington's staples—hot crab dip and chips. Enormous refreshing salads (like the grilled salmon over spring greens with roasted reds and avocado) are always a hit, but burgers, noodles, and flatbreads are equally hard to pass up.
Havana's
910-458-2822 | havanasrestaurant.com
If the words "award-winning clam chowder" impress your folks, do them a favor and whisk them away to heavenly Havana's in Carolina Beach. In addition to their widely recognized seafood stew, this islandy gem is renowned for a superb Sunday Funday (featuring live music) as well as a locally-sourced dinner menu. Havana's welcomes patrons with open arms whether they're rocking flip flops and board shorts or a fancy sundress. On the sunrise end of the spectrum, the Steak & Eggs—grilled ribeye, loaded scrambled eggs, and hash—are a well-rounded, belly-stuffing meal. Veg options like the buffalo breaded cauliflower are addictive, and the curry-spiked Fat Daddy Crab Cakes are bomb.
East Oceanfront Dining (Blockade Runner)
910-344-2513 | blockade-runner.com/dining
Give your parents a peek into your waterfront lifestyle by showing them a seaside dining adventure they'll never forget. East Oceanfront—located inside Wrightsville Beach's Blockade Runner—offers an award-winning Sunday brunch and nightly dinner that's as tasty and sophisticated as it is scenic. Executive Chef Jessica Cabo is a rock star of creative cuisine, and her menu sources straight from all over the southeast—not to mention, the onsite garden. Her extraordinary lineup of globally-influenced vegetarian and seafood-centric fare will undoubtedly impress your foodie fam. The Seared Scallops with crispy prosciutto, rainbow chard, and lemon aioli speak for themselves.
Tarantelli's
910-763-3806 | tarantellis.com
You don't need a rowdy set of Italian parents to revel in this Tuscan-style bistro. Just an impressive appetite, a love for Parmesan, and maybe an ear for opera. Tarantelli's is downtown's premiere Italian eatery and its warm, family-friendly feel is only accelerated by its ethereal European cuisine. Hand-crafted classics like Sicilian Braciole—thin rolled and stuffed beef tenderloin bursting with garlic, pine nuts, parmesan cheese and prosciutto—are comforting and familiar to those who grew up with Italian cooking. If mom's mood is set to marinara, the Ziti Al Forno (speckled with ricotta, sausage, and spices) is a signature dish. Don't forget to give the extensive wine list a once-over.
Catch
910-799-3847 | catchwilmington.com
If your folks came with seafood on the brain, it's impossible to deny that Catch tops our lists every time. Hometown chef Keith Rhodes is a Wilmington native who knows this town's ingredients like the back of his hand. Don't feel bad about dropping his claim to fame at the dinner table: competing on Bravo's hit series Top Chef back in the day. His go-to move is putting a modern Asian spin on traditional southern cuisine, and he does it like a boss. Plates like Cast Iron Blackened Swordfish with smoked white cheddar grits and truffled eggs are a prime example. For land lovers, the Crispy Duck with pork belly fried rice is like something out of a romance novel.
Ruth's Chris Steak House
910-343-1818 | ruthschris.com
If you're looking for a stellar steakhouse with no questions asked, Ruth's Chris is always the answer. Known for their impeccable service and hefty portions of butter-topped beef, this upmarket chain is a shoe-in for a satisfying meal. Their convenient, picturesque location (inside Wilmington's downtown Hotel Ballast on the Riverwalk) also doesn't hurt the aura. Ruth's Chris delivers champion USDA Prime Beef custom-aged meat—but don't discount the rest of the mouthwatering menu. The Thai-inspired Spicy Salmon with Crispy Shrimp and honey-ginger sauce is a fiery feat that's cooked to perfection.
Kornerstone Bistro
910-686-2296 | kornerstonebistro.com
When it comes to fresh, zesty fare with a Mediterranean twist, Kornerstone is key. Branded for their rustic Italian specialties (like charred wood-fired pizzas stacked with savory goodies), this classy bistro packs no shortage of tasty eats for your parents to enjoy. On a sunny Sunday, grab your pops a pickled veggie Bloody Mary and head straight to the sunlit courtyard. Don't forget the double cheese Breakfast Burrito teeming with scrambled eggs, sausage, roasted tomato relish, and basil pesto. For dinner, snag a seat in the cozy dining room and splurge on the Lobster Mac and Cheese with sherry cream sauce and panko.
Dram + Morsel
910-833-5999 | dramandmorsel.com
If your folks are fond of the speakeasy scene, they're going to relish every second at Dram + Morsel. One of downtown's trendiest cocktail and small bites bars, D+M presents an imaginative assortment of multifarious tapas and polished boozy beverages. Pop a squat on one of their sleek leather couches and start with a round of snacks like the Parmesan Fried Cauliflower with house ranch and the Pork Kim Chi Egg Rolls. For drinks, let the vintage vibe work its magic and order the Hibiscus Manhattan or a ginger-spiked Old Fashioned. Start early with the discounted happy hour or keep the party going with late night specials.
Halligan's Public House Brunch or Dinner
910-791-1019 | halligansnc.com
If your parents are pub people, Halligan's will make all of their corned beef dreams come true. In this homey Irish watering hole, the fresh eats are taken seriously, and the welcoming spirit flows like a good pour of Guinness. Harp Lager-battered Fish and Chips are a must, but Halligan's versatile menu bears everything from Buffalo Chicken flatbreads to Tenderloin Tip Tacos to a gooey Cheese Steak with grilled onions. Other can't-miss delicacies include the Beef on Weck—tender roast beef on a house-baked kummelweck roll with a sidecar of zippy horseradish and au jus.
Copper Penny
910-762-1373 | copperpennync.com
In a town swarming with upscale, scratchmade bar food—Guy Fieri dubbed Copper Penny one of Wilmington's top Diners, Drive-ins, and Dives. But you don't need Food Network to know that CP is a beloved local gastropub. Just pop your head in (at pretty much any time of day) and survey the crowds clinking craft microbrews and loving life. Celebrated for being a Philly fan base—it's no surprise their Philly Phanatic Cheese Steak is a hot item. If eating with your hands is up your family's alley, the award-winning jumbo wings have been voted Wilmington's favorite many times over.
Port City Chop House
910-256-4955 | chophousesofnc.com
Does a massive 18-ounce Cowboy bone-in Ribeye covered in Cabernet mushrooms and sautéed onions sound like it'll hit the spot? Chop House has got your fam covered. This elegant steak house is a cut above and fits the bill for any and every occasion. Presentation is always spot on and the knowledgeable staff works overtime to make sure each patron is happy as a clam. Speaking of seafood, Chop House offers far more than fine meats and decadent sides. The Grilled Yellowfin Tuna with Sriracha aioli and coconut red curry Thai Shrimp Pasta are drool-worthy.