A Stylish Lineup
05 May 2019
Anchored Home offers trendy furniture and designer looks at affordable prices

By JUDY ROYAL Photos by KELLY STARBUCK PHOTOGRAPHY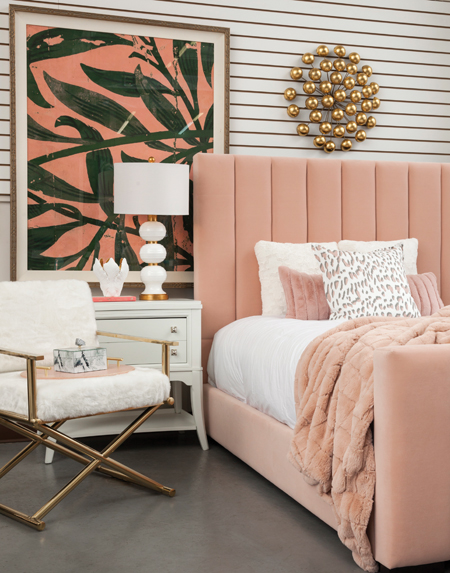 Sometimes things come together, and you know it's time to move on an idea. That's how it happened for Chase and Canaan Ward before the recent opening of Anchored Home, their new furniture, art and home décor store.

With Chase's two decades of experience in the furniture industry working for his father's wholesale company and Canaan's background in business and interior design, it wasn't exactly a far-fetched endeavor for them to undertake. But, they spent many years living in the Port City before finally making the leap.

"Opening a retail store has been on our minds for some time. But then after much prayer, we felt as if the timing was right," Canaan said.

This was due in part to a unique opportunity for space that presented itself at 1930 Oleander Drive in Wilmington, which allowed the Wards to execute their plan exactly as they'd been envisioning.

"A couple of factors played into our decision to choose our current location," Canaan said. "We wanted to be in an area that was growing, but in order to purchase showrooms, we also needed to have warehouse space. A retail space in a shopping center just wouldn't work with our business model. When we came across our current building on Oleander with substantial warehouse space, we knew it was 'the one.'"

Anchored Home launched on March 1, with an official grand-opening celebration on March 9. The store prides itself on the ability to offer trendy furniture and designer looks at affordable prices. "Did you ever think you would hear those words in the same sentence when talking about furniture?" the store's website asks rhetorically. The Wards purchase closeouts, limited production pieces and manufacturers' High Point Showroom Association samples so they can bring as much value as possible to their customers while also inspiring motifs fitting all tastes and budgets. They have a variety of curated looks on display, so shoppers can buy the entire ensemble or just pick and choose a la carte pieces.

"We have products in any price range and style," Canaan said. "We do not stock items, so our inventory changes frequently, and we usually only have one or a couple of an item. Coming to our store is like going on a treasure hunt."
Among the offerings you'll find at Anchored Home are rugs, jewelry and accessories. Some recent customers have raved about a selection of $5 throw pillows for those looking to accent their furniture.

Offering such a unique lineup takes time. Anchored Home is open to the public Thursday though Saturday so the Wards can spend the beginning of the week sourcing furniture market samples to add to their eclectic mix. Having an on-staff interior designer helps when putting it all together.

"I love interacting with our customers and being able to share my passion for interior design and furniture on a larger scale," Canaan said. "I get excited when a customer finds that perfect piece."

And speaking of customers, Canaan said she and Chase have been pleasantly surprised by how well the public has received them and their concept. They're already seeing repeat visitors, many of whom are singing the owners' praises in online reviews.

"Every single customer we have is so kind," Canaan said. "What a wonderful supportive community we have."

Even with the rise in online sales for basically everything, retail experts continue to emphasize that the importance of physical spaces isn't diminishing when it comes to buying furniture. Shoppers do, however, want the physical and technical to co-exist in a way that adds value and convenience to their lives. To that end, Anchored Home has an active presence full of vibrant photos on both Facebook and Instagram so prospective customers can start their shopping journeys without leaving home, as well as interact and engage with the store and current customers.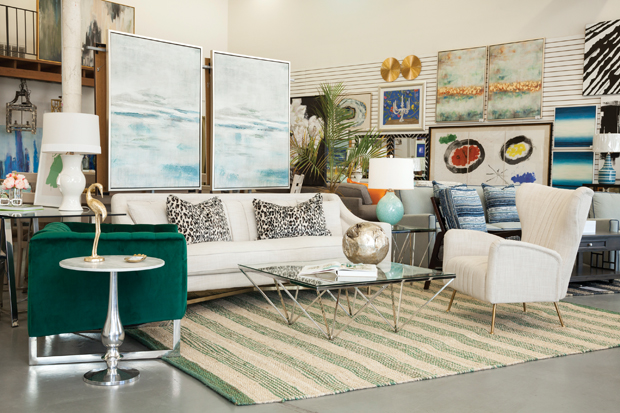 Canaan calls the family business "such a blessing" and feels fortunate to have the chance to work together.

"We have the same direction and vision for our store, but we both excel and have backgrounds in different areas of the industry so we actually balance each other out," Canaan said. "Sometimes you will even find my 16-month-old son Aidan at the store being my design assistant." 910-769-7092, anchoredhomeilm.com