Passing of the Guard
27 Aug 2016
After 13 years and a list of major accomplishments, CEO Jack Barto turns over the reins to his successor
By CATHERINE KIMREY BREEDEN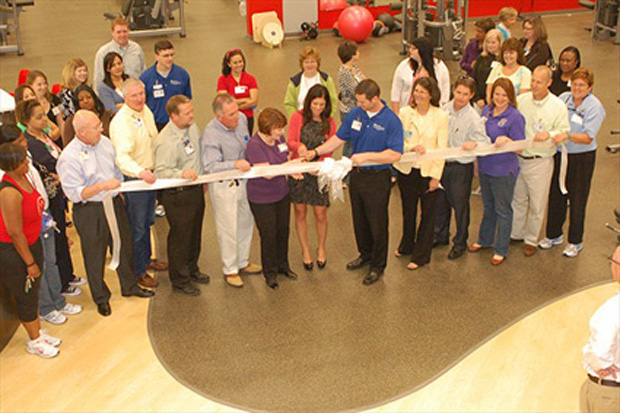 Jack Barto has led the New Hanover Regional Medical Center (NHRMC) during a period of explosive growth. In 2004 he took the reins of an organization with a budget of $476.1 million, and 4,499 employees. When he retires on January 1, 2017, Barto will hand over to his successor a health care complex with a budget of $1,015 billion and 6,312 employees. During Barto's tenure, NHRMC has become one of the top-rated 100 hospital systems in the nation.
But Barto didn't set out to become a health care administrator; he might have become a lawyer instead. He attributes his professional path to his mother who, when he was a senior at Notre Dame majoring in American Studies and Communication, introduced him to George Schmidt, a health care leader in his hometown of Pittsburgh. Schmidt subsequently became Barto's first mentor when, after earning his Masters Degree in Health Administration at George Washington University, Barto returned to Pittsburgh and began his career by working with Schmidt for four years.
Fortunately for the residents of Southeastern North Carolina, Barto chose Wilmington as the perfect place to end his career. He and his wife Mary were drawn to this coastal area where they enjoy the friendly people, beautiful beaches, fine restaurants, and numerous golf courses. As a result, Barto's tenure here has resulted in NHRMC providing top-quality health care in 7 counties: New Hanover, Brunswick, Bladen, Columbus, Duplin, Onslow and Pender.
That he leaves this legacy is a tribute to his management and leadership skills. Barto believes that teamwork and customer service are crucial factors in running a successful organization. "You have to remember that as a hospital administrator the job is not all about you," he says. "It is about the people you care for. You have to make it easier for people at the hospital to do their jobs." According to those who work with him, whether at the Board level or staff level, Barto practices teamwork himself by engaging on a personal level with everyone that he meets.
Mary Ellen Bonczek, NHRMC's Senior Vice President and Chief Nurse Executive, summarizes the culture of excellence that results from this mindset. "Physicians and nurses spend their days and nights working side by side to deliver care and compassion to our patients and their families," she says. "Jack recognizes the importance of this teamwork and has worked to foster an environment where that is expected. It has made a significant difference in the quality of our structure and process outcomes at NHRMC."
Dick McGraw, chairman of NHRMC's Board of Trustees, is a advocate for Barto. McGraw says that a key factor in the growth and success that NHRMC has experienced under Barto's leadership is his ability to think strategically. "Jack is way ahead in thinking what is coming down the road," McGraw says. "He possesses a combination of both management and leadership skills that very few people have. He has a rare talent to build consensus that promotes team work and gets things done."
The Board's trust in Barto to get things done, and his ability to follow through, is evident on many levels. Among the most impressive are major construction projects that were undertaken and completed during his administration. "The Trustees showed huge leadership and courage," Barto says, "by authorizing the building of the Betty H. Cameron Women's and Children's Hospital, and by approving construction of the surgical pavilion and allowing us to turn the tower into all private rooms. Otherwise these facilities might not have the value that they have today."
Another example of Barto's strategic thinking―and one that will have a lasting and positive impact on the future of health care in the area―is the foresight that he has shown in selecting and mentoring John Gizdic to be his successor. "Jack personally identified John as his potential successor six years ago," says McGraw. Their work together on many major challenges will ensure a smooth transition of leadership, which is already in progress. Gizdic became President of NHRMC on July 1, 2016; he will take over as CEO on January 1, 2017. At that time Barto will become CEO Emeritus until September 30, 2017.
After that, he can begin to ease into the next phase of his life. He isn't sure what he will do immediately, other than travel and spend more time with his four small grandchildren. Travel destinations include Scotland, where he and Mary look forward to playing golf together; Alaska via a small ship cruise; and Chicago and Houston, where they will visit the families of their two adult children, Hayley and Jake. He will continue to follow his favorite sports teams: the Fighting Irish and the Pittsburgh Steelers.
Once he retires Barto will remain engaged in the community―he is currently involved with the Carousel Center, Coastal Horizons Center, and Cape Fear Community College―but insists that his volunteer time will not be spent in the health care field. However, he cares deeply about the future of health care, and the challenges that it will bring. He looks forward to finding some first-time health care CEOs to coach, and believes that by sharing ideas and experience gained over the years he can help smooth the way for other administrators.
There is no doubt that Barto has a wealth of knowledge and insight to impart. He is perfectly suited to help guide future administrators as they address problems, like the need to hold down costs while simultaneously providing healthier outcomes and improving the patient experience. He can share the wisdom of applying the Lean management techniques that he has employed so effectively. By aligning goals he has achieved long term and continuous improvement and reduced duplication and waste, all while putting the patient at the center of everything.
As he approaches retirement, Barto says, "The biggest joy in my career has been the privilege of working with the greatest health care team in the world. The people with whom I work provide the best health care for patients. I have been blessed to work with them for 13 years. I will miss the people most when I leave my career at New Hanover Regional Medical Center. My career here has been a success because of those around me, most importantly my wife of 35 years, Mary. Without her love and support, I would not have been able to do this job."
Major Accomplishments of Jack Barto During his Tenure at NHRMC
Betty H. Cameron Women's and Children's Hospital opens, adding pediatric critical care to the region.

Tower renovation at NHRMC campus results in all private rooms.

NHRMC Surgical Pavilion opens.

Expansion project doubling the size of NHRMC's Emergency Department breaks ground.

Emergency Department-North opens in Scotts Hill area.

Employee Fitness Center opens, signaling a new commitment to preventive health care.

Conversion to Epic electronic medical records system is completed without operational or financial disruption.

NHRMC Physician Group launches, and now includes 232 providers.

NHRMC employs Lean as its model for making operational decisions.

"Geared for Greatness" efforts to improve operations tops $100 million in four years with no layoffs.

"Culture of Excellence" is instilled.