Explore Bald Head Island, an Island like no other
By CAROLINE GOBBLE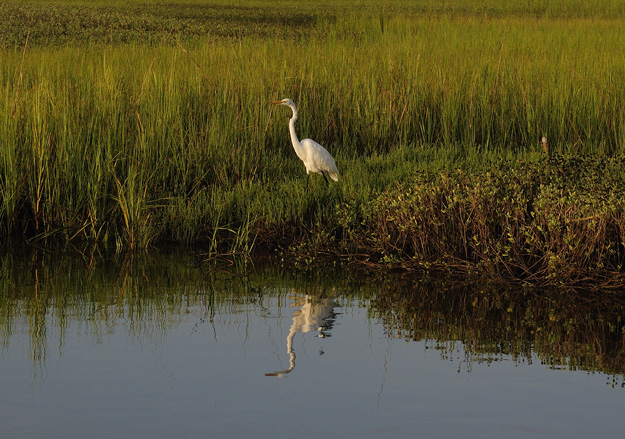 Arrive by boat. No cars allowed. Green by design. Play outdoors. Explore history. These are just some of the many reasons why visiting Bald Head Island is a unique North Carolina experience…and one that offers something for everyone.
Located two nautical miles off the coast of southeastern North Carolina, Bald Head Island (BHI) is a resort and residential community accessible only by passenger ferry or private boat. Of the Island's 12,000 acres, 10,000 are protected and will remain undeveloped. The 2,000 acres that are set aside for development provide an abundance of dining, shopping, and recreational opportunities for vacationers and year-round residents.
Island Adventures
From golfing or fishing to biking or diving to just relaxing on the beach or in the spa, there is a plethora of things to do. North Carolina native, Dockery Durham, has visited BHI for a week during the summer for the past eight years. "Vacationing on Bald Head Island rejuvenates the mind, the body, and the soul which in turn invigorates the energy for living life. Bald Head Island makes my heart happy," exclaims Mrs. Durham.
Coastal Urge co-founders Jeoffrey and Catherine Nathan help vacationers and residents on BHI explore the breathtaking terrain and coastline through bicycle rentals. They offer beach cruisers and fitness bikes in various sizes, including tandem bikes, kids' bikes, baby joggers, and trailers. Customers may rent bikes by the hour, the day, or the week, and they can enjoy Coastal Urge's full-service shop for accessories and other services.
If you prefer exploring the salt marshes, leave the bikes at home and rent a standup paddleboard. For an unforgettable adventure, Coastal Urge offers daily 60-minute excursions that include a standup paddleboard, basic ground instruction, paddle technique and board instruction, and wildlife and backwater views. There is also a retail shop, located at BHI's The Shops at Maritime Way, which sells clothing, footwear, swimwear, and accessories to complete your beach vacation. coastalurge.com.
Another way to explore the coastline and waters surrounding BHI is through a scuba diving or fishing trip with Blackbeard Scuba. Located in Southport, NC, Blackbeard Scuba travels to the best dive sites, including a variety of wrecks and ledges. From beginner classes to more advanced classes leading to certification and open dives, Blackbeard Scuba team members will travel to BHI and take customers out on dives or fishing trips. blackbeardscuba.com.
Kayaking, sailing, and surfing are also popular recreational activities to enjoy the beauty around the island, and The Sail Shop offers rentals, various tours and classes in each area. Whether you want to hang 10, enjoy the thrill of sailing, or casually navigate the creeks and waters in a kayak or canoe with or without a guide, the Sail Shop has a variety of packages that accommodate the entire family or individual interests. thesailshop.com.
After taking time to explore the island's pristine beaches, preserved marshes and maritime forests, visit the Bald Head Island Conservancy, who offers many educational programs for kids and adults to engage with and learn about BHI's wildlife. The Conservancy is a non-profit organization that was founded in 1983 with the mission of "barrier island conservation, preservation and education." They also have a vision that "Bald Head Island and Coastal Communities Live in Harmony with Nature."
To help promote and foster harmony with nature, The Conservancy invites the community to learn and interact with nature through numerous programs and events, some of which are seasonal. Programs for kids "range from our very popular summer camps, with ever-changing content, to Touch Tank and Reptile Round Up offered throughout the year." With almost 250 different species of birds on BHI, a birding tour will provide the entire family with fantastic viewing opportunities to see heron, ibis, warblers, and more.
Efforts to protect sea turtles on BHI date back to 1980, and there are many volunteer and membership opportunities for all ages to help partner with the Conservancy in its Sea Turtle Protection Program. With a membership, enjoy the wildly popular Turtle Walks from June to September where guests will accompany Conservancy staff to potentially view a nesting or hatching sea turtle event.
As of early August 2016, the Conservancy has counted 100 nests and 28 hatchings so far this season. According to the Conservancy, "While a female sea turtle is nesting, she enters a trance-like state, allowing us to apply tags and collect samples and measurements. She will lay, on average, 120 eggs in each nest. In a given summer a female may lay up to 5 nests, although we then won't see her for another 2-3 summers. As she returns to the water, our interns locate the eggs and bury a wire cage around the nest to protect it from predators such as fox and raccoons."
Staff carefully transport and incubate eggs until they begin to hatch. "They hatch at night and use the light of the moon and the stars on the ocean to find their way. Three days after a nest hatches, Conservancy staff and volunteer nest monitors excavate the nest. These excavations are free and open to the public, and are an incredible opportunity to be a part of protecting the endangered sea population. bhic.org.
After taking advantage of all of the incredible recreational outdoor activities around the island, take time for relaxation and rejuvenation at Island Retreat Spa. "We are a family of therapists, stylists, and believers in self-care. We know your chances to relax and unwind are limited, so we are eager to guide you into bliss, help you detach from the world and put your mind and soul at ease." Whether you are preparing for your special wedding day, enjoying some time of renewal with friends, or are looking for a day of pampering, Island Retreat offers a variety of packages and services to help anyone relax. The spa also offers daily specials each week.
Located in the Shops at Maritime Way, the Spa's staff offers guests the chance to "feel refreshed with a botanical facial, an invigorating pedicure or a moisturizing hair masque. Release tension and support wellness with a massage. Sip mimosas on our porch." islandretreatspa.com.
Island Eats
BHI restaurants offer a range of dining experiences, from a romantic evening of fine dining to a casual, barefoot dinner by the water with the kids, BHI's restaurants deliver delicious food and great atmosphere.
Open year-round, the Bald Head Island Club is situated in full view of the Atlantic Ocean and overlooking a newly renovated, championship 18-hole golf course. With various membership packages, including guest memberships, the club offers a plethora of amenities for members, including several dining options. The Grille at Bald Head Island Club, open for lunch and dinner daily most of the year, offer beautiful views of the golf course and golf practice facility. The Grille, which requires reservations for dinner, is the Club's primary and most elegant dining venue. Executive Chef John McAllister creates incredible dinner menus featuring mouth-watering seafood dishes such as Blue Crab Bisque, Sea Scallops Caprese, BHI Fish and Chips, and Carolina Shrimp and Guilford County Stone Ground Grits. Meat-lovers can enjoy Grill Classics like Prime New York Strip, Filet Mignon, Maryland Style Crab Cakes, or Pan Seared Local Flounder. Delicious cocktails and desserts help cleanse the palate.
For waterfront dining, Mojo's on the Harbor is the place to go. Mojo's "delivers imaginative food, welcoming hospitality and a relaxed family friendly environment. John & Andrea Pitera, long time BHI residents, opened Mojo's in 2011 with the intent and commitment to create a space where family and friends can enjoy great food, fresh, local ingredients and the most relaxed dining experience possible." Open for lunch and dinner, with a wide selection of wine, beer, and specialty cocktails. mojosontheharbor.com.
Maritime Market & Cafe "has everything you need to satisfy your hunger, thirst and cravings. From fresh local NC seafood, USDA Prime Meats and local produce, to an extensive wine collection and seasonal Ice Cream Shop, you'll find just what you're looking for and more." Owned by Melissa & Claude Pope, the store provide various dining and catering options for both vacationers and residents. The Café is open daily for breakfast and lunch and includes a pizza menu available to closing. Chef Chip Pridgen offers daily specials, and strives "to provide our catering clients with exemplary service and customized menu options for a myriad of events on the Island." The Market offers grocery delivery as well as family meals for pickup or delivery. maritimemarketbhi.com.
For Latin cuisine on the island, visit Delphina Cantina, whose owners Harper Peterson and Plunkett Dodge also own and operate BHI's The Sail Shop, Riverside Adventure Co., and Sandpiper Coffee & Ice Cream. Located on the harbor, Chef Carols Rojas creates a menu boasting Spanish, Cuban, and Mexican flavors. Begin with chips accompanied by homemade salsa, guacamole and queso dips; mashed avocado toast with fresh arugula & cherry tomato salad, shredded Fontina chesse, and Siracha aioli served on olive oil and rosemary sourdough bread; or elotero (grilled) corn on the cob with roasted garlic aioli, cotija cheese, and tajin chili. Main dishes range from creative twists on classic tacos, quesadillas, burritos and burrito bowls to chef signatures such as Madrid style shrimp and grits, seafood enchiladas, or carnitas. Quench your thirst with red or white sangria or a selection of tequilas. For a sweet ending, savor the churros or peach Carlotta. delphinacantina.com.
A trip to BHI is not complete without visiting the Shoals Club, "a relaxed, family-focused beach club, built for the enjoyment of BHI property owners and their guests. Overlooking the legendary Cape Fear Point, the Shoals Club takes its name from the sandy "Frying Pan Shoals" that extend some 20 miles from the cape." Dining options include Aqua, the Club's premier dining venue that serves fresh coastal flavors such as Tuna Poke or Coconut Crusted Lobster. For a lighter fare of tapas and wine, visit Latitudes at the Shoals Club, which "has quickly become a favorite venue for many with its great views, full bar, and fantastic tapas-style fare." Enjoy breathtaking views, sip on fine wine, and nosh on the Local Cheese Board, Pork Sliders, or Grilled Octopus & Shrimp Ceviche. shoalsclub.com.
Island Celebrations
Beginning October 7, 2016, join Roast and Toast, three days of special events celebrating the Southern Living Inspired Community at Cape Fear Station, presented by Bald Head Island Limited Real Estate Sales and Southern Living magazine. Centered around great music, fine wine, craft beer, craft cocktails, and the best of Southern food, "the weekend kicks off Friday night with a limited seating four-course Wine Dinner at the Shoals Club hosted by Southern Living Test Kitchen Director Robby Melvin, or an old fashioned Oyster Roast at the Bald Head Island Club.
Saturday's events include wine, beer and cocktail tastings at The Common at Cape Fear Station, along with a smorgasbord of Southern delicacies. While you're in the neighborhood, be sure to tour the open houses in the Southern Living Inspired Community, just across the street from The Common. Saturday evening wraps-up with a live concert by regional favorite The Midatlantic. On Sunday, enjoy a delicious brunch at the Bald Head Island Club to cap off the weekend."
A portion of the Ticket sale proceeds will be donated to the Old Baldy Foundation, dedicated to the maintenance and preservation of the oldest standing lighthouse in North Carolina. roasttoastcoast.com.
Island Time
BHI truly is an island like no other with its rich maritime history, dedication to natural conservation and preservation, countless opportunities to engage in recreation and outdoor activities, and dining and shopping options to satisfy anyone. Bald Head Island Limited oversees real estate development and sales, as well as resort and island operations. To plan your trip, rent a vacation home, and learn more about vacation packages, visit: baldheadisland.com/vacation.
BHI is the perfect place to renew your mind, body, and soul in a slow-paced life referred to as "island time". Whether it's a weekend getaway, summer vacation, or permanent move to the island, what are you waiting for?