Wilmington's Best Brunches
27 Aug 2016
What distinguishes brunch from breakfast? A menu that includes sweet and savory items, designed for hanging out rather than pure nourishment. Easy, juice-driven cocktails don't hurt, either.
But somewhere along the way brunch obtained a bad rap—one of perpetual waits and overcooked eggs. These indiscretions do happen, but is it really fair to cast such invectives on an entire meal that combines bacon, biscuits and socially acceptable day drinking?
It might be the only good decision you'll make all weekend. Here's where to eat.
By FANNY SLATER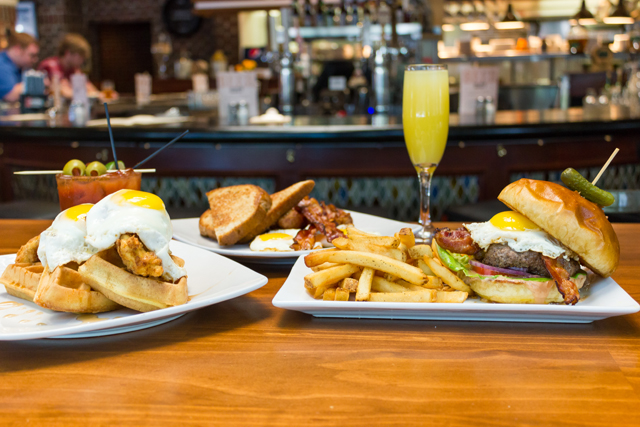 Betsy's Crepes
A spinoff of the original location in Southern Pines, Betsy's is one of downtown's newer brunch havens. This bistro boasts a Parisian charm and a menu to match. Did I mention full liquor service, several craft taps, and a DIY Bloody Mary Bar? 'Nuff said. To soak up some of those frisky beverages, Betsy's offers several selections of crepe batter—even two gluten-free varieties for those who can't tolerate wheat. The fruity Le Sweet Gabby Crepe (oozing with creamy Brie cheese, brown sugar, strawberries and honey) is a best seller on the sweet side. For a savory breakfast plate, the New Yorker Crepe loaded with salmon, oniony sour cream, and capers is a classic combo. 910-833-7883, betsyscrepes.com
Blue Surf Café
Blue Surf's motto, "Surf. Eat. Repeat.", is a mirror of the restaurant's laidback vibe. Their colorful menu is enriched with California flavor and, lucky for us, stretches on from morning till night. Allow yourself to be enchanted by the daily chalkboard specials, and don't miss out on regular house favorites you can always count on. For a carb loaded pick-me-up after catching some waves, the Buttermilk Waffles—hello, Maple Bacon garnish—will leave you speechless. On the spicier side, one taste of the Huevos Rancheros (served Castro-style with pulled pork) and you'll be addicted. Lighten up with a Morning Parfait or go for the sweet simplicity of a classic bacon, egg & cheddar sandwich. Top your meal off with an infused lemonade in the summer and a bodacious hot chocolate when it's chilly. 910-523-5362, bluesurfcafe.com
Bourbon Street
Thank goodness for whoever plucked a festive, Mardi Gras-esque party palace from NOLA and stuck it right in the middle of Front Street. The "Hot Beignets Daily" banner and beads galore say it all. Bourbon Street regulars go nuts for the garlicky charbroiled oysters, crispy Po' Boys, and tall boozy concoctions; and brunch is equally as slammed with diners looking for a taste of the Big Easy. Come for the airy, coffee-dunked dough fritters and stay for the Creole pleasures. Other morning favorites of this lively spot include cheesy omelets and powdered-sugar dusted pancakes. Get your Sunday Funday on at a breezy patio table with a side of people watching and Cajun hashbrowns. 910-762-4050, bourbonstreetwilmington.com
Causeway Café
Any longtime Wrightsville Beach bum will tell you that Causeway Café is where it's at. Don't believe me? Drive by and take a peek at their patron-loaded patio and you'll realize this place is obviously worth the wait. One step inside the diner and you'll be flooded with the smoky scent of sizzling bacon and the amber aroma of maple syrup. The kids will dig the sticky, overflowing mugs of hot chocolate and honey-colored malted pancakes. Adults after the real deal WB experience will set their sights on seafood-infused egg dishes like the Blue Crab Benedict. Whatever you do, don't miss out on the homefries—a buttery mix of crunchy potato bits seared to perfection on a gleaming flat-top. 910-256-3730
East Oceanfront Dining
When a restaurant is sourcing ingredients straight from their backyard, it doesn't get much fresher than that. East—located inside the Blockade Runner Resort on Wrightsville Beach—offers a scenic Sunday brunch buffet that diners can enjoy under a beautiful canopied garden deck no matter the finicky seasonal weather. The extraordinarily talented Chef Jessica Cabo is the Oz behind the curtain of this seaside kitchen, and she's taking every course to the next level with impeccable vegetarian and seafood-centric creations. Her brunch menu screams local, elegant, fresh eats—but rich indulgences like the Blockade Benedict with braised pork belly are also on deck. Build your own healthy breakfast from the eggs up at the Omelet station and pack it with hand-harvested, local produce. 910-256-2251, blockade-runner.com
Eternal Sunshine Café
Despite its unassuming strip mall-location, this eclectic brunch joint offers much more than meets the eye. Drool-worthy cuisine and outstanding service are simply the norm at Eternal Sunshine. Known for their massive variety of colorful breakfast goodies, it's nearly impossible to find something you or your table neighbor won't devour within seconds. Light up your weekend with their South Carolina Peach "Bellinis" and Under The Sea Egg Rolls with seafood, scrambled eggs, and lobster hollandaise. Sample the Low Country Benedict with fried green tomatoes and pimiento hollandaise and tell me you don't want to kiss the cook. Need one more reason to stop by? I see your Monte Cristo, and raise you an Elvis French Toast. 910-791-6995, eternalsunshinecafe.com
Fork n Cork
If you think enormous, juicy burgers are just made for the dinner table—Fork n Cork will prove you wrong. I dare you to take on this epic culinary dive for brunch and not fall in love with every bite. If it feels too early for something between buns, brunch it up with a mimosa and the Brisket Biscuit: a mountain of outrageously tender, fourteen-hour smoked meat, Creole mustard cream sauce, and two runny eggs. If you've got lunch on the brain, you'll still have full access to house masterpieces like the deep fried Scotch Egg with Stout Mustard or the aptly named "Hot Mess" Burger dripping with grilled onions, blue cheese, and jalapenos. No food coma left behind. 910-228-5247, theforkncork.com
Henry's
With a kitchen focused on "crate to plate" dining, Henry's is proficient in emphasizing local ingredients with a vibrant flare. Want to know exactly which farm your meal was sourced from? Check out the rotating blackboard to see where Henry's harvested those daily specials. The Sunday brunch menu offers an assortment of breakfast treats as well as lunchtime classics and sunrise libations. For the best of both worlds, take on the absurdly decadent Crispy Chicken & Waffles with crumbled bacon and warm bourbon maple sauce. Can't start the day without a plate of eggs? The fluffy four-egg omelets will set you straight. If you're craving something from the sea (totally acceptable in Wilmington at 10 AM), you can order up Henry's famed Shrimp & Gilford Country Grits in prosciutto cream sauce. 910-793-2929, henrysrestaurant.com
Hops Supply Co.
Between the colossal selection of brews and a Prime Rib French Dip so divine you'll cry, Hops has become a leading player in Wilmington's gastropub game. But did you know they also hold high ranks as one of the locals' best kept brunch secrets? Natives go gaga for their $2 fresh squeezed orange juice mimosas and refreshing Cucumber Mary's rimmed with zesty Old Bay Seasoning. For those seeking more than the liquid diet, the Local Honey Baked French Toast with dried cranberries and candied walnuts is a sweet way to take a bite out of Wilmington. Craving something savory? Hops is well-respected for all things patty, so jump on the Breakfast Burger with a sunny side egg and herby garlic cheese spread. 910-833-8867, hopssupplyco.com
Jester's Java
When central downtown is swimming with tourists, trek off the beaten path and over to Castle Street for a homey, delicious breakfast at Jester's Java. This charming café is a hit for everyone from neighborhood regulars to out-of-town visitors. Tucked into a former residence, Jester's is celebrated for their welcoming location, reasonably priced menu, and unfailingly friendly service. Bakery items are prepared on-site and you'll likely spot a Jalapeno Bagel or Cinnamon Roll on every table. For comfort food classics, the avocado-smeared sandwiches and savory stratas hit the spot. The Black Bean Benedict—perfumed with toasty cumin and floral cilantro—pairs like a pro with endless cups of Jester's freshly brewed coffee. 910-763-6555, jesterscafe.com
Jimbos
There is nothing fussy about Jimbos, and that's why Wilmington adores it. This greasy-spoon diner erupts with nostalgia and delivers everything from dynamite, oversized cinnamon rolls to Greek omelets. The restaurant is a well-oiled machine so a quick, satisfying experience is always guaranteed. With an old-fashioned feel, pleasant service, and blissful cups of coffee, this family-owned breakfast house has been making magic for almost forty years. To start their day, college kids, parents, and vacationers alike rely on Jimbos for scratchmade, no-frills delicacies. Superior dishes here include layered buttermilk biscuits, expertly cooked over-easy eggs, full stacks of French toast, and crispy hashbrowns. 910-799-2211
Oceanic
Brunch with a beach vibe isn't scarce in this town, but it's pretty hard to beat morning cocktails smack dab on the Crystal Pier. Switch up your Sunday routine by heading to Wrightsville Beach's south end for a salt-water-friendly breakfast. Backfin crab meat, shrimp, and cream cheese are stuffed into the Oceanic Omelet and make for a glorious first meal of the day. If your stomach's rumble is on high, the generously portioned French Toast with sausage and hot syrup will leave you satisfied times ten. Once noon hits, indulge in the "O" Champagne Cocktail with fruity purees and pretend like it's not the last day of the weekend. 910-256-5551, oceanicrestaurant.com
Sawmill Grill
If you're searching for a homestyle breakfast blast from the past, grab your crew and head to Sawmill. This southern-style comfort food eatery is consistently bursting with spirited good ol' boys and girls enjoying eggs in every form. Regulars are drawn to this humble café because the food is hearty, nourishing, and perfectly uncomplicated. To fill you up, try the Lumberjack Special (which covers all breakfast bases from eggs to meat to syrup-covered starches) and wash it down with a warm cup of Joe. Traditional dishes are also a-plenty like egg sandwiches, omelets, and waffles. If you're into legit, old-school country cooking—look no further for your liver pudding, red-eye gravy, and cinnamon apples. 910-350-6909, thesawmillgrill.com
The Dixie Grill
For locals, the word breakfast is synonymous with "Dixie." This beloved hipster café draws in every crowd from elderly couples to young families to slightly hungover, beard-bearing natives. Take the patiently waiting swarm of people buzzing around the restaurant as a sign that you're in for a treat. Regular brunchers slurp Bloody Marys in mason jars at the vintage bar while no table is left unturned. This hometown staple is known for magnificently messy Biscuits and Gravy and vegetarian offerings like Huevos Verduros (a black bean-and-veggie-loaded spin on Huevos Rancheros). I always browse whatever scrambles are scribbled on the specials board, but The Dixie Benedict with fried green tomatoes and Vidalia onion gravy will always be my jam. 910-762-7280, thedixiegrillwilmington.wordpress.com
The Keg and Egg
If you're the type who enjoys cracking beers and eggs at the same time, step right up to the plate. The Keg and Egg—Wilmington's only bottle shop and restaurant in one—has you covered for all your drinking and eating needs. This craft brew sanctuary sits on Masonboro Loop Road and will satisfy your pub grub and breakfast craving at the same time. Traditionalists in your group might veer towards the Breakfast Burrito or the "Always Eggvailable" eggs, cheese, and meat combos. The gold star, however, goes to the Pittsburg-style sandwiches loaded with sunny sides and slaw. Cap off your meal with several bubby beverages, and you'll be ready to take on the day. 910-769-2349
The Lunchbox
With a name like Lunchbox, it's no surprise that sandwiches, salads, and homemade soups rule the menu at this early afternoon delight. You'll find breakfast and lunch happiness here thanks to an ever-changing, scratchmade menu centered around Boar's Head deli meats and cheeses. For something fork-friendly, Saturday brings a fluffy new quiche each weekend. Partner that with a side salad and put the price tag at under seven dollars, and you've got one the best brunch deals in town. If it's something sweet you're after—the freshly baked desserts (namely the "Better than Boyfriend Brownie) never fall short of OMG-worthy. If that's not enough comfort food for you, check out the creamy Tuna Melt on buttery grilled rye with melted mozzarella, lettuce, and tomato. 910-798-2081
The George
It's no secret that The George has one of the best river views in town. But it's not just the evening sunsets enticing diners as this hot spot's patio is equally as lively during weekend brunch hours. Slip on your shades and sip a spicy Bloody Mary (or two) as you browse their coastal, southern-themed, morning menu. To thrill your sweet tooth, go for the cinnamon and vanilla-laced French Toast Foster doused in fresh bananas and rum syrup. Additional fan favorites are anything involving Crab Cakes or Stone Ground White Cheddar Grits (so rich they're practically illegal). This dog-friendly restaurant is known to be packed both Saturday and Sunday, so come early and keep an eye on your Steak & Eggs, as man's best friend likes breakfast too. 910-763-2052, thegeorgerestaurant.com
Village Café
For a restaurant who trims back prices without sacrificing a single spoonful of flavor, Village Café is your one-stop shop. Don't blink or you'll miss it, as this modest café is tucked away like a well-kept secret. Between the quaint atmosphere, accommodating service for dietary requests, and top-notch coffee—this affordable southern restaurant is stealing customers' hearts left and right. Come hungry for Sunday brunch as the portions are so enormous you'll be convinced your short stack is a tall one. Keep an eye out for mouthwatering breakfast specials like fresh Veggie Quiche served with flaky biscuits and potatoes. 910-821-1234, villagecafehampstead.com