Persimmons: A Nostalgia Fruit for Southerners
04 Sep 2022
Once a star of sublime puddings included in all of yesteryear's cookbooks
Story and Photos by Christine Hall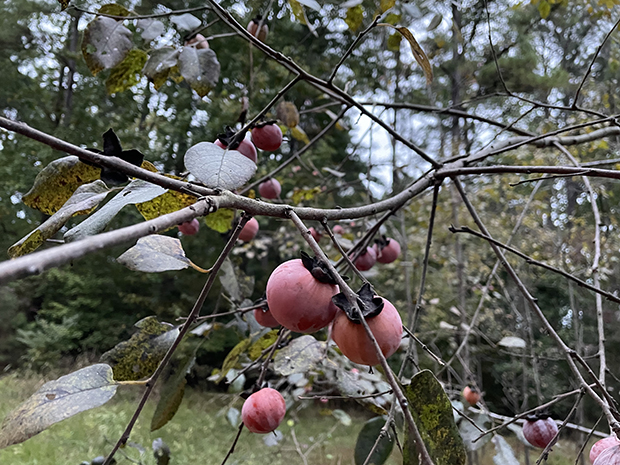 A curiosity came over me during our family's recent move to a new home. I was exploring our new landscape with its dense flora and fauna when I came upon a low hanging tree branch full of fruit. As I reached toward the plump green orbs nestled within its leaves, I realized I had found a true treasure. A wild North Carolina persimmon tree.

"I have always wanted to make persimmon pudding," I thought, as I excitedly plucked a few from the branch. I recalled savoring the heritage pudding at my grandmother's home in Greensboro, N.C., as a child. Persimmons have an earthy, gingerbread-like sweetness when mixed with a little nutmeg and cinnamon. And a persimmon pudding tastes as delicious as the finest of English puddings.

Wild persimmons that grow around here are only valuable to eat once they have fallen from the tree, I recall my grandmother saying as a child. If you pick one too soon, she warned, they are so astringent and tart "they will make your mouth turn up."

She had also imparted that you had to "time your harvest right – usually in October and November – to collect the ripened fruits when they released their grasp and fell. She continued to tell me about her early morning visits to collect persimmons from the ground at her family's home in Raleigh before the possums and other critters would beat her to it.

"We always had to harvest the fruit when they were just ripe enough, but before they reached the mouths of coyotes, rabbits, squirrels, and deer," she recalled.

As a nature lover, the possibility of encountering wildlife while foraging for native fruits in the woods sounded right up my alley. I decided right then it was my persimmon destiny to make a pudding of my own.


Pure and Simple

When collecting wild persimmons, you want to make certain they are ripe and soft to the touch before plucking, my wise grandmother told me, laughing. "Let's just say, you will never put an un-ripened one in your mouth again due to its acidity." Persimmons carry a high tannin level that breaks down as they mature, allowing the delicate sweetness to come through. Depending on their ripeness, they will keep in the refrigerator a few days, but then will spoil, thus a narrow window of time exists to eat or cook them.

Making Persimmon Pudding is a labor of love. A special cylindrical cone sieve is required for pressing out the pulp and separating the seeds. The luscious and silky-smooth treat the sieve produces can practically be eaten by itself or as a jam or dessert topping.

I learned to pinch off the small "beak" from the bottom of the fruit before eating or baking and the proper technique for using the rolling pin-like mallet in the special sieve. Adding in eggs, flour, cream, sugar, and a mix of ginger, nutmeg, and cinnamon was the majority of the recipe.

One thing about persimmons that my grandmother, now age 98, puzzles over is how persimmons have fallen out of use. Other fruits like pomegranates, figs, and avocados that have better shelf lives have become more marketable. Persimmons are somewhat of a culinary underdog. A rarity – I suddenly liked them even more.

Ask one of your elders, and they may agree. When questioned about her own recipe, my grandmother pulled out six cookbooks and "her Google" (a Lincoln Library encyclopedia) for reference. She showed me the entry for "Persimmon" and its descendance from the Ebony tree and how each cookbook had a recipe for Persimmon Pudding that differed slightly throughout the regions in North Carolina where she had lived – from the Triangle to the Piedmont to the Sandhills. She recalled the gingery-rich and elusive desert that circled her family's table and the simple enjoyment it brought.

After baking in the oven for an hour and slicing a taste for me, I departed my kitchen and delivered a slice to my grandmother, who received it with immense glee. Later that crisp evening, I walked into the wooded area behind our home and was surprised to find several more trees of our own, all bearing fruit. Maybe they are not so rare after all, but rather humbly go unnoticed.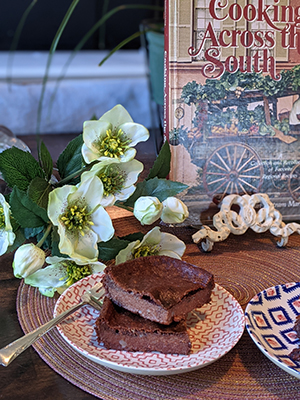 Perhaps you have encountered the modest persimmon. Perhaps you have not. If you are looking for a slice of nostalgia, mark your calendars for each Autumn (specifically October through early November) to seek some persimmon fruit of your own to discover and try.


How to Enjoy Native Persimmons:

Persimmons can be enjoyed fresh-picked or dried and carry a date-like flavor. Persimmons are typically known for their use in holiday puddings and baking but can also be used in breads, salsas, salads, and even beer.

Some producers in the Southeast harvest and render the fruit into pulp for ease of preserving in the freezer or for transport. (see persimmonpudding.com for North Carolina pulp sellers). And according to the North Carolina Department of Agriculture, because persimmons are a popular fruit in the fall, farmers across our state have them available at roadside stands, farmers markets and grocery stores! To locate a North Carolina farmer near you, visit the NC Farms App at visitncfarmstoday.com.


Persimmon Pudding:

2 cups persimmon pulp

1 cup sugar

1 teaspoon double-acting baking powder

1 teaspoon baking soda

½ teaspoon salt

½ cup melted butter

2 cups light cream

2 teaspoons cinnamon

1 teaspoon ginger

½ teaspoon nutmeg


Combine all ingredients. Bake at 325 degrees in a greased 13 x 9-inch baking dish for 50 minutes. Note: If not eaten within several days, freeze. 20 seconds in the microwave is ideal for reheating a refrigerated (or fully thawed) slice.

About Persimmons:

Native Persimmons, Diospyros virginiana

Common Names: American Persimmon, Date Plum, Jove's Fruit, Possum Apples, Winter Plum

This deciduous tree is valued for its wood, fruit, and attraction to wildlife

Two trees (male and female) are typically required for fruiting

Like apple trees, they often bear more fruit on alternate years

Native to Central and Eastern United States and found throughout most of North Carolina

Grows between 30-70 feet tall and will tolerate hot, dry, and poor soils once established

Persimmon trees are mildly salt tolerant with no known disease or insect problems

Small white blooms offer special value to honeybees

Related to the Oriental Persimmon which bears larger fruit that resembles a tomato in appearance and apricot in flavor