Port City's Pollyana
11 Jan 2020
Carousel Center's Laurie Taylor is making positive changes in the lives of victimized children

By TERESA A. McLAMB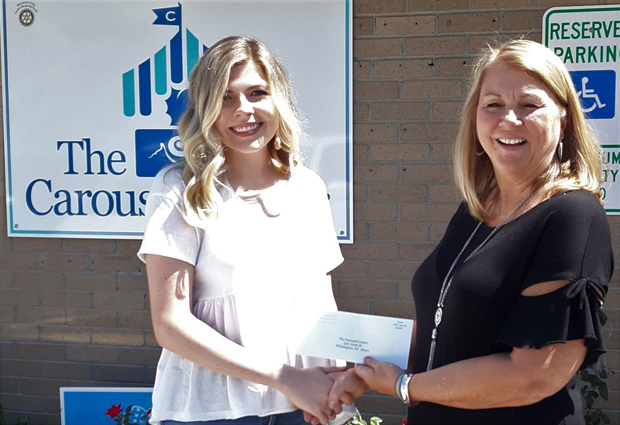 As 2020 rolls in, Laurie Taylor begins her second year as Carousel Center's first development manager. Known by many in the region for her fourteen-year stint guiding Lower Cape Fear Hospice through more than $38 million in capital, endowment and operating funds campaigns, Taylor is excited about the opportunities to raise awareness and funds for the work of Carousel Center. "It's an opportunity to build a new program in an organization that's got such a heartwarming, no heart wrenching, mission," says Taylor.

Taylor didn't enter adulthood headed for a career in philanthropy. Raised in Orlando when it had more orange groves than people, she said her childhood was idyllic. "We had friends on the street. We were outside all the time. Some of us had pools…so we were swimming in my pool or somebody else's. We could walk to school," Taylor reminisces.

Her parents were high school sweethearts in Philadelphia. After several times of being turned down, her dad finally got "yes" to his marriage proposal. They married December 24, 1944 and he shipped out for World War II three days later.

After the war he found employment with Martin Marietta's aerospace division in Orlando as a draftsman, helping with the design of tanks and bombs. They spent a few years in Atlanta (where Taylor excelled in the school's art program) before her father's untimely death when she was 19. Taylor and her mother went back to Orlando where she found a job as a technical illustrator, drawing tanks and bombs at Martin Marietta. Just five years later, her mother died of brain cancer.

Art was always her favorite subject, but Taylor questioned whether she wanted to spend her life creating weapons of destruction. Getting in on the early days of desktop computing, Taylor procured a position creating sales presentations before moving into the print industry for a bit.

When she married Lance, they moved to Maine as the recession of the late 1980s was looming over the country. "I couldn't find a job, so I call it my year of humility," she says. As it happened, that humility turned into her introduction to philanthropy as she landed a position as director of UNUM Insurance Company's foundation. "That position introduced me to the power of philanthropy and the power of what money can do to change our community," Taylor says.

While there, she earned a certificate of corporate responsibility from Boston College. "It was about how you can make a difference responsibly. The company gave away about $2 million a year, mostly in the Portland community," she says. Taylor's responsibilities included liaison with the local United Way and the employee volunteer program. For the company's 150th anniversary, Taylor coordinated a one-day event which saw completion of 260 projects in 42 states and six countries by 5,000 employees.

When the company merged with another, the foundation was shut down, and Taylor and her husband assessed whether they wanted to remain in the cold Maine winters.

"Lance and I started throwing darts at a map and chose to live in Wilmington," says Taylor. Lance had been surfing here before they were married. "He thought it was a cute little town," she says.

The move, made when their children were 4 and 6 years old, has been great for the family. Since her husband's self-employment as an executive recruiter was virtual, he could live anywhere.

Once Gordon entered kindergarten, Taylor used her knowledge of United Way to join the local organization's community investment team. "That's how I learned the community and the nonprofits," she says. Taylor was there for three years before joining Lower Cape Fear Hospice as its first development manager.

The experience and connections made there have been invaluable to her challenge at Carousel Center.

"Our mission is to help children who have been victimized by physical or sexual abuse. We work with community partners such as the DA's office, law enforcement and the Department of Social Services to bring, if we can, the perpetrator to justice, but the real work is the specialized therapy we do for children so that they can be children again," Taylor says.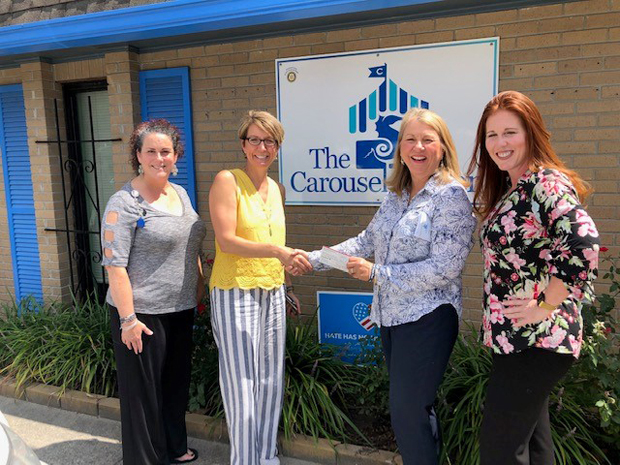 Funding for that therapy is paid in part by Medicaid, but it doesn't cover all, so fundraising is critical.

Carousel's team of therapists are trained in trauma-focused cognitive behavioral therapy (TF-CBT). Working with children as young as six months, therapists do forensic interviews and medical specialists do exams. "We have specialized equipment for photographs if there is physical or visual evidence. We do forensic interviews with non-leading questions, and everything is videotaped in the interviews, so we have it should they need it for trial. What's so nice about having a child advocacy center is the child only has to tell their story once," Taylor says.

Therapy usually runs about 15 to 20 weeks, but there are times when it takes much longer. She referenced a ten-year-old child who was impregnated by her step-grandfather. "It took nine months for the child to be comfortable enough to tell her story," says Taylor. Funding from the community allows Carousel Center to give this type of extended care to the child. "Fundraising makes sure we can see a child for however long they need us," she says.

She commented on the resilience of children. "I sit in this tiny office and can hear them in the playroom laughing. I know why they're here, but it makes me smile to hear their laughter and how resilient they are. I'm so proud we can help them put it in perspective and just get back to the job of getting a kid," Taylor says.

Carousel Center does not counsel adults, but they can refer individuals to agencies and organizations that do. Taylor adds that anyone who suspects child abuse can contact them directly at 910-254-9898.

While they've been serving Brunswick County children for about twenty years, they were just able to open an office there this past summer, so children don't have to travel to the Wilmington office. It's centrally located at 20 Medical Campus Drive, close to the county government complex.

Carousel Center's annual luncheon is scheduled for February 5. Taylor hopes to start a similar event in Brunswick County.

Taylor believes the staff shields her from many of the stories that come into the center, but she hears a lot, nonetheless. "I'm pretty much a Pollyanna, so I think it's why the fundraising suits me well. I meet some of the kindest most generous people in the community. I'm not drawing tanks and bombs anymore. I'm really making a difference in people's lives," says Taylor.