Focusing on the Fireplace
11 Jan 2020
Style your mantel with symmetry and purpose so that it can inspire the rest of your home

By TERI ERRICO GRIFFIS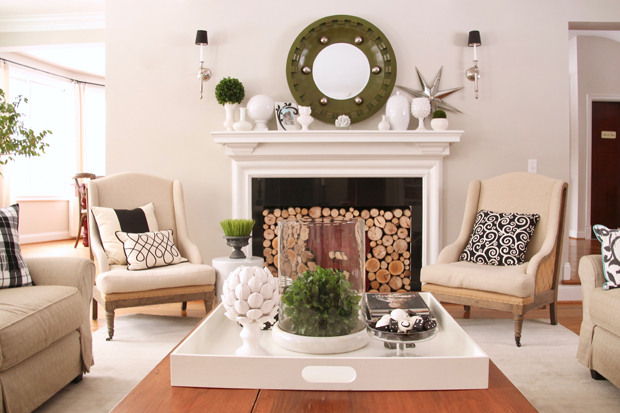 If you've ever seen an episode of "Fixer Upper"—and honestly, who hasn't—you know that one of Joanna Gaines' favorite spaces to finish is the mantle. It is, after all, the perfect place to display some of your most beloved treasures: photos, artwork, sculptures, candles, baskets, books, and the list goes on!

Here in the Lowcountry, we really only get to enjoy using our fireplace for a few months out of the year, but even so, it is still a major focal point of our homes year round and therefore can set the tone for our entire space. With so many ideas and so little space, where do you start? Sharon Payer, a local Interior Stylist, guides the way.

"When deciding where to start styling the fireplace," Payer begins, "first consider what is going to go on the wall above it. The vast majority of us choose to mount the TV there, however, I don't prefer this for two reasons: one, it's not aesthetically pleasing, and two, it's not conducive to ideal television viewing," she explains. "As with art, the TV should be at eye level, so you're not straining your neck from your favorite chair or sofa to watch it."

Should you opt for artwork above the fireplace, Payer advises that you avoid placing photos on the mantel as the images will "compete." Similarly, try to find another wall for the TV. "If that's not possible, flank either side with something tall to distract your eye when the TV is off," Payer suggests.

No matter how large or small your home, a mantel will only have so much room for display, so select your styling carefully. The silver lining is that should you get bored or need a change, it's easy to clear that space and switch it up as your mood or season changes. Says Payer, "Simply switching out your artwork above the fireplace can give it a whole new feel."

As for where to focus first, Payer says to start with a favorite piece of art, a collection of smaller pieces, or even a mirror, then build around that. "This is the key element to start your design. I love finding mantel décor at local marketplaces. They are filled with interesting pieces found by the vendors they house. The Station Park Circle also is home to ten local artists offering various styles, sizes and price ranges."

Scale is also important to keep in mind when styling this space. "A large mirror or piece of artwork above a double-fireplace would be unassuming, but would overpower a tiny hearth," says Payer.

To give your design dimension, add objects with various heights, texture, and sheen. Payer suggests sticking with groupings of three to five, "and remember to leave some negative or empty space to avoid a cluttered look," she says. "For a more traditional, symmetrical look, place taller objects on either end."

As we move into 2020, Payer notes the trend for mantles and fireplaces is all white walls accented with natural textures and vibrant color. Have a red brick fireplace? No problem. A coat of paint will easily update your look! "But if you're unwilling or unable to change it, complement the red by adding a plant next to the hearth and balance the mantel with natural elements such as a woven basket, some carved wood or metal such as pewter. Stay away from anything too shiny such as brass or chrome."

Whatever your style, your mantel should coordinate with the rest of your home, and can serve as the inspiration for the entire room.