Quest for the 'Cue
27 May 2015
Barbecue means something special in North Carolina. We can argue about it until the cows come home, but we generally agree that the best way to learn more about it is to eat it. Here are a few local institutions of higher learning when it comes to the art and science of slow-cooked pork, chicken and beef.
By THOMAS PARKS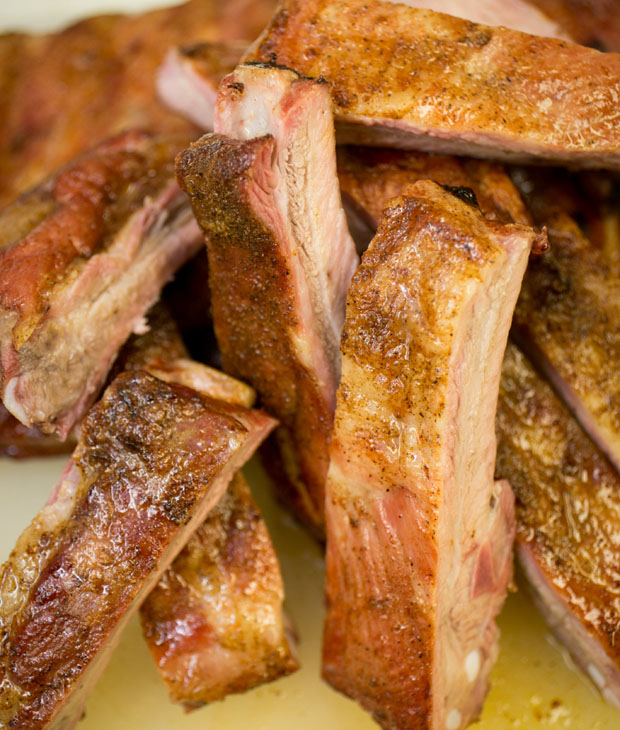 A & G Bar-B-Que & Chicken
Named for Alton Riggs and Gordon Etheridge, this family business has stood the test of time for the last quarter century. Housed in an unassuming concrete block building, with a small dining room and walk-up window, the focus is on simple, country cooking.
The menu includes pork barbecue and fried chicken, with traditional country sides like collards, okra, slaw and hush puppies.
A & G also offers a pretty serious breakfast on the weekends. Previously cash only, they recently began accepting credit cards to cater to the younger crowd. 800 S. Lake Park Boulevard, Carolina Beach, 910-458-8620, aandgbbq.com
Bar-B-Que House
The Bar-B-Que House was established in 2005, offering Oak Island residents and other barbecue enthusiasts a taste of real hickory-smoked barbecue.
The menu features chopped pork, smoked and fried chicken and smoked pork ribs. For variety and to suit regional tastes, they offer Eastern NC vinegar sauce, Lexington style red sauce, South Carolina mustard sauce and their own special house sauce. Sides include fried corn-on-the-cob, sweet potato fries and both red (spicy ketchup-based) and white (mayonnaise-based) coleslaw.
Like most barbecue places, they have an extensive take-out menu including whole smoked Boston butts (pork shoulders) and whole hogs (whole hogs require a week's notice). 5002 East Oak Island Dr., Oak Island, 910-201-1001, bestbbqonthebeach.com
Buster's Pit Beef
In the little building that previously housed Flaming Amy's Burrito Shack, Buster's Pit Beef has the same little dining room and challenging parking lot situation. Buster's Pit Beef takes a little different approach by putting smoked beef barbecue first on the menu, instead of pork as is traditional here in the Carolinas.
The smoked beef itself is also a little different than what some might expect, because it is a slow-cooked, lean roast cut, not a Texas-style smoked brisket like most local barbecue enthusiasts might be familiar with.
The menu reflects a Tex-Mex influence, including a fajita burrito and pork carnitas quesadilla in addition to pork ribs, Eastern North Carolina style pork, smoked chicken wings and a crab cake sandwich. Since it is all little different from a typical Eastern Carolina barbecue joint, the best bet here is to approach the menu with an open mind. 718 N. Lake Blvd., Carolina Beach, 910-458-5300.
Carolina BBQ
Clint and Becky Proctor set about converting an old Food Lion in Murrayville into a homey family restaurant about eleven years ago, and the rest, as they say, is history.
They certainly can boast the biggest location in the area, with quite a variety on the buffet. The spread features fourteen meats, fifteen vegetables, a salad bar and a dessert bar, plus eight flavors of hand-dipped ice cream to choose from. Like Clint says, maybe no one will like everything, but everyone will like something.
A couple of years after opening the Murrayville location, the buffet was extended down to a considerably smaller location on South College, where Becky's sister Wanda is the General Manager and her husband Billy helps, too. The other location started out as a restaurant decades ago, so the transformation wasn't as dramatic.
Fans can find a third location in Kenansville, NC, if they're up that way. 2307 N. College Rd., 910-392-1955; 1602 S. College Rd., 910-799-3464, Wilmington.
Casey's Buffet
Casey's Buffet is owned and operated by Gena and Larry Casey, both NC natives. Before opening Casey's in 2005, Larry had worked over 25 years in food service, from fast food to fine dining, and he brings that vast experience to the table at the family-run establishment.
The real beginning of the story goes back to when Larry was a kid in New Bern, North Carolina, cooking with his mother and grandmother, and barbecuing pigs with his father and uncles. Since then, Larry has been committed to creating what he calls "memory" food. Everything Casey's Buffet puts out for its customers has a story behind it. Every recipe is a family one, passed down from Larry's mother and grandmother.
Larry's ambition for Casey's was to create a perfect Southern feast that was as good as he remembered growing up. He's fed thousands of people with the kind of food that evokes that special memory of down-home Southern Sunday lunches, potluck church events, and your aunt's signature dish you enjoyed every holiday.
Their barbecue is cooked "slow and low" daily, using whole locally-raised hogs, seasoned with authentic Eastern NC vinegar based sauce (peppery, salty vinegar). While the barbecue is noteworthy by itself, the huge menu features other favorites like whole fried local catfish and fried chicken. For those that grew up in the South―or those who would like to know what all the fuss is about―Casey's keeps real traditional Southern soul food specialties like fried okra, chit'lins, chicken gizzards and banana pudding on the buffet.
Casey's regularly tops Best Of lists for "Best Buffet", "Best Fried Chicken" and "Best Soul Food / Country Cooking" in Wilmington, based entirely on popular vote. 5559 Oleander Dr., Wilmington, 910-798-2913, caseysbuffet.com.
Duke's Old South BBQ
Just over the bridge from Wilmington, Duke's Old South BBQ has such a classic look and feel that it is hard to imagine they've only been open about two years.
The aesthetic has authentic origins, based on David McCall's early years in Lufkin, in eastern Texas. David and his wife Bo have set out to re-create a simple, but excellent Southern dining experience. The venture seems driven as much by sentiment as a genuine passion for barbecue.
The bright, cafeteria-style dining room is tidy and family friendly. The buffet is simple and straightforward, with all of the basics for an authentic Southern meal. One thing on their buffet that you won't find in most other places is their tangy and spicy pork barbecue hash, meant to be served over rice.
David credits most of the recipes back to his mother, a quintessential Southern lady, whose hospitality was widely admired. But he credits his wife, Bo, with the palate and sensibility to refine those dishes to the perfection they are today. He takes credit for minding the pit, using traditional smoking methods, without sauces or seasonings that might hinder the flavor of the meat.
David uses whatever good quality wood that is available, including hickory, mesquite, or pecan, creating a range of flavors.
As a traditional Carolina barbecue place, the "virgin" (unseasoned, unsauced) pulled pork is probably the biggest draw, but the smoked and fried chicken are phenomenal, juicy and flavorful. 318 Village Rd., Leland, 910-833-8321, dukesoldsouthbbq.com.
Grady's Barbecue
About eighty miles north of Wilmington, Grady's is one of two places we include on our list that is on the official North Carolina Barbecue Society (NCBS) Historical Barbecue Trail.
Pitmaster Steve Grady and his wife Gerri (short for Geraldine) opened the place July 4, 1986, and still keep the pit fires going.
According to the NCBS website, Grady's barbecue is "rich, nutty, brown, hand-chopped pork with a smoky woodsy taste that only comes from slow smoking over wood on open pits. It is tender and juicy with specks of red pepper peeking out of coarse chopped 'cue, that contains bits of outside brown and tiny bits of skin (bark). Grady's sauce is a true Eastern North Carolina sauce, with a bit of fire". 3096 Arrington Rd., Dudley, 919-735-7243.
Jackson's Big Oak Barbecue
Nestled on Kerr Avenue (pronounced "car" for non-locals) between Wrightsville Avenue and Wilshire Blvd., Jackson Big Oak Barbecue is a blast from the past. You can see the history of Jackson's on the wall just inside the entrance. Athletes, stars of the big and little screen, politicians and other celebrities (and some downright friendly neighbors) grace the wall of fame with thanks, kudos, artwork and even poetry. Jackson's barbecued pork is slowly cooked every night to be fresh for the next day. They use a balance of mild seasonings and a traditional vinegar base to give the authentic, and pleasing flavor to pork barbecue that is peculiar to Eastern North Carolina.
The dining room is bright and family-friendly, but casual in the way that highly varnished plain plywood tables will be. You can eat in, take it home or take it around back to a picnic table under the namesake big oak, a marvel in itself.
Jackson's has been named "Best Barbecue" in Wilmington nearly every year of the last decade. 920 S. Kerr Ave., Wilmington, 910-799-1581.
Mission BBQ
The first MISSION BBQ opened its doors for business on September 11, 2011. Ten years after our world changed forever, in some small way they wanted to change it back.
The Founders put it this way: "We believe there is nothing more American than BBQ, and nobody's more American than the brave men and women who have sworn to protect and serve our communities and our country. We do what we do for the love of our soldiers, firefighters, police officers, first responders—all our loved ones in service."
"Every day we strive to serve you authentic BBQ made from the freshest, most delectable ingredients, and serve it to you in a patriotic dining room filled with tributes to those who've made our country great, given to us by the people who earned them."
Backing that food mission up, none of the locations has freezers or microwaves. The barbecue is seasoned simply and smoked, leaving it to the patrons to sauce it up (if they even need to).
Each location opens with photos that are selected by the founders, but as they receive donated memorabilia, they replace some of these images with the donated items. If you look around the walls, you will see pictures and mementoes of local heroes. Brian Hart, General Manager at the Wilmington location, can tell you where every single patch and picture is in the restaurant, and what the story is behind it.
If you've seen the big, black stakebed trucks out front, they're for more than decoration. They are referred to as "BAMBAMs", a military-esque acronym for "Big And Mobile Barbecue Assault Machines." They are re-purposed, authentic 2.5 ton military vehicles with fully functional smokers―each location has one. They're normally used for catering transport/appearances, but prior to opening the Wilmington location on April 7, 2014, they were cooking solely on the truck to provide hot, fresh meals to the local fire, police, military, and first responders.
This simple statement sums it up for the MISSION BBQ Team: "We don't do any of this because we have to. It's because we want to." 351 S. College Rd., Wilmington, 910-338-2858, mission-bbq.com.
Old Cape Fear Smoked Meats
Some folks apparently thought Dave Connor was hiding his lamp under a basket by not sharing his cooking skills with the world, so they convinced him and his business (and life) partner Lisa Dalton to try their hands at running a restaurant. Cautiously open during very limited hours at press time, they are considering expanding their hours, as the demand grows for their smoky offerings.
Wood-smoked pork barbecue and ribs are available every day, until they run out. Old Cape Fear walks a little on the wild side by featuring slow-smoked beef brisket on Thursdays and Fridays, which isn't that easy to find here in the Carolinas.
Another thing they've got that you won't see in most places is some freshly house-made pork rinds, which are light, crispy and fairly addictive. Don't be surprised if you end up being lured back just for the rinds. 3530 Carolina Beach Rd., Wilmington, 910-471-7422.
Parchie's
David Wishon's cooking inspiration comes from his mother, who cooked for him and eight brothers and sisters. He helped in the kitchen early on, and officially started working in the restaurant business at thirteen years old. At twenty-six, he started working on Parchie's, and has been at it ever since.
David makes everything from scratch, the hard way, refined over years of experience. The pork barbecue reflects that experience, whether you grab a sandwich at the shop or find him catering an event around town. Both locations are local favorites, serving blue collar and white collar clients alike, including young and old, and even the occasional celebrity.
Besides the barbecue, Parchie's is probably best loved for its burgers and steak and cheese sandwiches.
Bring cash when you go. 1120 Princess St., 910-763-2565; 2140 Burnett Blvd., 910-399-2150, Wilmington.
Poor Piggy's Food Truck
From devoted backyard barbecuers, to award-winning competition cooks, to modern mobile kitchen food vendors, Poor Piggy's can now bring the 'cue to you.
Their food truck specializes in North Carolina pork barbecue, beef brisket, dry-rubbed pork ribs, and chicken. They slow cook and smoke on eco-friendly, sustainable green energy 100% wood pellets like many other serious competition cooks use. Location varies, 910-632-4229, poorpiggys.com.
Smithfield's Chicken 'N Bar-B-Q
With two Wilmington locations, one Leland location, and a new one a bit further south in Shallotte, good barbecue is never far away. Smithfield's humble beginnings stretch back 65 years, but they have matured slowly into a family tradition that still stays true to its roots, even though they have spread across the state.
Known for their comfort food and family atmosphere, they also make themselves a part of the communities they are located in by hosting community and charity events, like the seasonal diaper drives or car and bike events hosted at the different local Smithfield's.
Each of the restaurants has a 'scratch kitchen', which means that the barbecued chicken or pork, or whatever you ordered, was made that day, not pulled out of the freezer. Which is pretty surprising when you consider that Smithfield's is now a pretty big operation, with 36 locations, all of which are in North Carolina. 3705 Patriot Way, 910-794-8280; 7300 Market St., 910-686-4175, Wilmington; 2020 Old Regent Way, Leland, 910-371-6900; 4670 East Coast Lane, Shallotte, 910-754-5522.
SmokeRise BBQ at Piggly Wiggly
You might not expect a grocery store to be a good location for barbecue, but then again, one with "pig" in the name might have a chance.
SmokeRise BBQ has brought real smoked barbecue into the Leland Piggly Wiggly location. By their claim, BBQ stands for "Bringing Back Quality", and they have stood by their word by bringing serious, slow-smoked meat into the supermarket environment.
At the SmokeRise display near the deli counter, hickory-smoked Boston butts, chicken, pork ribs, turkey legs, chopped pork barbecue and beef brisket are warm and ready to go when you are.
Though there isn't a dining area, there are a number of other advantages to the "grab-and-go" approach, including the longer open hours than most places offer, the availability of practically any side dish or accompaniment you can imagine, and a wide selection of beverages to go with your meal. In addition to the traditional favorites like slaw, potato salad and collards on the SmokeRise display, the deli counter nearby also offers some Southern classics like fried chicken gizzards, lima beans and black-eyed peas. And, unlike most places, you can grab a beer to go with your 'cue.
Besides the other advantages, this is probably the most affordable way to feed barbecue to a crowd, as their prices on barbecue by the pound and ribs are less than anywhere else in the area.
In addition to catering any event, SmokeRise also has programs for local fundraisers, helping organizations of any size by providing smoked Boston butts at a low cost to help raise money for schools, law enforcement agencies, church or civic groups. 112 Village Rd., Leland, 910-371-2696.
Southport Smoke House
It had been a barbecue place in the past, but the new owners completely updated and upgraded the North Howe Street location with an idealist approach, including investing in a new wood smoker.
All of the meat – pork, ribs, chicken or brisket – is dry-rubbed and smoked without using any strong sauces that might get in the way of the flavor of the smoke or the meat. Plenty of great regional style sauces are available for patrons to tune up their meal the way they like it.
Two things that you won't typically find in a North Carolina joint, are the smoked beef brisket and Kreuz (pronounced "krites") sausages. Brisket is the holy grail of barbecue, because it is a difficult cut to do well, but it is fantastic when done properly. One of the owners, Troy Knight, grew up in a small East Texas town and insists on serving a great brisket. Kreuz sausages come from an old traditional barbecue house in Texas, and they are the only thing they don't smoke in-house.
Despite all that great 'cue, some folks still say the homemade banana pudding is the best thing on the menu. 1102 N. Howe St., Southport, 910-363-5035, southportsmokehouse.com .
Surf City Barbeque
Surf City Barbeque is owned and operated by husband and wife team Guy and Rebecca Royal. Their stated goal is to provide traditional, Eastern North Carolina whole hog, vinegar-based barbecue in a down home, family-friendly environment.
Measured against that standard, they have nailed the idea. The place isn't big, but it is homey, with rustic décor inside and a good amount of extra seating outside for extra-sandy beachgoers. It is the kind of place you might stop by for good directions, or a fishing report, or just to hang out.
Their signature item is a POBO (not po' boy), which is a pork barbecue sandwich made with two pieces of fried cornbread in lieu of a bun. In addition to the classic pork 'cue, they also serve applewood-smoked chicken with a homemade honey barbecue sauce.
Like other traditional barbecue joints, they cater as well, from a simple drop off to a fully staffed pig picking with all the trimmings. "Everything from shin-digs to soirees", as they like to say. 204A N. New River Dr., Surf City, 910-328-4227, surfcitybbq.com.
Terry's Bar-B-Que & Ribs
Terry Caugh has cooked in more than 100 barbecue contests around the country, has twice won the title of Greatest Ribs in America at the prestigious Great American Rib Cook-Off in Cleveland, and could easily fill trophy cases with his other accolades for sauce, pork, brisket and more. But Terry has retired from competition and now shares his expertise from a little shop on Long Beach Road.
With no inside seating, Terry's is a straightforward takeout place. The menu is simple, with three barbecued meats and a handful of ways you can enjoy them. Chopped pork shoulder is available in a sandwich, on a platter with sides or by the pound. Beef brisket is served in the same ways. Ribs are sold by the rack or half rack, on a platter with sides or just wrapped to go.
Even though the focus is on the 'cue, Terry's offers the traditional sides you need to complete the meal, including red and white slaw, mac and cheese, and a pretty impressive Brunswick stew. 4688 Long Beach Rd., Southport, 910-477-9187.
Wilber's Barbecue
Wilber's is the other iconic barbecue place on our list that is included on the official NCBS Historical Barbecue Trail. It is about a hundred miles north of Wilmington, or an hour and a half (with clear traffic) up the road, depending on how you're counting.
In 1962, Wilber Shirley and Carl Lyerly purchased Hill's Barbecue from Mr. Fred Hill. Shortly after, Mr. Lyerly sold out to Mr. Shirley, and Wilber's Barbecue was born.
At the time it opened, it employed eleven people. Now, it takes more than a hundred to run the place. Featuring oak-smoked pork and chicken, the menu includes plenty of Southern specialties, including livers and gizzards, Brunswick stew and banana pudding.
This is a "bucket list" kind of historical barbecue dining experience. 4172 US-70, Goldsboro, 919-778-5218, wilbersbarbecue.com .
Bonus Tip:
Charlie Grainger's
They're known for their hot dogs, but the slow-cooked, tender beef brisket they stuff in a bun is pretty incredible. 702 S. 17th St., Wilmington, 910-769-3720.