Timeless Living
27 May 2015
A Landfall home is anything but ordinary with a basic palette and blissful details
By JOHN CHAMBERS Photos by G. FRANK HART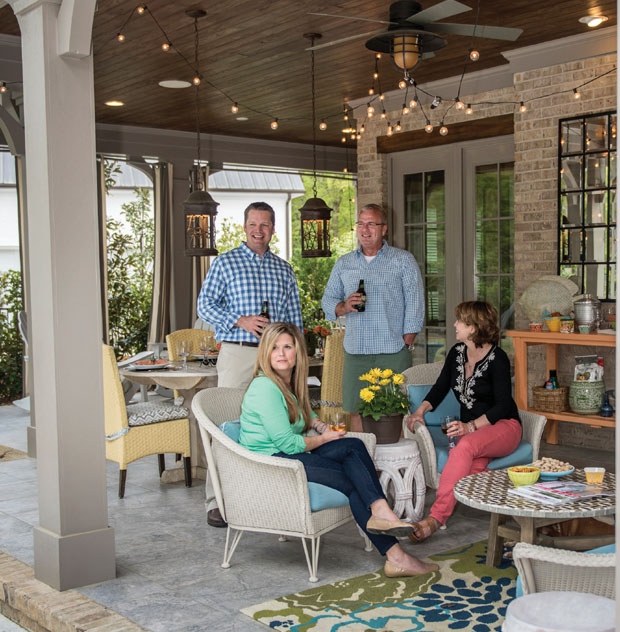 "It's not work as much as it's fun," says Troy Kenny. She shuffles some house plans—her house plans—while she talks. In the upper right corner of each pate is the logo for Design House, the residential design studio she co-owns with John Croom.
"Coming to work isn't a burden, far from it, it's a pleasure," adds Croom. "This is a creative outlet for us."
Croom and Kenny make a good team at Design House. Their skills are complimentary and their passions – his for exterior details, hers for interior planning – combine to create home designs that are, in their own words, "timeless and livable."
Kenny found her passion for home design early, saying it's always been part of her. From the age of 5, her interest in organization and space grew until it bloomed when she attended Meredith College. There, she studied Interior Design and entered the world of residential construction and real estate sales, where she used her years of passion and studies to stay ahead of trends and provide homeowners with homes and spaces they love. She continued to dish out beautiful, functional and comfortable design when she and husband Jim established Haygood Homes in the mid 1990s.
For Croom, who studied Industrial Design at East Carolina University, he got his start in the industry in Raleigh, becoming known as one of the best drafting and Auto CAD guys around. He took a new job in Wilmington, worked it for a few years, then struck out on his own, founding Cornerstone Residential Designs in 2004. Croom is known around town not only for his prowess in drafting, but also for his eye for the details that reintroduce contemporary design to classical elements.
While Croom provided designs through Cornerstone and established his reputation, Kenney continued to grow hers through Haygood. Then the pair crossed paths on a project. They worked well together, so well, that soon, they met again to work on another, then another, then, more than two years after that initial project, they decided to form their own company. So, in 2007, Croom and Kenny established Design House.
Design House works with homeowners to create captivating living spaces that embrace and embody their wants, wishes, dreams and desires.
"On the exterior it's texture and detail. It's about more than the style, it's about getting the right feeling with the curb appeal," says Croom.
"But it's about living, too," adds Kenny. "With the climate and lifestyle here, we have so many clients who want that outdoor living space. Deep porches with separate dining and conversation areas, a grilling pad and additional seating, a splash pool with room to lounge. Our clients often want to live outside and inside, and John is great about pulling those exterior details and textures together to create a beautiful, cohesive look. I bring the space management to the table."
When Design House works with builders – and their builder list is a veritable who's who of high-end home construction in Wilmington – they offer up this same attentive eye and collaborative approach: Croom works up an exterior design that matches the style of the neighborhood while Kenny develops an interior flow that works. Often their designs are large, open and airy – a contemporary signature, for sure, but one Kenny says, "is timeless" – and makes use of as much natural light as possible.
"We stay builder friendly in that we've got enough experience to know what's plausible for a builder to pull off on the interior or exterior, and we can design within a budget, so it's a win-win for builder and buyers or homeowners and remodelers," he says.
The design process isn't a solo one, and as much as Croom and Kenny collaborate, the most important collaboration comes with the clients.
"When our homeowners come to us for a remodel or new construction, it's always an exciting moment. They used to bring us piles of magazine pages and clippings, then Houzz[.com] came along and now they scour the Internet for inspiration and bring us a full Houzz portfolio of sometimes thousands of pictures of interiors and exteriors. It's things they like, things they don't like, things they're dreaming of having. It runs the full gamut. And even though we've all got our iPads and Houzz portfolios to look at, clients still come to us with a sheaf of magazine pages," Kenny says.
Working with clients is more than just checking out Houzz and having a talk where wish list meets budget; often, Kenny and Croom will visit home sites to identify sightlines, views and other ways to take advantage of the lot's features. That's how Kenny found her Landfall home.
"I was on a site visit and I stepped onto [the client's] property and walked it, admiring the view and imagining the master bedroom right here and I thought, 'This is a great lot. I'd love to find one like it.' When I finished, I walked onto the lot next door. The views were excellent and I found that I was picturing my bedroom and thinking about my porch. I told my husband that we needed this lot and once he saw it, he agreed."
That's how Troy Kenny became her own client.
Kenny's Landfall home stands as an excellent example of Design House's capabilities. Croom's exterior fits the neighborhood in choice of color, style and texture; and the outdoor living spaces are the ideal blend of Croom and Kenny. The interior, while built to Kenny's tastes, needs and wants, is open and functional while still imbued with an air of coziness.
From the curb, the Old World-style home draws in elements of English building with the gentle curves on certain roof elements, and the choice of brown Nottingham brick and champagne mortar, giving it a nearly monochromatic cast that speaks to an older building style. Architectural shingles give the roof depth and interest.
A wraparound porch provides Kenny and her family with plenty of outdoor living space, but the centerpiece is certainly the back porch. Here, the space is both interior and exterior. Conversation areas and a full dining room table offer up the chance to sit and chat or dine or enjoy an evening glass of wine or morning cup of coffee, extending the interior living space outside. On the ceiling, recessed lights recall the interior lighting, and the tongue and groove ceilings carry wood elements between the inside and outside of the house. Large doors, both fixed and functional, spill light into the house and offer up easy passage between the two distinct, but related, spaces.
Coming in off the porch, you enter the airy kitchen-living room-dining room. In the kitchen-living room, a high, coffered ceiling draws the eye up while a boldly colored and patterned couch and chairs anchors the eye in the living room. The kitchen area is likewise anchored by a huge island – it's 10' by 4' – that inevitably becomes the center around which any party or gathering revolves.
These common areas are Design House signatures. Rooms are washed in natural light; seating and gathering areas are intimate, yet inviting enough to draw others into the conversation; the kitchen is perfect for cooking and entertaining; everything from doors to furniture placement is intended to aid the flow of light, air and people through the spaces.
Likewise the private areas. Kenny has twin daughters and their separate bedrooms are joined by a buddy bath that's large enough for two teenage girls to maneuver around one another, but small enough to make sense in the footprint of the house. The girls' bedrooms are separate from the master and convenient to what Kenny says is their favorite place: the lounge area. This upstairs area serves as TV room and an area for her daughters to unwind.
The master bedroom is situated at the back of the house, giving both the Kenny parents and children privacy. She designed the master suite to minimize furniture in the bedroom, so a giant walk-in closet provides storage and a dressing area, while the bathroom – complete with soaking tub and separate shower – is roomy and luxurious without being ostentatious.
Throughout the home, design elements from the exterior creep in. Shiplap siding wraps the walls in the entryway and laundry room and provide a contrasting element around the fireplace. Colors run from inside to out, and the trim surrounding windows and doors allows them to function – letting in that all-important natural light – while retaining a form that's appealing inside the home and out.
"People want comfort. They want homey. They want to feel a part of the place. That's what we deliver," Kenny says. "Whether it's my house or yours, I want there to be a connection between person and place and I want you and your guests to feel that tug of home."
Resources
Design House, 910-256-6053, designhouseatlumina.com