Restaurant Roll Model
01 Jul 2022
How YoSake has maintained their status as a superior sushi destination
By Fanny Slater » Photos by Daria Amato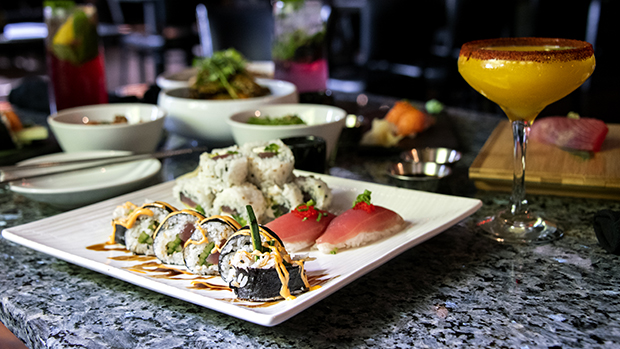 The buzzing intersection of Market and Front Street may be considered the epicenter of downtown Wilmington, but those who hang out a block south would beg to differ.
Smack dab on the corner of Front and Dock sits Wilmington's renowned Roudabush Building — which many would regard as the real mecca for all the action. But before you get cozy on the ground level crushing Tropical Lightnings and cheese curds at the Husk, hike up the stairs to the second floor. Hang a quick right and you've reached YoSake Downtown Sushi Lounge — the oldest sibling of the restaurant group housed in the historic property since 2006.
And if you know anything about downtown Wilmington's culinary scene, you know that the fixtures who have kept their doors open for extended periods of time are few and far between. But from YoSake's whimsical, Tokyo-inspired wall art to the expansive menu of skillfully prepared Pan-Asian cuisine, what's not to love?
I guess being voted "Best Sushi in Wilmington" certainly doesn't hurt their status as a top-tier hot spot either.
Despite their prime location and ever-lively dining room, the hardworking staff behind the scenes doesn't take any shortcuts. YoSake proudly supports local, organic, sustainable agriculture and harbors the secret of the best sushi rice in town. To say they graciously grind to create that exceptional experience that's a notch above others in their category would be an understatement.
I chatted with Kyra Tebo Faina, partner of the Roudabush restaurant group and General Manager to Yosake, to get the inside scoop on how the Asian eatery has maintained its success even amidst a global pandemic. It turns out the sushi lounge extended its seating to upstairs Dram + Morsel during the pandemic, so plenty of patrons could still get their fix. With hungry folks now regularly out and about once again, I was curious how fast the chefs were flying through that famous rice.
"People are ordering more food than ever!" Tebo Faina exclaimed. She praises the loyal customers for their patience since Covid. "The sushi wait times are occasionally longer, which may seem odd since you're waiting for raw food, but this is an art."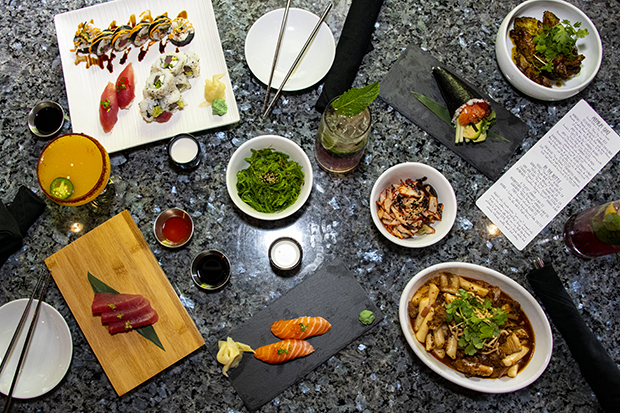 One peek into the daily prep of a YoSake sushi chef and you'll see what she means. From breaking down the fresh-out-of-the-water fish deliveries from Motts Channel Seafood to delicately planting a pinch of locally-sourced Terra Vita microgreens on top of an exquisitely plated specialty roll — it's undeniable that these guys truly love what they do. They're on-display (and on their game) at all times right along with the rest of the front-of-the-house, whereas in a more traditional kitchen — chefs are expertly executing a show that's only visible in the back.
Dan Habib and Scott Felton are two of the sushi rollers mastering the magic behind — and in front of — YoSake's curtain and I got to briefly pick their brain on what it takes to run a thriving sushi hub. Felton, a North Carolina native and father of two with a fine dining background, has been with the restaurant for nearly a decade. He gets his inspiration from peers and master sushi chefs, but also other
cuisines — which became clear when I asked the wildest creation he's ever come up with for the Chef's Choice "This is How we Roll" special.
"I once made a roll with wasabi mashed potatoes instead of rice, grilled marinated steak and asparagus and miso butter," Felton responds.
When Habib, YoSake champion of five years, is at the helm, he's a fanatic for the "fusion of bringing regional favorites with a sushi twist." No surprise there, as he once fashioned a sweet potato, lump crab, blueberry, and jalapeno roll that you'd be hard pressed to label as anything other than "southern coastal".
"Blueberries are underused," Habib says. "They're sweet and tart which lends to a whole variety of uses!"
If his style sounds like your cup of sweet tea, you'll dig YoSake's signature Southern Chicken Sushi Roll that showcases tempura fried chicken, coleslaw, and pickles wrapped in soy paper and topped with sticky Korean BBQ sauce and bacon.
As for the most overlooked ingredient on Felton's sushi bar that deserves a little more love, he responded, "The Kizami Wasabi is a soy sauce-pickled young wasabi root. It's amazing on everything."
Both chefs credit the rice as the heart of the process.
If raw fish isn't your jam, no worries. YoSake's menu spans from spicy Thai curries to noodle bowls filled high enough to feed a small family. If you're mostly drinking your dinner, the hand-crafted cocktails are highly revered. As for the vegetarian sushi offerings — like the Buddha Roll with local pickled veggies, avocado, and pickled mustard seeds — the humble assortment is inspired and thoughtfully presented.
Though, is it any surprise that's how they roll?