Roko Italian Cuisine
09 Nov 2014
A rare combination of "destination restaurant" and neighborhood gathering place
6801-105 Parker Farm Dr., 910-679-4783, rokoitalian.com
By CATHERINE KIMREY BREEDEN » Photos by JAMES STEFIUK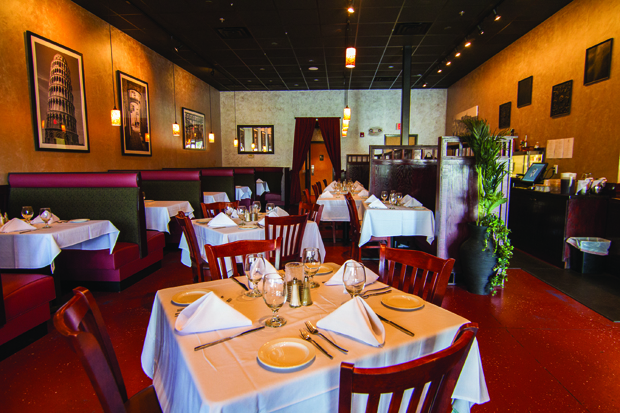 When Croatian-born Jadranko (Jadran) Peros was serving as a young officer stationed in Belgrade, Serbia, fulfilling his mandatory tour of duty in the Yugoslavian military, he met Vojka Petrovic, whom he describes as "a vivacious raven-haired beauty," on a blind date. To this day each answers an emphatic "yes" to the question, "Was it love at first sight?" The farthest thing from either of their minds at the time was opening a fine-dining spot in far-away Wilmington, North Carolina. But fast-forward nearly 30 years, and that is exactly what this husband and wife team has accomplished.
Roko, a gem of a restaurant featuring splendid northern Italian cuisine in Mayfaire Town Center, is a rare combination of "destination restaurant" and neighborhood gathering place. On any given evening, a couple celebrating a special occasion—or a group of friends sharing a significant birthday—can be found there enjoying plates of Executive Chef Jadran's frutti di mare featuring delicacies from local waters, succulent veal piccata, perfectly seasoned grilled lamb chops, or chicken parmigiana. At the same time, local residents who have made Roko their go-to spot for a quick friendly drink or a dish of house-made pasta with a choice of sauces can be found gathered at the cozy wood-paneled bar.
That bar, which Jadran himself fashioned and built from oak, features watercolors by Croatian artists and framed photographs featuring the architecture of his home country. These touches help bring a hint of his and Vojka's beloved Adriatic Sea and its surrounding marine atmosphere to coastal North Carolina.
In fact, their love of the coast, and the lifestyle, resources, and culture that it affords, is a primary factor that led the Peroses to settle in Wilmington in 2012. Arriving in Morehead City in the mid-1980s, Jadran originally worked at Nikola's, a restaurant that his brother owned there. After 12 years, Jadran and Vojka moved to New Bern and opened a second Nikola's. Once their children were in college and away from home, the couple relocated to Wilmington and built the more upscale restaurant of their dreams.
"We wanted a small, nice, intimate restaurant," Jadran says, "using all fresh ingredients, nothing frozen, and cooking everything here." They serve seafood from Mott's Channel Seafood in Wrightsville Beach, source fruits and vegetables from local farms and markets daily, and carve only the highest quality beef and veal in-house. The chef's pride in his work, along with his pride in his family, is apparent when he relates that two-year-old grandson Ryne already enjoys sniffing the different aromas of herbs that he grows in a small greenhouse at home for use in the kitchen.
Mary Barto, who with her husband Jack dines at Roko weekly, confirms that the Peroses succeed admirably and consistently as restaurateurs. The Bartos enjoy the feeling at Roko of eating in a relative's home, the embracing care and attention to detail of the wait and bar staffs, and—of course—the delicious food. Mary confesses that she has tasted every single dish on the menu, and loves them all. "Jadran himself sometimes catches the fish he serves," she says, "including my favorite, the fresh grouper… especially when topped with his fabulous scampi sauce."
The scampi sauce is made using a recipe passed down from Jadran's mother, at whose side he first learned cooking skills, and is the most closely guarded secret of his cuisine. Even though the same five people have been working with him in the kitchen since the day Roko opened—a rarity among restaurants, where turnover is often high—he doesn't share the sauce's ingredients with any of them.
The significance of familial ties to the Roko tradition is a theme running throughout a conversation with Vojka and Jadran. The restaurant is named for their firstborn, Roko, a computer engineer in Raleigh who manages their information technology needs. "He still calls me every morning," a beaming Vojka says, "asking, 'Mom, how is everything going at Roko?'" Roko's wife, Andrea, is the restaurant's marketing and events manager. A specialty of the house, Flounder Ana—laced with prosciutto, dipped in egg, sautéed in a white wine cream sauce—is named for daughter Anica, a cardiology nurse at Duke.
Jadran and Vojka enjoy visiting wineries and selecting vintages that pair nicely with the foods they serve. They and their staff are happy to help diners chose a bottle or glass to enhance a particular dish or occasion.
Both Jadran and Vojka also craft the delicious desserts that top off a meal. On a recent morning, cheesecakes, fresh out of the oven and browned to perfection, tempted a visiting writer. House-made tiramisu and creme brûlée are among other delectable choices.
To enjoy any of Roko's exquisite offerings in its comfortable and unique atmosphere, plan ahead. Reservations are a must. The restaurant's sixty-eight seats are filled to capacity nearly every evening, as they have been since two weeks after its opening. Vojka, ever the ebullient hostess, greets each guest like an old friend and is as disappointed as the potential diners are when she must turn any away. You would expect nothing less from this charming lady who describes Roko as "a dream come true" for her and her husband.