Set for the Season
09 Nov 2014
Three local retailers show how holiday tables set the scene for joyous gatherings
By JOHANNA M. COLBURN
Nest & Uptown Market photos by KELLY STARBUCK
Paysage photos by SUSAN FRANCY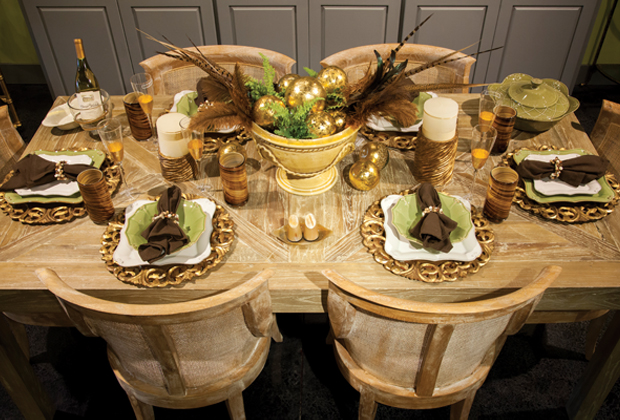 Uptown Market Antiques and Uncommon Goods
Awe family and friends with an enchanting display that leads them straight to the table. Wilmington's Uptown Market Antiques and Uncommon Goods owner Andrea Cumming has done just that with a table set for the season. In a crisp and refreshing take on vintage style, her tablescape is drenched in color.
"Try mixing elements and adding layers that incorporate glass, wood, metal and of course a little sparkle, while varying heights to add more visual appeal," explains Andrea. "We love mixing the country French chairs (pictured in the photo) with an industrial modern table. Too much matching can be boring. We like to start with a focal point like the white chandelier trees and build from there. By adding gauzy fabric and fresh greens we softened the look and added more interest."
Andrea embellished her table with an eclectic mix of accessories in various shapes, textures and height that add drama, creating a bold seasonal style. Festive flourishes include glass ornaments of various sizes and colors. A dough bowl from the 1800s adorned with fresh greens, and mercury glass ornaments is the star of the tabletop.
The retro vibe is kept fresh by combining pieces from contrasting periods and styles. Antique tableware is intermingled in an effortless style that veers toward a vintage aesthetic. Placemats made out of chalkboard make each meal a clean slate and serve as a great as a conversation starter at dinner parties. They also serve as a creative way to place guest names or preview the menu. A green globe and a silver decanter, set atop a pedestal, adds to the magic and provides the perfect amount of iridescence. The unique look is finished with white trees serving as light fixtures strung in tinsel and glittering ornaments. This out-of-the-box playful design hits the creative mark and will leave a memorable mark in guest's minds for years to come.
"This holiday season is all about color so don't be afraid to play," explains Andrea. "We paired cobalt blue, red and aubergine accents for a sophisticated yet elegant feel. Most important, have fun and express yourself!"
Pour on the pigment. Let vintage finds inspire your holiday table's design this season with these party-perfect ideas. 8086 Market St., 910-686-0930
Nest Fine Gifts and Interiors
Kick off the holiday decorating season with a festive table where guests are invited to celebrate in style. Designer Lou Anne Liverman of Nest Fine Gifts and Interiors has set the scene for entertaining with a marriage of rustic and formal styles. "A great tablescape should set the overall ambience for an evening of good food and fun fellowship with friends," said Lou Anne. "It's definitely half the dining experience!"
For a setup that encourages conversation and lingering, Lou Anne paired a provincial farm dining table with artisan-crafted Monaco armchairs of limed oak. Looking to the landscape for inspiration, she began with a warm autumn palette to decorate the table with color.
Lou Anne selected a regal pottery piece for the center setting, which makes a statement without hindering conversation. She then selected a mixed assortment of peasant feathers, which contributes to the delicacy of the design and serves as a counterpoint to the muted colors of the season. Stylish candles were then placed on each side, lending the table a whimsical note. The result is a vivid focal point that adds texture and looks full from every angle.
For the tableware, Lou Anne layered green and white plates over wooden mats in a rich gold color. Chestnut-colored napkins were then ensconced in rings constructed with various beading in complementary colors. For a hint of festive shine, she scattered gold-accented glass pieces down the table, establishing a rustic-yet-refined feel while offering a hint of sparkle.
"In this particular setting, I wanted to use a blend of earthy, fall colors complemented by various textures for a table that would invoke a feel of casual elegance. I chose pheasant feathers juxtaposed with gold-gilded balls for the centerpiece. In addition, I chose heavy topaz highball glasses in a mocha and camel swirl alongside elegant fez-cut gold champagne glasses. Along with various additional décor focusing on this styling technique, the final result is a table and dining experience that is not too casual, not too formal."
The finished look is consistent in finish and feel and sets the stage for a satisfying dining experience. Lou Anne has created a dazzling display that you can recreate at home to welcome guests in true southern style. 1125 Military Cutoff Rd., 910-256-6378
Paysage Home
The holidays are about memories, celebration, and togetherness. They are also about decorating. Ring in the season with inspiration from Jane Marquard, owner of Paysage Home, as she makes for fancy gathering with a casual undertone. To create a setting that lends a relaxed note to an otherwise formal setting, choose the hottest color of the season. "Gold, gold, and more gold," exclaims Jane. "Forgo the traditional red and green color scheme for a twist of glamorous gold and juxtapose something dressy with something natural." The result adds spark to the table and takes simple to striking.
Jane's tablescape is centered with an arrangement of high-gloss pinecones fashioned into a wreath befitting a winter wonderland that has a wintery yet not cold vibe–perfect for the Southeastern seasons. The tree is trimmed with Bee Skep ornaments in bronze placed next to a glazed bowl, which not only makes a statement but is functional, as well. The Beeswax candles are made especially for Paysage and are worthy of display year-round.
Dishtowels are creatively substituted as a stress-free strategy for placemats as they are generous, easy-to-use and wash well. Portuguese Juliska table- and stemware are placed upon delicate homemade snowball napkins topped with gold leaves that adds an elegant touch. The glassware is mixture of etched designs crafted to create a floral motif and Romanian Raspberries. "We mix the glass stemware to create a unique twist on embellishment for a fresh, modern look," explains Jane. The platter is a fabulous way to anchor the main course while keeping things merry and bright.
The table is made of walnut with a honey finish complete with an expandable butterfly table leaf to allow for more seating when you need it. Jane added panache to the chairs with Lee slipcovers in a peacock design that is just as comfortable as it is elegant. The end result makes for an exquisite design that is easy to decorate around and is not overdone. Entice your guests for years to come by leaving your mark in gold. 1908 Eastwood Rd., 910-256-6050