Roll Up! Roll Up!
04 Nov 2021
That's UK slang for you don't want to miss the 27th Cucalorus Film Festival

By KIM HENRY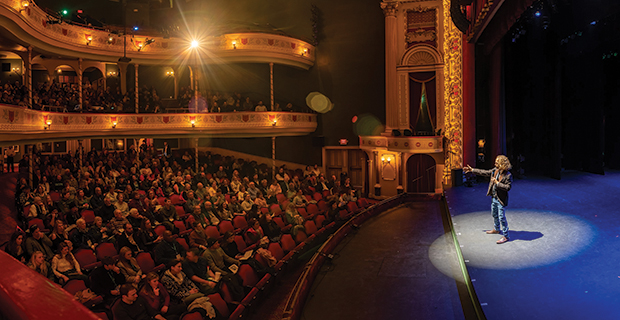 There are many reasons to love the Port City and one of them happens every November. The Cucalorus Film Festival is in its 27th year and 2021 is set to be a riot of diverse creativity from voices that need to be heard. Around 125 local, national and international independent filmmakers will showcase their work in this non-competitive, irreverent extravaganza of moving images. Founded in 1994 as a one night wonder, Cucalorus is now a five-day multi-disciplinary event heralded as one of the top 25 coolest film festivals in the world. One of the primary forces behind the scenes is Wilmington local, Dan Brawley, who is working around the clock with a team of folks, to pull together this logistical puzzle of innovation and collaboration.

As a performance artist and filmmaker himself, with a degree in Art and Art history from Duke University, Brawley is passionate about Cucalorus and the power of film to create positive change. "I'm interested in how we re-imagine the mythology of the artist. We need to break through the marginalization of creative people as being just a spectacle," shares Brawley, "and make our creatives a part of the solution." Referring to a world where the storytellers are a potent aspect of social justice advocacy, Brawley is all about accountable storytelling and representation.

With around 60% of this year's final selection coming from female filmmakers, in addition to significant contributions from indigenous directors, people of color and actors with disabilities, Cucalorus is ticking the diversity box and creating a space for rich conversation and representation. Discussion panels and
Q & A's are an integral aspect of the festival, which will be held in-person this year from November 10th to November 14th, after a completely virtual festival in 2020. Key venues include Thalian Hall, Hi-Wire Brewery and Jengo's Playhouse, which has received a remodeling in the last 12 months. With additional seating, accessible bathrooms, and an open-plan entrance area, Jengo's is more inviting than ever and ready to host a plethora of social events and screenings.

The Cucalorus MC's are another essential feature of the festival. A wild and wonderful mixture of musicians, spoken word poets and live performance artists provide an alternative perspective, controversial musings and a fine reason to laugh out loud. As Brawley himself points out, "one of the most effective ways to reach someone is not by yelling at them, but by making them laugh."

Making people laugh, feel, think, question and grimace are all applaudable in the Cucalorus book of success. An animation discussing eating disorders and tiny dinosaurs will play alongside documentaries exploring mental health, LGBTQ issues and disability in a nureotypical world. Special events include, 'Bus-to-Lumberton' which is an art installation created in homage to the film Blue Velvet, which was filmed in Wilmington. "The Bus-to-Lumberton experience encapsulates all of the eerie themes that makes this David Lynch film a classic" describes the Cucalorus website. Created by Racertrash, a collective of artists that Brawley refers to as among his personal favorites. Committed to providing a platform for alternative indie voices, Racertrash is right up there on the innovation scale according to Brawley who describes their work as, "tearing up the cinematic language and re-creating it. This mashup of artists are changing the rhythm of something that already exists and linking the gaming culture and film to create something new."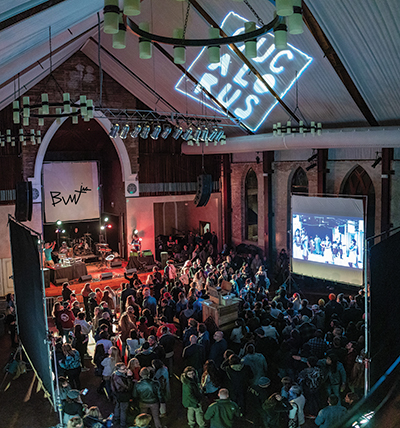 Another firm fav is Dance-a-lorus, which blends film and dance and has traditionally signified the start of the festival. This year however, it's going to be the final performance and will take place on the main stage of Thalian Hall. In partnership with Wilmington's Dance Co-op, Dance-a-lorus "explores the intersectionality of dance and film and pushes the collaborative boundaries by pairing choreographers and filmmakers to form a work of creative expression." Highlighting some of the region's most pioneering artists, Dance-a-lorus has become a much loved part of the festival.

Firmly rooted in challenging the status quo, Brawley explains how the festival was radical back in the days before YouTube or social media, just by providing a space for independent film. Now in 2021 when there are a multitude of platforms and everyone has got a camera, the festival has consciously evolved into highlighting social justice issues and under-represented communities. With almost 20,000 participants in recent years, Wilmington is beyond excited to be the venue for such an explosion of creative energy.

cucalorus.org


What is Cucalorus?

The Cucalorus Film Festival takes place in Wilmington, North Carolina every November for five days of new indie films, paired with bold performances and deep discussions about justice and the future. Cucalorus brings together bold, emerging creatives to share stories that challenge us to look at the world in new ways.